"I made my best friends—friends I've had a decade now—at ArtCenter," says Hruby. "When a group of people are all going through something intense at the same time, there's a bond that's formed that you don't really form otherwise."
Hruby has regularly taught Illustration class Advanced Surface Design Digital Print since 2014. He's gone from freelance advertising, motion graphics and editorial work to Kid Made Modern, as well as using two sewing machines, a small dye sublimation printer and a discontinued silk screen printer in his art studio to create his own home products.

Ninety percent of his designs he creates digitally, Hruby says. He sits at a giant library table to sketch, and then uses his laptop.

"I came from doing printmaking at school, which was hands-on, to doing client work. The pace of that digital work also makes me crave doing things by hand," says Hruby. "I love working with products. I've always wanted to make beautiful things that live in people's homes, and have a life outside of just being an image."

The recent Land of Enchantment exhibition, organized by Illustration Chair Ann Field, at ArtCenter's South Campus Hutto-Patterson Exhibition Hall through August 19, 2017 features Hruby's luminous art and designs, including home décor such as wrapping paper, along with work by fellow new Modernists and Illustration alumni Loris Lora (BFA 2014), Ellen Surrey (BFA 2014) and Alexander Vidal (BFA 2015).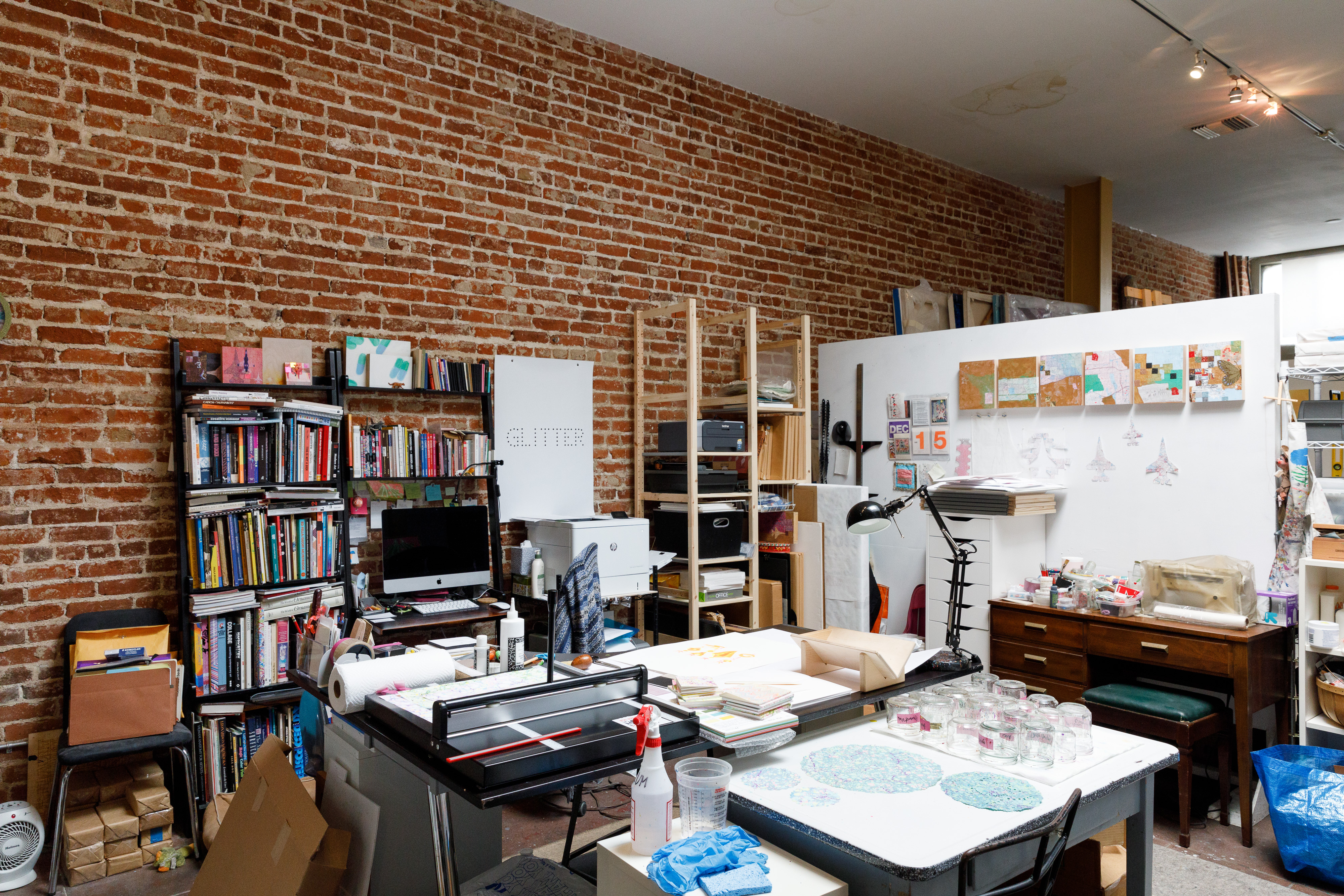 As for making Yosemite his art studio home, Hruby joined the space after Constantine—who is on the commercial lease—invited him. In the studio space since 2009, Constantine transitioned from printmaking and mixed media to starting Paper Quarry—a handmade marbled gift wrapping paper company—in 2016. She also teaches ArtCenter classes. Aaron Smith joined Yosemite in 2010. He was once Henderson, Constantine and Rivera's instructor at ArtCenter. Hruby, Constantine and Smith all bring their students to the space.
"Eagle Rock has changed. It was a little rough when we were first here, and now it feels safer," says Smith, who has taught at ArtCenter for about 20 years. "This is a creative space where we're all doing our thing, and it's organic. It's close to ArtCenter, to Pasadena. People here are former students of mine, but we have a colleague relationship."
At one point, in a show of affection and camaraderie, Hruby and Constantine hosted weekly "pretzel parties" at Yosemite, filling up on baked goods from a local bakery.
"There's a warm sensibility because we're not doing crits here for a grade for a class," says Constantine. "When I walk over to look at what Patrick's working on, it's his professional work. It's like, 'Do you like this color better, or that color better?' Talking to Aaron about what we're doing, too, is great. We're all friends."