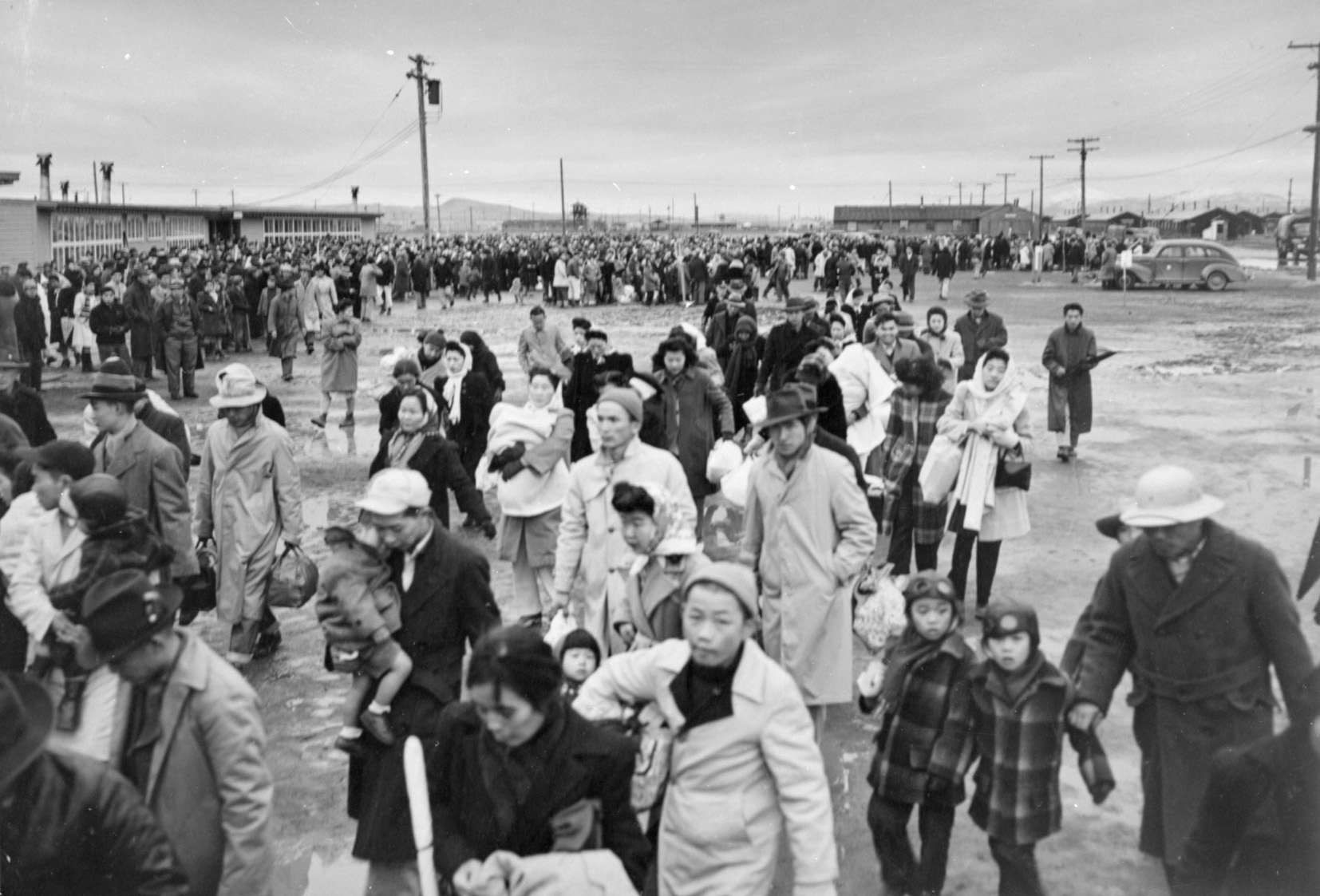 Saijo had originally created Dream Deferred for a 2011 L.A. exhibit of the same name. It was about the connections between different communities in the face of World War II, from Japanese Americans being sent to concentration camps to L.A. Mexican American youth in the Zoot Suit Riots to the experience of Jews.
"For me, the interaction between different ethnic groups is meaningful," says Saijo. "Hughes' poem is also a bridge between the black and Japanese-American communities, with the human condition being the underlying theme. I lived in an L.A. hip-hop recording studio when I created the piece. Rappers saw me—a Japanese guy who knew what's up—and we were able to share our experiences."
Raised in the San Gabriel Valley, with a father who came from eight generations of rice farmers in Japan, and a mother who taught Japanese calligraphy before going into banking and real estate, Saijo discovered his love of art and knowledge early on. He started doing expressive calligraphy line drawings when he was 6, and spent hours at the library with his younger brother.
"My mom wanted me to go into finance or engineering, something more stable," says Saijo. "Art for me was an act of resistance."
Saijo did graffiti, listened to hip-hop, got into fights at school, did judo for eight years and "dressed like a gangster." He also took ArtCenter for Teens (then Saturday High) art classes, and even saw Keith Haring create his 1989 ArtCenter mural at the Hillside Campus. He wanted to talk to Haring, but was too nervous, he says. He graduated from high school in 1992, the year of the L.A. riots.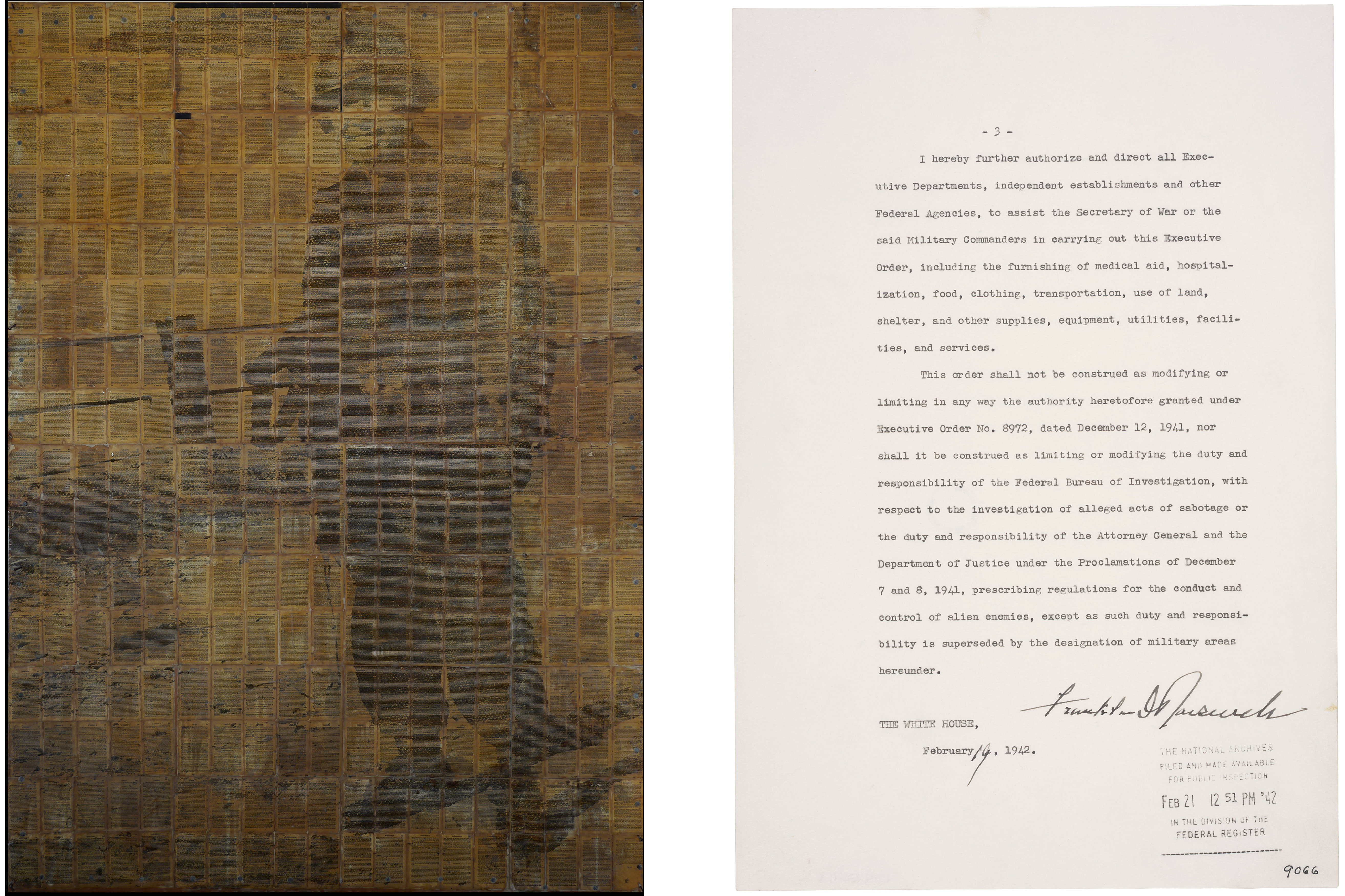 When he was just 17, for a Pasadena City College (PCC) art class taught by Japanese-American artist Ben Sakoguchi, who spent his early childhood in an internment camp, Saijo created 1993's Soldier, another piece in JANM's Executive Order 9066 exhibit. He used the same technique that set the stage for his later work, such as Dream Deferred.
"Right out of high school, I knew I wanted to become an artist, and I really wanted to make a piece that represents this history, and reclaim it," says Saijo.
Soldier features a photo of late Hawaii U.S. Senator Daniel Inouye as a smiling young platoon sergeant in the segregated all-Nisei 442nd Regimental Combat Team. (Inouye went into the U.S. Army when it dropped its enlistment ban on Japanese Americans in 1943, and took volunteers from internment camps).
Saijo printed the photo across pages of a New Testament bible issued and published by the U.S. Army in the early '40s and given to a friend's Japanese-American uncle who had served in the Korean War. Over the years, Saijo put wax and resin over the piece, preserving it.
"I wanted to develop a different visual language, and not use conventional art mediums. Using the pages of a book tells a story, juxtaposed to an image," says Saijo. "I was seeking an identity, of who I am and where we are now. History established that sense of grounded reality."