For an early Sound Lab piece, Meysami took a political speech and distorted it until it because unintelligible noise. Her booming, thunderous Communistation live performance piece—featuring a childhood recording of her speaking and singing songs in Farsi and ABCs in English to her parents—conjures up powerful emotions.
"I just want to cry when I listen to it, because I remember that moment, and how I thought so positively about the world," she says. "Distorting that voice to something dark shows adulthood being very different than childhood. Noise can be open, abstract and very deep, and a lot depends on how you perceive it."
During his own sound performance at Communistation, Rodriguez—who went to see noise bands in his native El Salvador before coming to ArtCenter—bounces in place behind the turntable and mixer table while a video of a car being assembled is projected onto a wall behind him. Keyboard dissonance combines with a crescendo of fuzz, which Rodriguez made by layering and distorting a numerical data set he learned about from Humanities and Sciences course Visual Math.
Part way through the performance, Rodriguez pulls into the middle of the floor blocks of concrete, a slab of wood, a roll of metal mesh and wrapping paper, and begins to crack the concrete. A melody begins, and he takes a contact microphone and rakes it over the mesh—releasing a metallic sound like skittering robots—and then along the ridges of the concrete while a relentless beat unfolds.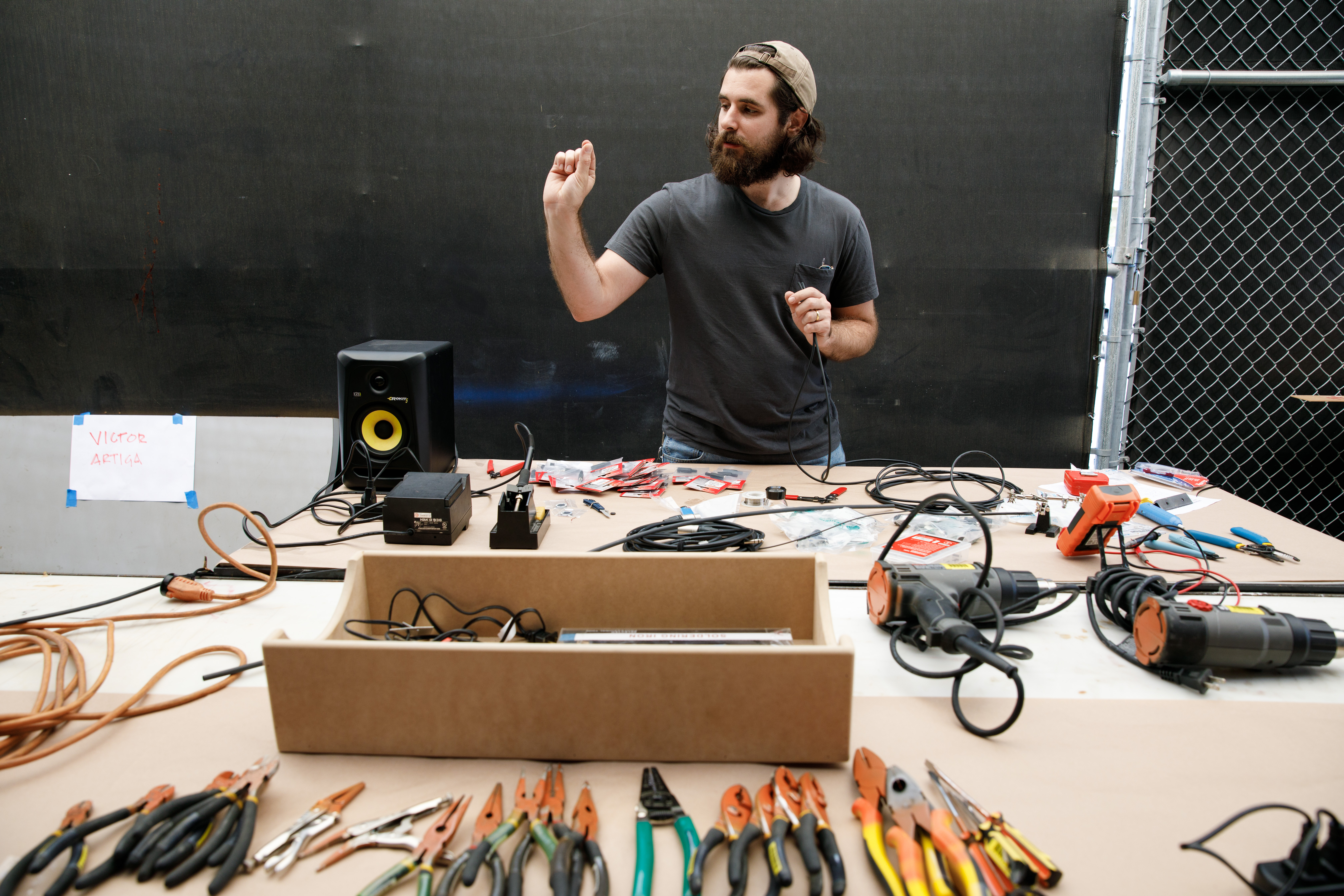 The piece ends with Mexican dance music Rodriguez grew up listening to in El Salvador, and the sculptor and sound artist grabbing friends in the audience and joyfully twirling them around.
"I feel like visual art and sound complement each other," says Rodriguez. "My sculptures are wood, steel, very architectural, and I've been combining them with video components. I want my visual art and performances to have an edge of playfulness. I really like that push-pull between that and extreme harshness."
As for Schafer, his face virtually lights up watching his Sound Lab students go down the rabbit hole of noise, sound and aural freedom live.

"I sometimes refer to our performance night as the night of psychic liberation, because it's a little bit unpredictable and it brings everybody together." he says. "It's a party, a club, an experience."