"There's such a rich history addressed by Latin American artists over decades and centuries, and especially here in L.A.," says Holly Jerger, the Craft and Folk Art Museum's exhibitions curator. "Ana's use of cardboard and manipulating it in an intricate way speaks to a sense of adaptability and ingenuity she and other artists in the exhibit show in their pieces and physically and emotionally navigating the border."
Towering at 62 inches tall, Cartonlandia is a bright three-dimensional stacked city of cardboard houses in teal, blue, orange, green, yellow and purple surrounded by porches and fences, fuzzy green miniature trees, light poles and cut-out photos of women and men. A cardboard ice-cream truck, cars and vans trek up a road snaking around the side of the city, with a ROAD CLOSED sign at the end.
"Cardboard is a very humble utilitarian material. I like that it's accessible, and can be reused," Serrano says. "It's not the first material you think of when you think of artwork in a formal gallery. I like using it as a contradiction and elevating it so it can be appreciated."
Serrano made the piece at ArtCenter for the course Super Size Me taught by Illustration alumni and popular faculty members the Clayton brothers—Rob Clayton (BFA 88) and Christian Clayton (BFA 91)—who she names as big inspirations.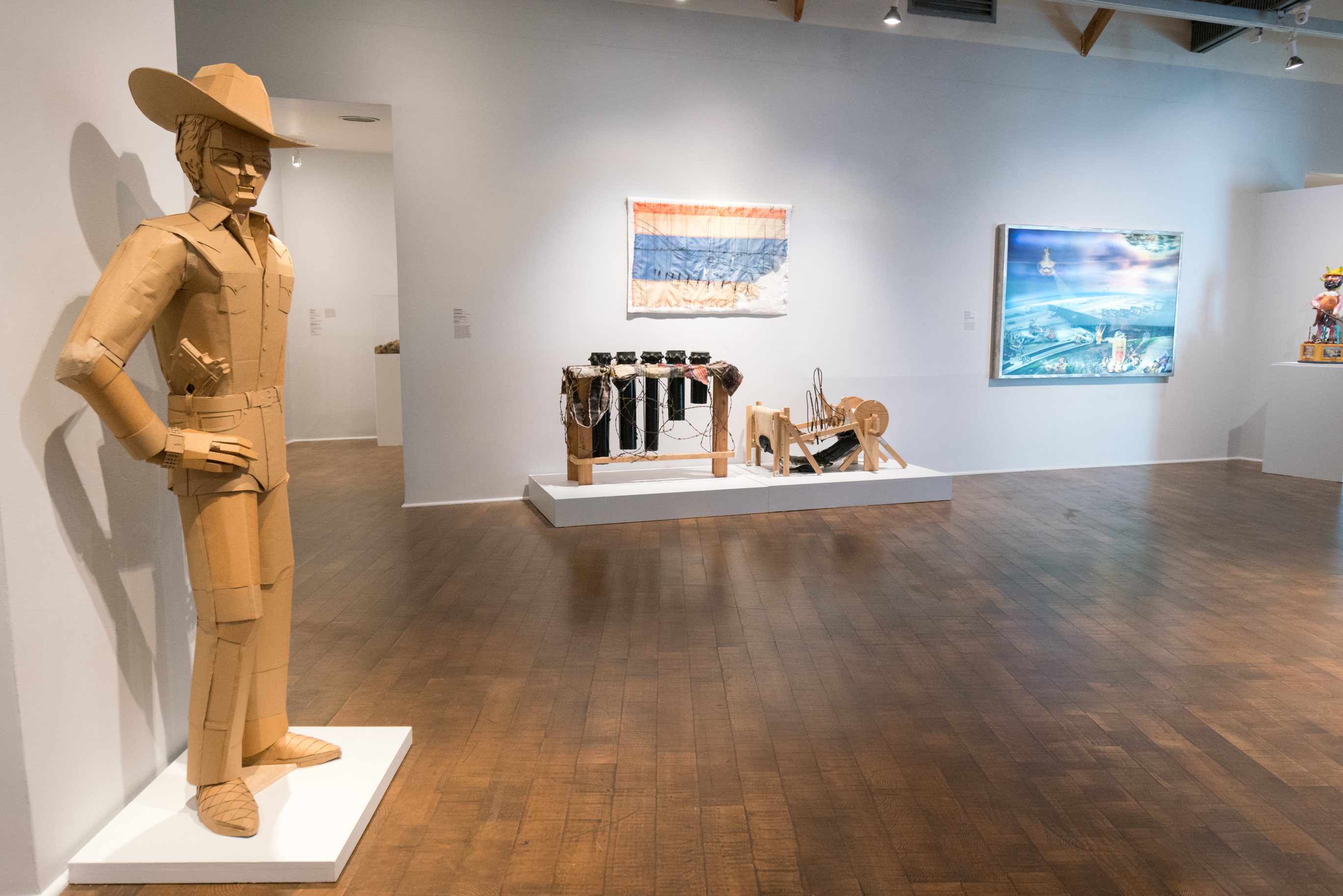 Detailed and architectural, the artwork was influenced by a trip that Serrano took to the Mexican city of Guanajuato, which reminded her of the hills of Tijuana, where she has relatives. Cartonlandia took Serrano a solid four months to make.
"When you look at this piece, you might think it's a run-down place and impoverished. I wanted it perceived as bustling and full of life," she says. "The bright colors are associated with Mexican culture. I wanted to capture the way that cities are not planned, and that you build as you go with the materials accessible to you. I built it from the ground up without a plan. I let each action dictate the next. It was freeing."
Serrano created Chalino—a tan life-size cardboard sculpture paying tribute to murdered late singer Chalino Sanchez, who was from the Mexican state of Sinaloa, where her family is from—as a personal project during a term off before graduating.

With his hand cocked at his hip, a gun tucked into his belt, and a ring and watch on his right hand, the sculpture stands at 5'11"—as tall as a stone statue. Sanchez re-popularized narcocorridos—drug ballads—and sang about drug culture and cartels.
"Chalino used to perform with a gun in his belt on stage. He perpetuated this idea of being a bad ass," says Serrano. "So many of his songs are also love songs about a long-lost love."
Having freedom to not fit into a box appeals to Serrano, who also explores the urban landscape of cities including L.A. in other work, such as 2011's Salon of Beauty, an installation of enormous cardboard storefronts at Rice University.
Serrano came to ArtCenter—which her high school art teacher had recommended—after attending Pasadena City College to build her portfolio, and was awarded institutional scholarships when she transferred. Once here, illustrator and faculty member Jason Holley especially motivated her to break out of a traditional illustration mode, and follow her instincts.
"He told me to make the work I want to make, and I really wanted to make things 3D, and work with different materials," she says. "All my professors were into me fulfilling assignments any way I wanted, in 3D or 2D. They never put strict rules on me. They gave me freedom to explore. I feel like I really grew, and my skills grew, as an artist."