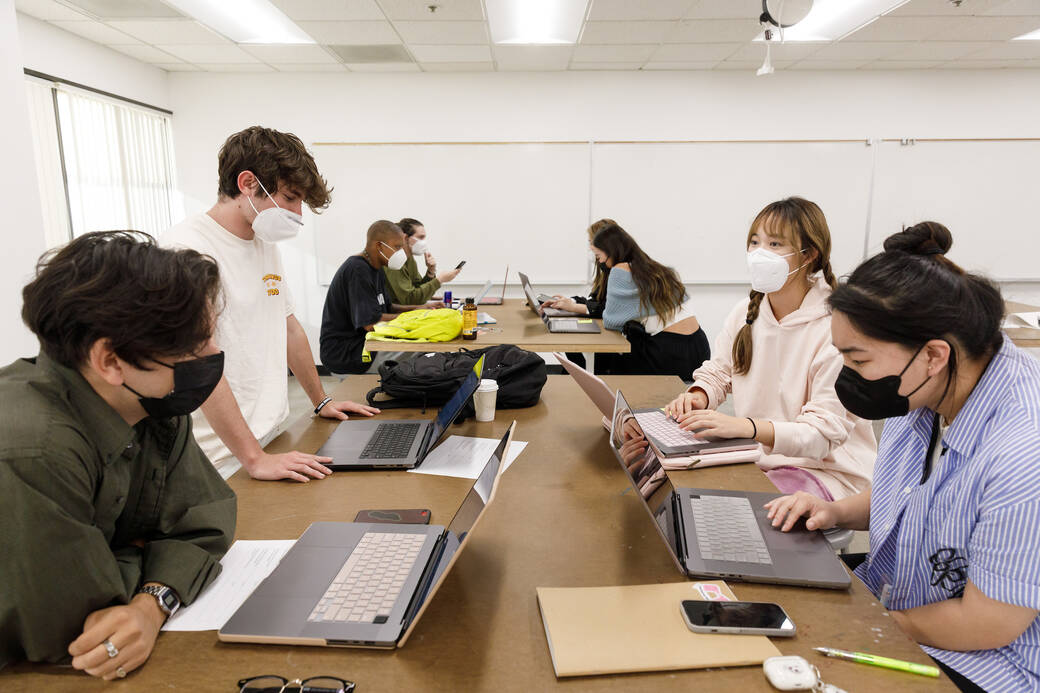 "As an educator, having the opportunity to guide our First Year Immersion students through ArtCenter's various majors has been an honor," says the program's Faculty Director Joshua Holzmann, who teaches the course First Year Immersion Studio 1, which includes projects and workshops led by faculty from different departments at the College. "Seeing the light go off in students when they experience a workshop is a special moment."

For Miller, who grew up in a suburb outside of Sacramento and fell in love at a young age with the creative process, Holzmann's first term course impacted him the most. "It was a perfect class to fully understand all of ArtCenter's programs," says Miller, who likes to work with a variety of art forms. "And Joshua's support for his students goes above and beyond. The program's administrators genuinely care about our success."

When Creative Direction Chair Gary Goldsmith first met Miller during the course's Creative Direction workshop, he was immediately impressed with Miller's work. "It was clear that he has the talent and mindset, plus the enthusiasm, to be a really successful creative director, and I look forward to helping make that happen" says Goldsmith.

"First Year Immersion allowed me to meet everyone in the Creative Direction Department, and I've grown to love the dynamic of the group," Miller says.
Students in the First Year Immersion program are also steeped in Los Angeles's creative culture and communities. Lectures and field trips to local places include the Huntington Library, Art Museum and Botanical Gardens; downtown L.A.'s Olvera Street and Union Station; Chinatown; East L.A. community arts center Self Help Graphics & Art; Griffith Park and the Griffith Observatory. In the program's first term Drawing course, Miller and other students took public transportation to different areas of L.A. to sketch their surroundings. "Taking the time to sketch these historic locations created a deeper appreciation of what's in front of us," Miller says.

"The diversity of the program's classes has expanded my knowledge on a wide variety of topics," says Miller, whose longtime career goal has been to work at Walt Disney Imagineering. "I've had the opportunity to meet countless people from countless cultures, in countless professions. And all of the professors I've met have had success in their field."