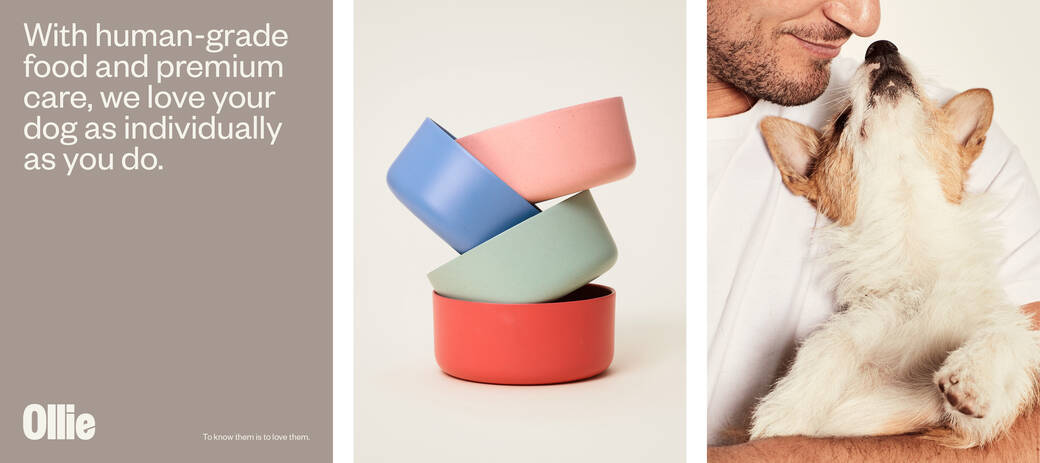 Waterman soon experienced the rollercoaster of running a business during the COVID-19 pandemic. "The first year was scary," she says. "Clients stopped spending money and pulled out of projects." Eventually, she says, those clients realized they needed to find creative ways to engage consumers during such an unstable time. "The second year of the pandemic was both our busiest and most creatively fulfilling year to date," she adds.
Strand began working with clients including Amazon and delivery company Gopuff. As part of a total rebranding for the New York dog food brand and delivery service Ollie, Strand developed language that emphasizes Ollie's philosophy of treating dogs as unique individuals with specific tastes and needs. "Approaching the brand with real food in mind, not just food for dogs, led to some magical moments for the rebrand," says Waterman.
Strand entirely reshaped Ollie's visual identity. Among the new design elements the studio created are a new "bone" brand color and a new logo laid out in a capitalized bold sans-serif font, featuring a hidden "scoop" in the negative space of the "e".
"It made sense to present a more elevated, yet approachable, visual system that breaks away from the pack," says Waterman of the rebrand, which debuted in February 2022. "It's rare you have clients who are willing to take risks and put so much trust in your vision, as a small studio."