For one three-day Design Storm—a "conceptual boot camp," Mai said—on brainstorming ideas for accessories for the Microsoft Surface tablet, Mai and his partner came up with a docking system allowing musicians to collaborate across distances. By hooking up to the system in, say, Los Angeles, a guitarist could practice seamlessly with a drummer hooked up to the system in Seattle. Another Design Storm had a brief asking how users would want to interact with a digital personal assistant. Before diving in, Mai and other students saw Spike Jonze's 2013 sci-fi romantic drama Her, about a man (Joaquin Phoenix) who falls for a female AI computer system (voiced by Scarlett Johansson).
"That movie set a tone," said Mai. "We were wrestling with questions such as, 'Is this just a tool, or is it something to have a relationship with?' Those Design Storm experiences created the spark for me."

For his Spring 2014 sponsored project with Ford to design the ultimate experiential vehicle interior, Mai drew inspiration from artist James Turrell's gorgeous Los Angeles County Museum of Art installation Breathing Light, an immersive, glowing, light and color-filled room eliminating depth perception for museum goers.
"In the future, there will be autonomous and semi-autonomous cars, so the question was, 'What will you be doing in the space?'" said Mai. "We thought you could take a photo of a sunset on one of your drives—that kind of beautiful lighting James Turrell works with—and bring its colors into the car. We also came up with an experience where you lean back in your chair—like leaning by a camp fire—and look at the stars."
During his Fall 2014 internship with Nissan, Mai and his team imagined a futuristic luxury performance vehicle concept called Infiniti Synaptiq. The vehicle would feature a modular system with a pod that transfers to three different driving-based vehicle types, or frames: off-road big-wheeled "rally," perfect for a dusty desert race course; sporty "circuit," for a grand prix course; and winged "air," for a jet race through the sky.
For a Fall 2015 independent study project focused on micro interactions—tiny actions and details that are part of a larger user experience—Mai explored a redesign of the iOS Alarm app using the familiar concept of a round clock.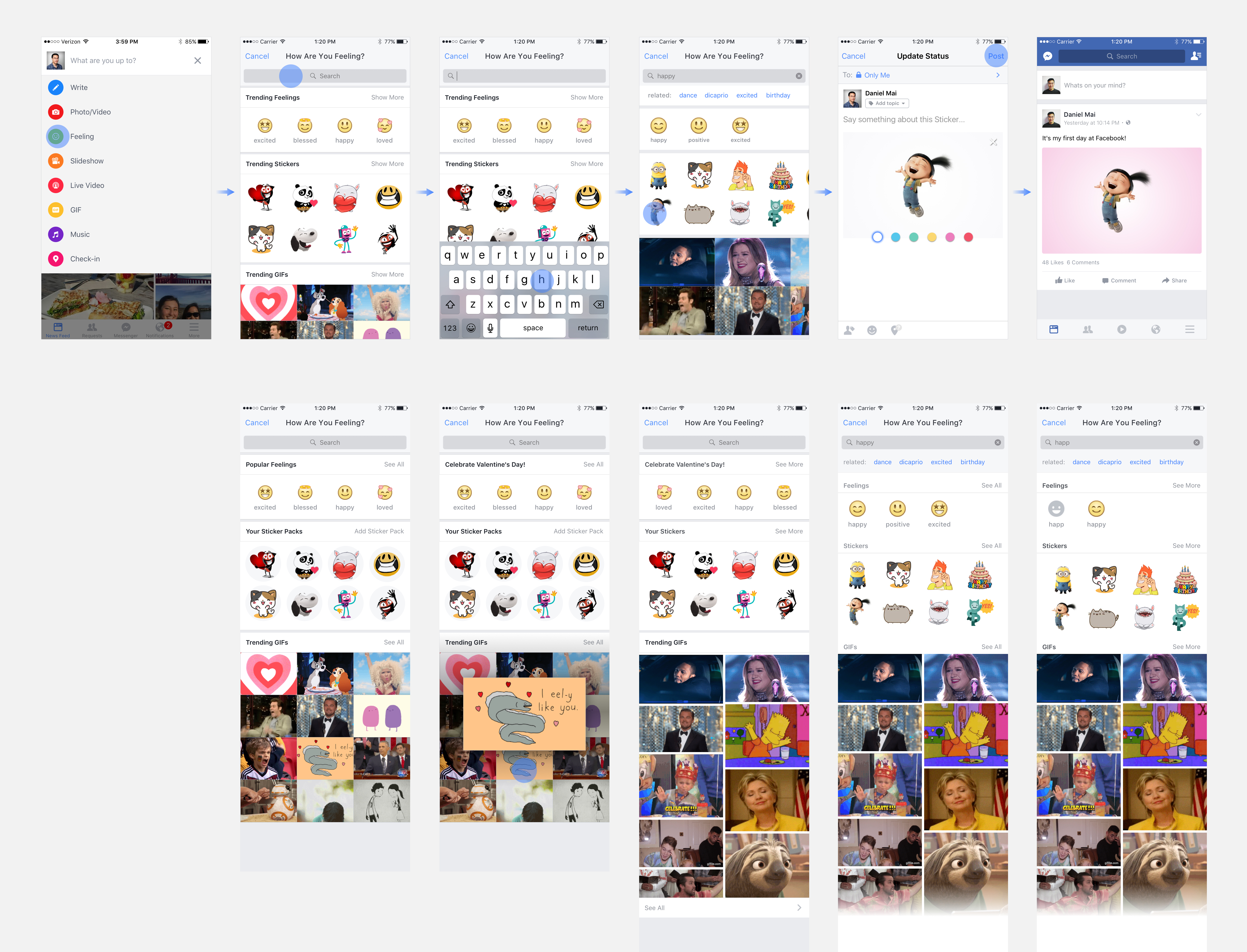 For his Spring 2016 internship at Facebook, Mai designed a way for users to search a range of GIFs, stickers and emojis that represent shared feelings. His Summer 2016 internship at Apple involved producing graphics for Human Interface Guidelines—recommendations to make apps user-friendly—for iOS, and working on Human Interface Guidelines for CarPlay, billed by Apple as "a smarter, safer way to use iPhone in the car."
"One big issue with cars is distracted driving," said Mai. "So when there's an interruption to audio playback—when your app receives phone calls—there are CarPlay guidelines that once that call ends, the music you're playing could return, so you don't have to go back into the music app. Apple's a great place when it comes to design-focused companies."
Mai's eventual end goal is to be a part of a team that designs the main interactions for a big platform. That includes possibly doing interaction design for vehicles—his first love—and autonomous vehicles. He aims to stay in California, which he said "felt like home" even when he first moved here in 2011.
"I'm first generation Vietnamese, and grew up one of the few Asian people in school, in North Carolina," said Mai. "Coming to ArtCenter, to Los Angeles, was a shock at first because there were so many Asian people. You hear things about California and think, 'I want to go there.' I really do love it here. North Carolina is smaller scale. California is where all the action is."