Raised in Vancouver by his mother, an academic researcher and administrator, Douglas grew up loving the plays of Samuel Beckett (he once worked as a theater usher) and the music of David Bowie. After doing printmaking in high school, he studied sculpture at Vancouver's Emily Carr College of Art, then transitioned to lens-based work. Douglas was one of the first artists to be represented by the David Zwirner Gallery in New York City's SoHo neighborhood, with his first U.S. solo exhibition held there in 1993. He was knighted last year by the French Minister of Culture .
"Before 2008, I didn't feature people in my photography, and I was more interested in the mise- en-scène, an open space for action where something might happen," Douglas says. "But then I did an image with people, and I realized that I really enjoyed working with them. My work changed radically."
His 2008 photo Hastings Park, 16 July 1955 re-creates a crowd of seated spectators at the Vancouver racing track, talking, moving, smoking, and dressed in '50s-era costuming. "The trick is, don't pose them," Douglas says. "Then, in the process, you can find that moment you want to capture."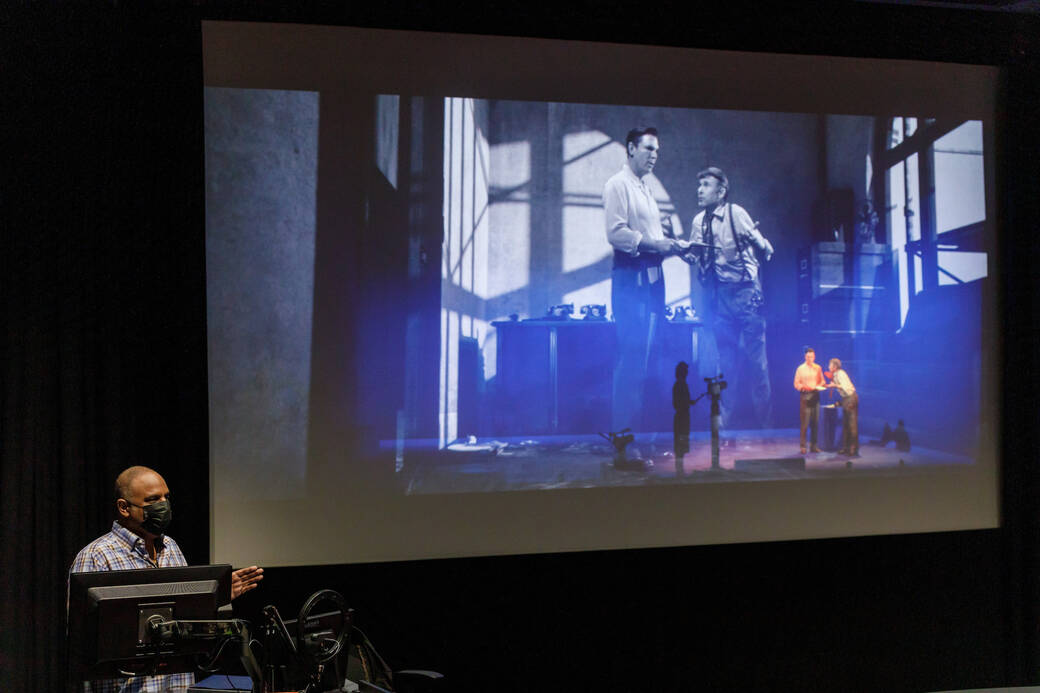 His film and video work includes the video installation Doppelgänger, which debuted at the 2019 Venice Biennale. The piece uses two translucent screens that feature alternating narratives for an astronaut named Alice who is transported to two different planets and realities. Douglas views art as having the freedom to integrate varying mediums. "That is the beauty of the Grad Art department, as well," he says. "It's not siloed into one discipline."
The program, he notes, is unique in its low student-to-teacher ratio, with a wide range of perspectives, whether courses are taught remotely—as during the COVID-19 pandemic—or in person. A recent in-depth lecture series for which guests from around the world tuned in via Zoom included actress, director and writer Lisa Dwan; photographer and multimedia artist Lorna Simpson; and artist, composer and musician Jason Moran. As chair, Douglas also aims to bring in a more diverse student body.
"The level of discourse is so high," he says. "While in school, students can think through ideas autonomously without the exterior pressure of a career. They also get an amount of attention from the faculty here that they can't get anywhere else."