Estrada's love of art and color started early. In elementary school, he made paper mâché animals and landscape paintings. As a teen, he drove himself to LACMA to see films. His father, an engineer, was the first person in his family to go to and graduate from college, because of the G.I. bill.
After becoming involved with the student activist group MEChA—founded in the late '60s as the Movimiento Estudiantil Chicano de Aztlán—and working as a grounds keeper in Valencia, Estrada studied in El Paso, where he met his wife, before getting his undergraduate and graduate art degrees at ArtCenter. He learned from influential professors like Mike Kelley and Sabina Ott, and alongside classmates Jorge Pardo (BFA 88 Fine Art) and Pae White (MFA 91 Art). "It was a dynamic time to be there," Estrada says. Philosopher Mikhail Bakhtin's notion of the "carnivalesque," of authority being destabilized through humor, also inspired him.
For his 1989 piece For MLK, a bright pink plaster sculpture on wheels, Estrada embedded and gold leafed an imprint from a bust of Martin Luther King Jr., with the gold signifying a heavenly space. "It was a way to conceptualize a new and different kind of social structure, as MLK did," he says. Estrada's 1992 museum debut Baby/Baby, with its conjoined giant baby creatures, caught the eye of critics. It expressed his experience both of being a father—grappling with the idea of imposing one's will—and of having a twin brother. "You don't know if your kid is going to become an artist or a murderer, and there's sense of this thing having its own agency," Estrada says.
Estrada's 2013 Figure in an American Landscape, a loose triptych of paintings created for a solo exhibition at New York University, traverses the boundaries of abstract and figurative art. In the series, a dripping, brown mass—based on the Coatlicue sculpture in Mexico City's National Museum of Anthropology—shifts into a figure floating above a skull. "The series, in part, comes out of me thinking about the U.S. being such a crazy place at that time," Estrada says. "Today it's worse. Children are locked up at the border, women are being recolonized by patriarchy, and climate change is barreling down on us."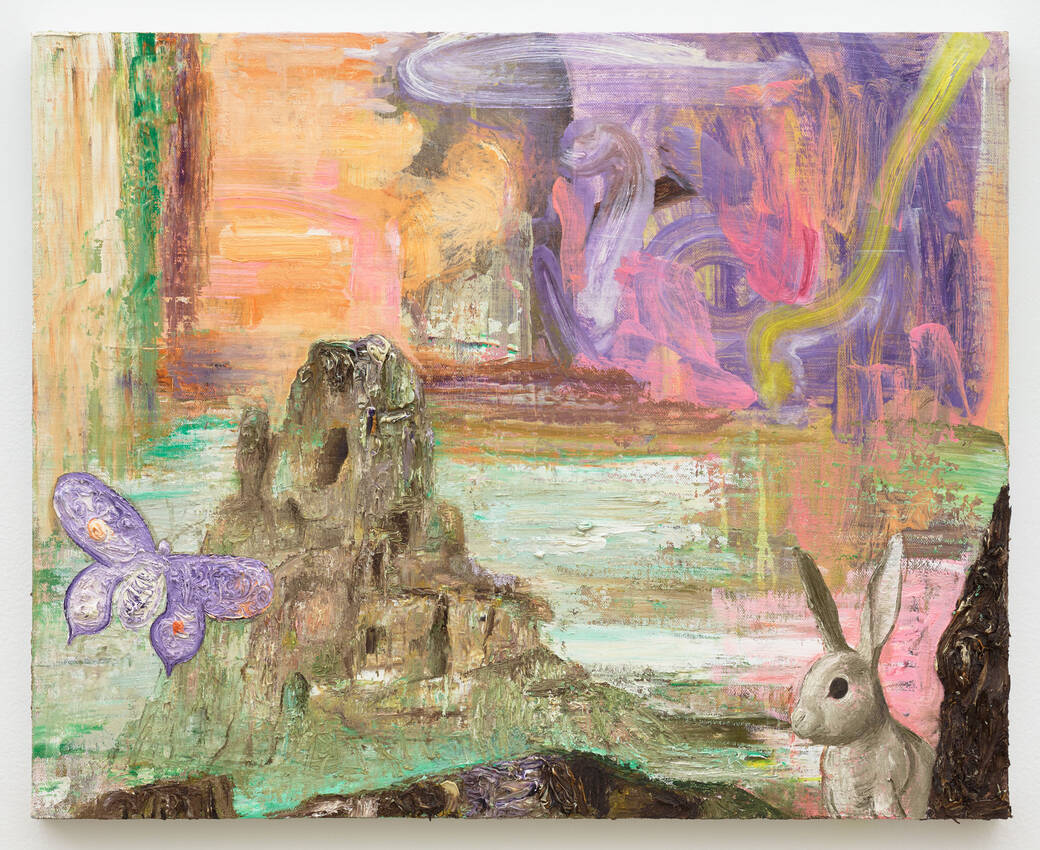 He points to some new works in his studio space that will appear in Purple Mexican, whose title comes from a hybrid strain of marijuana from Oaxaca and Pakistan. One in-progress painting features a thick dollop of bright pink paint at its center. Nearby stands a towering 6-foot-tall resin-covered sculpture of foam blocks glued to a metal armature, topped with yellow resin and glitter.
The COVID-19 lockdown prevented him from celebrating his father-in-law's 90th birthday in El Paso in May. In 2019, he shot video there for his survey. During this trip, he also attended an impromptu memorial in the city a week after a gunman targeted and killed 23 Latinx people at a Walmart.
"The world is a mess," Estrada says. "In your everyday life, you're not a group, you're a person. To me, it's not about categorizing stuff, it's about eliminating categories. On some level, I don't believe in an ideal rightness, that this is how you're supposed to be."