"Futurism, particularly in design, is often tied to developing new products and markets, and imagining what kinds of technologies or systems will be out in the world. Typically, those visions have not included people of color," says Chin, whose current work includes the Laboratory of Speculative Ethnology, which revolves around speculating the future from an ethnofuture point of view.
"With this series, we want to demonstrate the huge breadth and depth of ways people of color globally are already deeply engaged in imagining themselves in the future, and how exciting and interesting that work is," she says. "For MDP, Different Tomorrows showcases what we do really well, which is to think in ways that are interdisciplinary and forward thinking."
The series' events—open to the public—range from screenings, listening sessions, workshops and discussions to a reception and symposium on Thursday, November 16 in the Wind Tunnel on the South Campus (950 building). An exhibit at ArtCenter's James Lemont Fogg Memorial Library running through December 1 includes work by author Ta-Nehisi Coates, artist James Eugene and the late science fiction writer Octavia Butler.
The symposium's guest presenters are Afrofuturism/Chicanafuturism: Fictive Kin author Catherine Ramírez, director of the Chicano Latino Research Center at the University of California, Santa Cruz; cartoonist, designer and graphic novelist John Jennings, who adapted Butler's book Kindred as a graphic novel in 2017; and attorney and writer Rasheedah Phillips, co-creator of the Black Quantum Futurism Collective and Community Futures Lab.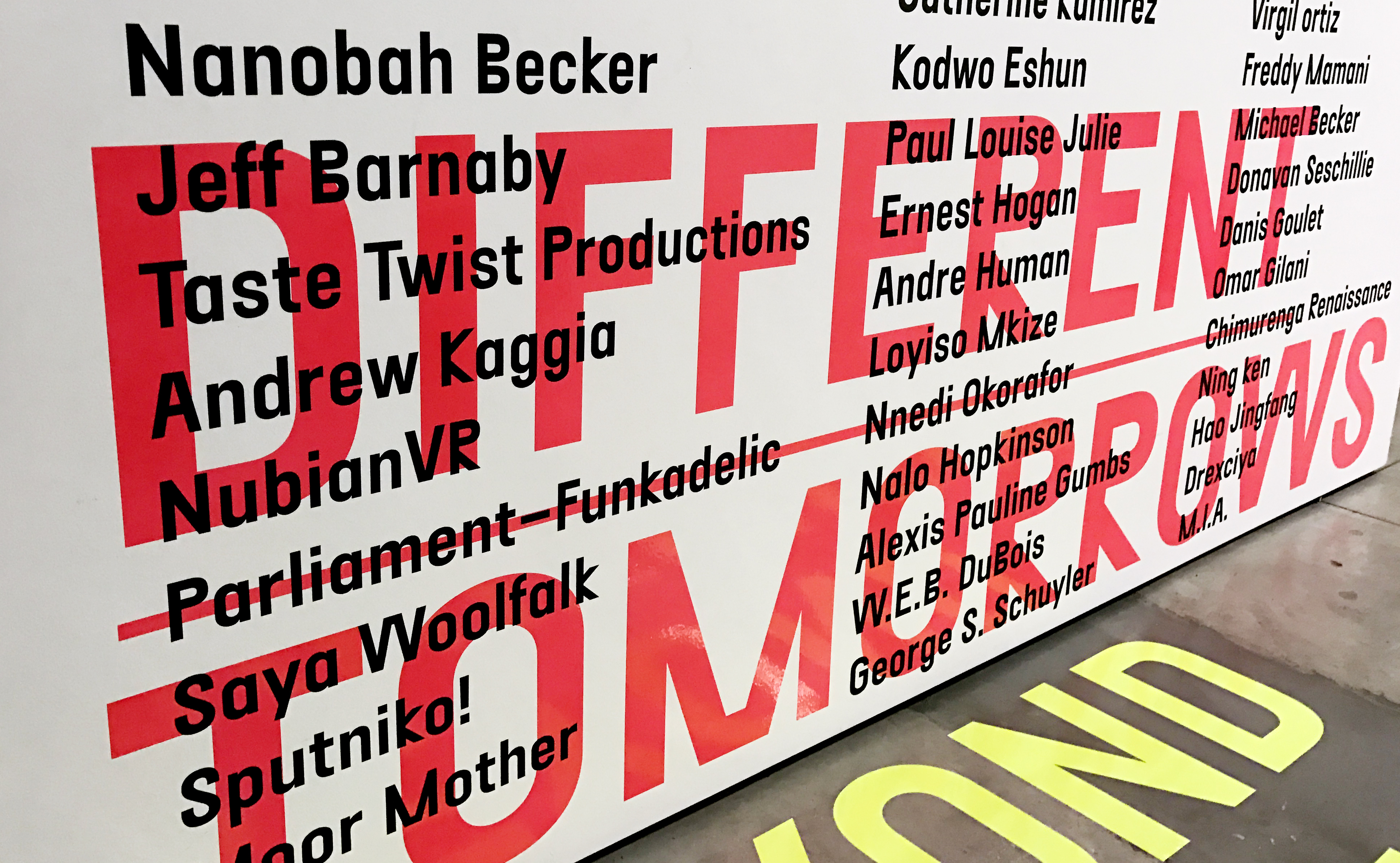 Attendees will also have the chance to assemble a primer of pages on 40 different ethnofuturist artists, designers, musicians and writers. Pakistani artist Omar Gilani imagines the future from a Pakistani perspective, and his 2017 digital artwork Cyborg Beggar shows a young girl reaching towards a car with a robotic arm. The 2009 short film Pumzi by Kenyan director Wanuri Kahiu focuses on a post-apocalyptic future, and features an African cast. Experimental Los Angeles rap group Clipping, which includes former Hamilton actor Daveed Diggs, released a space hip-hop opera album in 2016. Graphic Design alumnus William Ismael (BFA 07) combines interactive technology, music and art.
"Different Tomorrows is an effort to reframe the examples we reference from the past in design, as well as offer a world of work that embraces this century's different realities," says Donahue, founder of RCD/LA.
To prep for the series, Chin led MDP students through an exploration of futurism in the course Critical Frameworks. Donahue worked with students on a series of projects that began by interrogating industry-created visions of the future, asking questions such as, "How do futures in technology match to a future in Mexico City or Shenzhen, China?"
"Times have changed. Technologies have changed. Discussions have changed," says Chin. "Our domestic students and our international students are coming from broader and broader slices of society. We need to be responsive to the world we live in, which is represented by the student body that we have."