---
Honoring Black History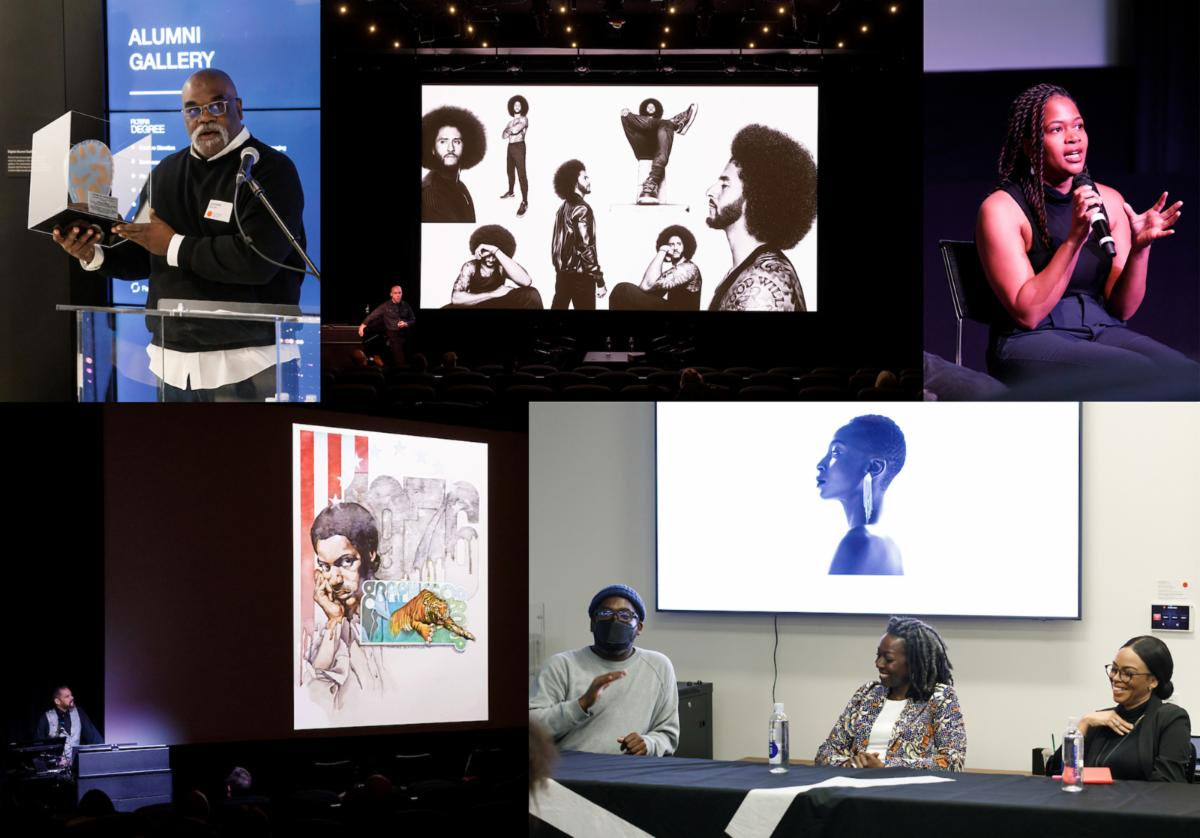 I'd like to start with a look back on the excellent events celebrating Black History Month. From the Power of Photography Panel, which took a visual journey into the cultural impact of images, to the conversation with former Nike CMO Greg Hoffman, which tracked his experience crafting products with purpose, I remain in awe of this impressive mix of programming at the College.
---
Female Focus
Since March marks Women's History Month, I'm pleased to share that NewFilmmakers Los Angeles (NFMLA) has offered us 30 free passes to the Female Cinema presentation on March 18, celebrating up-and-coming female talent in front of and behind the camera. The collection of films explore themes of motherhood, fertility, birth, reproductive choice from a range of perspectives. RSVP here if you'd like to attend.
---
Spotlight: Ramone Muñoz, IdentificarX Curator
Many of you are well acquainted with this co-curator for IdentificarX, our exhibition celebrating ArtCenter's Latinx/e alumni community. Artist, entrepreneur and educator Ramone Muñoz (BFA 77 Advertising, MFA 90 Art) helped create ArtCenter's first Graphic Design graduate program in 1990, and continues to educate artists and designers as an adjunct professor. As an artist, Ramone's work explores a set of problems revolving around three primary subjects: geology, archaeology and the ephemeral nature of human civilization.
Above: Geologic Forms 2, 1970, 9 x 12 inches, watercolor.
All In

ArtCenter offers an array of creative courses which can inspire (and overwhelm) our incoming students. The College's new First Year Immersion program invites undeclared majors to sample different disciples, allowing them to discover what major and professional path they want to pursue. As student Lillie Jackson-Jones shares in a recent Dot story, "The program has given me time to figure out what works for me, and what I'm willing to put my all into."
---
In Search of Innovation
I'd like to personally invite you to a conversation with Ivy Ross, an ArtCenter Trustee and Google's vice president of design for hardware products. With a passion for creating objects of beauty, Ivy is a visionary leader with a rare combination of creative genius, strategic planning and business smarts. She inspires everyone she works with, and I'm sure you'll feel the same. Join us Thursday, March 29, 7:30–8:30 p.m. in the Los Angeles Times Media Center (LAT) at Hillside Campus.
Ally Workshops
I'd like to encourage everyone to RSVP for our upcoming Jewish and Islamic Ally Workshops—all students, staff and faculty are welcome (check your email for details).
March 16, 3 p.m.: Jewish Ally Workshop with Anna Talhami
A proponent of bridges and gates instead of walls, Anna has taught Torah, Hebrew, Piyyut (Jewish liturgical poetry), Jewish history through a collective liberation lens, Jewish allyship amidst antisemitism, and more to both children and adults.
March 21, 3 p.m.: Islamic Ally Workshop with Mohamed Ahmed
Mohamed will cover the Islamic faith, its traditions, and the experience of Muslim students in today's educational setting, as well as best practices to support student success.
---
I'd like to close by saying we'll soon start Ramadan, a month of fasting and worship observed by Muslims around the world. At ArtCenter, students must balance their rigorous academic schedules with religious obligations like fasting and evening prayers, which can be an intense experience. I encourage our community to learn more about the holy month, and to remember to accommodate our students—for instance, allowing students to take exams earlier in the day.

If you know who'd like to be part of our conversation, please ask them to subscribe.
Here's to a month of creativity, community and brighter days ahead.
Aaron I. Bruce, MIBA, Ph.D.
Vice President, Chief Diversity Officer
ArtCenter College of Design