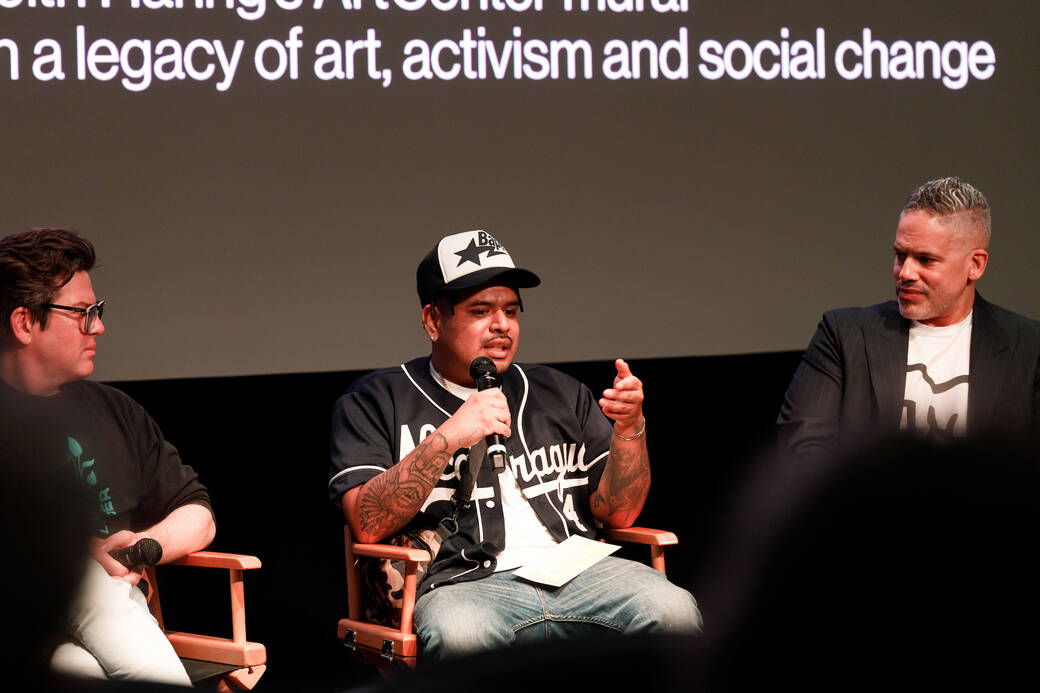 Brown, a painter, muralist and teacher, shared how some of his earliest art experiences were spray painting in public spaces in the early hours of the morning. He said his initial admiration for Haring began when he learned how Haring famously drew with chalk in the New York subways—something featured prominently in the short film screened at the event.
"I'd never really thought of making art interactive, but [Haring] spoke about [drawing in the subways as] being very performative," said Brown. "Usually, when you [spray] paint, you have maybe an hour or two, and you're out in the outskirts during a very quiet time when everybody's asleep. So to do that in public, [where] even if you mess up—your just going to fix it and, in the end, it's going to turn out fine. People can see the process and it's very freeing."
Brown added that he uses Haring to inspire his own students. "I teach youth in MacArthur Park and lot of them are very intimidated to draw, so they draw stick figures," said Brown. "I've shown my student's Keith's work and how he was able to draw anatomy, and a lot them felt like they can accomplish that because it's very easy to replicate. I admire [Haring] for showing me a better way that I'm able to pass on to my students."
Towards the end of the panel, Hofmann asked the speakers what they thought Haring would say to the next generation of artists. "I think he would want artists to keep producing and to make work with substance," said Brown. "[Make] something that means something to you and it might resonate with other people."
Hruby concurred, and added, "I think Keith would tell all artists and designers that they have the power to move society, and to use that power with heart and intention. Do the work for the right reasons, and keep doing it."
Keith Haring: Art is for Everybody is on view at The Broad through October 8, 2023. Keith Haring's mural at ArtCenter's Hillside Campus is available to view from 9 am–6 pm when classes are in session. Guided tours of the mural are available at noon on the fourth Saturday of each month through August 2023. For more information, contact exhibitions@artcenter.edu.