Joyce has always loved art, since she was a kid, she says. Raised in Altadena, she took art classes at Pasadena City College, and many students she knew were trying to get into ArtCenter. After pivoting to art history in college, she worked at galleries before earning her graduate degree in art history and museum studies from the University of Southern California.
Joyce went on to become director of the Luckman Gallery at Cal State LA for a decade, and then curator of Contemporary Art at the Santa Barbara Museum of Art for 11 years, before coming to ArtCenter. Over decades in the gallery and museum world, she met ArtCenter alumni artists like Thater, and attended student exhibitions and Grad Show.
"I was really excited about the possibility of coming back to L.A., to be among family and friends here, and to join Exhibitions," says Joyce. "I feel so connected and passionate about the communities that surround and are a part of ArtCenter."

Valentine grew up in Southern California with the family expectation that she would become a lawyer. "My story is a good example of what happens when an immigrant Korean kid whose family has no wherewithal about the arts gets opportunities," she says.

As a high school student in Cerritos, she participated in field trips to ArtCenter's Student Gallery at Hillside. In college, she interned for a state senator, and also worked at the California Museum of Photography. She split her classes between art history and political science.

Though she promised her parents that she would go to law school, she instead started working as an education associate at the Hammer Museum, where she developed programs for major exhibitions such as Sexual Politics, Black Male and Too Jewish. She then earned her master's degree at ArtCenter, and went on to do independent curation as well as work as director of Curatorial Projects at Zg Press. In 2010, she also started teaching at the College, and co-curated a 2013 retrospective of Lynn Aldrich (MFA 86 Art) at the Williamson Gallery.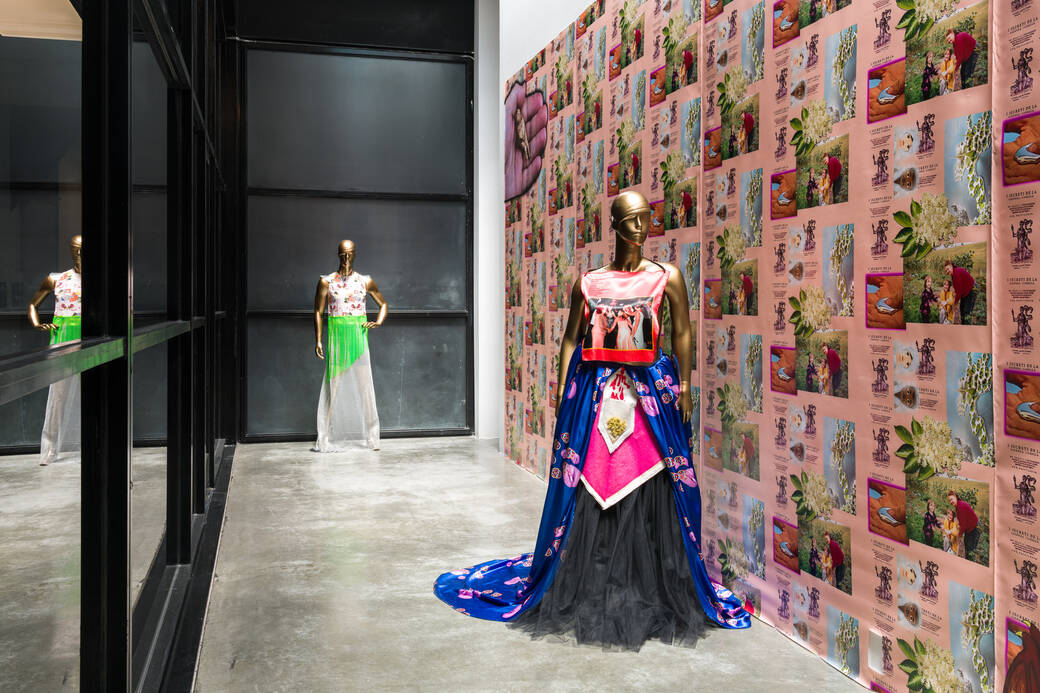 Since 2019, Joyce and Valentine have implemented changes to Exhibitions that include piloting a residency program with L.A.-based artists; displaying the work of more than 30 artists in window exhibitions at ArtCenter DTLA after the 2020 onset of the COVID-19 pandemic; creating a student worker gallery attendant position; targeting outreach to faculty and students about upcoming exhibitions; and forming a Getty Marrow Exhibitions and Archives Internship in collaboration with Archives and Special Collections.
"Julie and I are both very mindful that even the smallest opportunities can be a foothold for people to become curators and gallery directors, like us," says Valentine.
And as for the future?
Exhibitions on the horizon include a Mullin Gallery solo show in Fall 2022 of dreamlike pieces by Mexican American artist Victor Estrada (BFA 86 Fine Art, MFA 88 Art). Also planned is a Summer 2023 ArtCenter DTLA solo show of work by mixed media artist Devin Troy Strother (BA 09 Illustration), who curated the exhibition Minority Report, part of 2019's Impact 90/300 slate of exhibitions that highlighted ArtCenter's Black alumni. Both exhibitions received Pasadena Art Alliance funding. In Fall 2024, the Williamson Gallery will host a major group exhibition as part of the Getty Foundation's Pacific Standard Time: Art x Science x Los Angeles initiative.
"How do we address cultural concerns in our exhibitions?" says Valentine. "Works, like the ones in Cantos, are always about nuance. With that in mind, we want to be able to present the full scope of artists in their complexity."