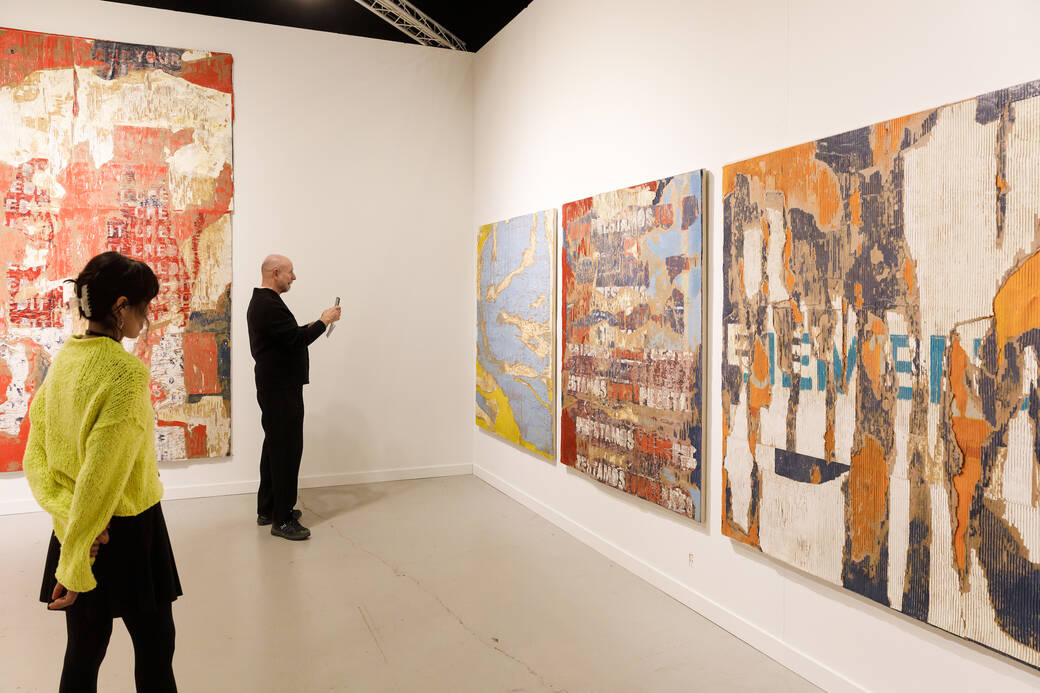 "I take visual imagery from the space I inhabit, an industrialized space, where minorities live, and bring it into my studio," says the Mexican American artist. "It's all about the locale, where I'm at. It's a state of being. I always think about the people who live in these spaces."
Ramirez's process starts with painting cardboard. Then he uses a décollage technique, building up layers and ripping and sanding them back down. He finds predatory loan signs, with wording like "FIX YOUR CREDIT," targeted towards immigrant communities and working class communities of color, and appropriates their look and language, he says. Colors in his pieces—red, orange, blue—come from the colors of shipping containers, and rust seeping through steel.
Influenced by L.A.-based contemporary painter Mark Bradford and the Romantic landscape paintings of 19th century English artist John Constable, Ramirez compares the intensity of looking at thousands of shipping containers, in Wilmington, to being inside a light-based work by artist James Turrell or in front of a piece by large-scale sculptor Richard Serra.
With two older brothers, Ramirez was the only person in his family who gravitated towards creating art, he says, and he won art contests in middle school and high school, which boosted his confidence. His father, who drove a delivery truck, and his mother, who cleaned houses and was also a child-care worker, both immigrated from Mexico in the 1970s.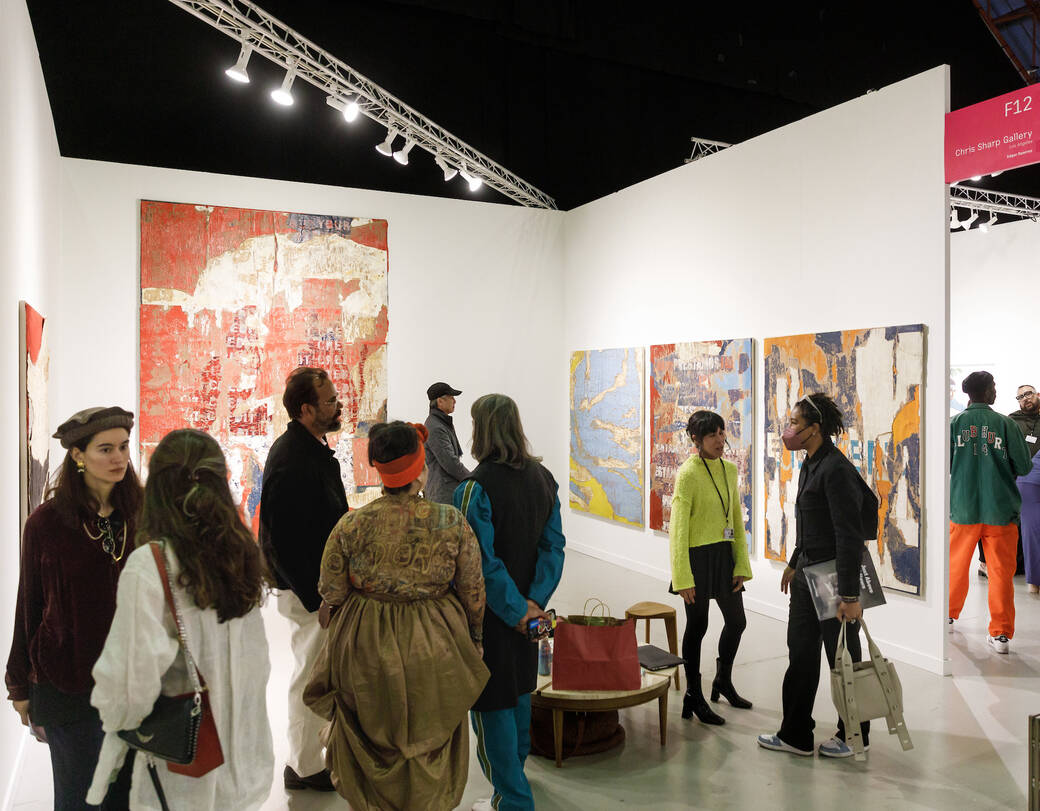 After taking classes at nonprofit Ryman Arts in high school, he took a 10-year hiatus to manufacture credit cards. He then received his undergraduate degree in fine art, and applied to get his master's degree at ArtCenter's Graduate Art program. The 2019 course On Absence, taught by Associate Professor Gabrielle Jennings, especially influenced him. "When I'm making my art, absence is something I have in mind," he says. "I trace what I see in my observations, throughout the city, and what's overlooked."

And graduating the College at the start of the pandemic was tough. "I was very concerned, and thought, 'Who would see my art?'" he says, adding, "But it was a blessing in disguise. I kept my head down and worked."

Opportunities started coming his way, including becoming an inaugural 2021 Quinn Emanuel Artist-in-Residence and a 2022 L.A. Lakers In the Paint grantee, as well as a 2022 solo exhibition at Chris Sharp Gallery. The City of Santa Monica's Art Bank collection recently purchased his 2023 work Bajío. He also has another solo Chris Sharp Gallery show in September.

"There's this gap in the art world that needs to be filled with artists of color, minorities, immigrants—people who lack resources to get to where they're going," he says. "I want to uplift other people, and people from Wilmington, to do art. I want to inspire them to keep focused, and to keep going."