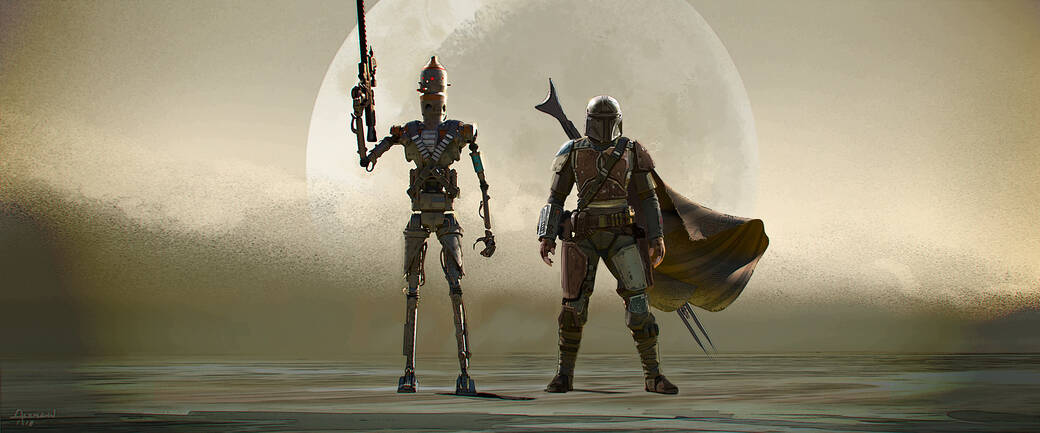 Then broke and sleeping in his van, Alzmann first took an ArtCenter Extension course using a credit card. At the age of 23, he applied to the College's Illustration program. "When my acceptance envelope came, it was one of the best days of my life," says Alzmann. "I thought, 'This is when my life changes.' And it did."
Between getting loans, scholarships and working in retail, Alzmann paid his way through school. He also became a teaching assistant for his favorite teacher, Illustration Professor Bob Kato (BFA 87). "Bob gave me the sage advice of someone out there working," Alzmann says.

Just before graduating, Alzmann signed up on a whim for an on-campus interview with ILM. He impressed the interviewers so much with his portfolio of storyboards and background paintings, and his knowledge of McQuarrie and Blade Runner visual futurist and alum Syd Mead (BS 59), that he was immediately hired as a production assistant on a digital feature. Afterwards, ILM brought him into its art department, and the rest is Star Wars history.
For Alzmann, one of the most unexpected and gratifying aspects of his job is seeing Star Wars fans on YouTube react with joy and emotion to The Mandalorian.
"I usually nitpick things," says Alzmann. "But with that last episode of The Mandalorian's season two, when Luke Skywalker showed up, I sat watching, with tears. Watching people watch the show is amazing."