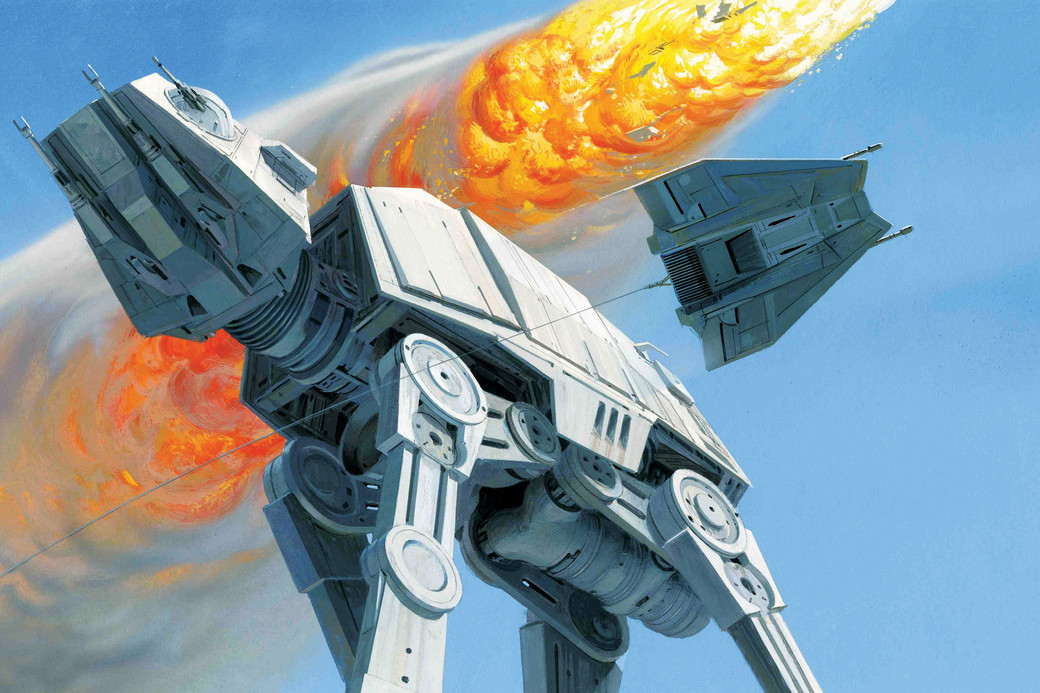 The new show draws heavily from McQuarrie's original Star Wars concepts; and his influence can be seen most dramatically in the character of Zeb Orrelios, an imposing alien that strongly resembles his original concept for Chewbacca, and in the droid Chopper, whose appearance hearkens back to his early boxier renditions of R2D2.
Speaking to Patrick Kevin Day of the Los Angeles Times on the decision to tap into some of McQuarrie's earliest Star Wars work, Rebels art director Kilian Plunkett said, "We wanted to go back to Ralph's original paintings, because they were driven much more by imagination. We're not being inspired by what was on screen. We're being inspired by the stuff that inspired what ended up on screen."
And that inspiration is everywhere—the show's color palette, its architectural elements and even the guard of a protagonist's lightsaber draw from McQuarrie's work.
So far the show has been generating positive responses from both critics and Star Wars fans. Variety called the series "a sly, stylish offshoot … with scads of action, beautiful animation and fidelity to the original's spirit." The New York Times compared the tone of the show to fan-favorite entry The Empire Strikes Back, adding that it "looks like it will be a smart and sensitive piece of entertainment." And Ain't It Cool News called the show "hugely enjoyable, smartly conceived" and "a whopping and affectionate homage to the classic [Star Wars] trilogy."
But McQuarrie's sway over the Star Wars universe doesn't end with Rebels. Dark Horse recently published a graphic novel based on Lucas' rough draft script for Star Wars, featuring artwork heavily inspired by his original paintings. Leaks from the J.J. Abrams-helmed Star Wars: Episode VII sets also show elements directly inspired by some of his unused work. And starting tomorrow, parents can buy their little ones Star Wars The Adventures of Luke Skywalker, Jedi Knight, a children's book published by Disney Lucasfilm Press and illustrated by McQuarrie's paintings.