The Student Years
AZ: My MFA degree at Otis was Design and Printmaking. I had been making these tension-in-compression structures out of existing wire forms, and I'd stretch canvas over it with piano wire grommets, and then I'd cover it with wax, paraffin wax. They didn't know what the hell it was, and so my advisor, Miles Forrest, who studied with Hans Hoffman, said, why don't you just call it design, and you can do whatever you want? Because I did drawing and painting and those sculptures and a lot of prints.
I had a blast [on the first trip to Europe]. I met Keinholz at the Stedelijk — the same place where I saw these etchings and lithographs…in a big vitrine with a skylight. I had never seen a really good print, you know. I'd go to the museum all the time, but I'd never seen that kind of print. Lithographic washes done on stone — can't beat it, you do it right. And then the intaglio prints, with beautiful aquatints, which I'd never seen really beautiful aquatints, except Goya, maybe.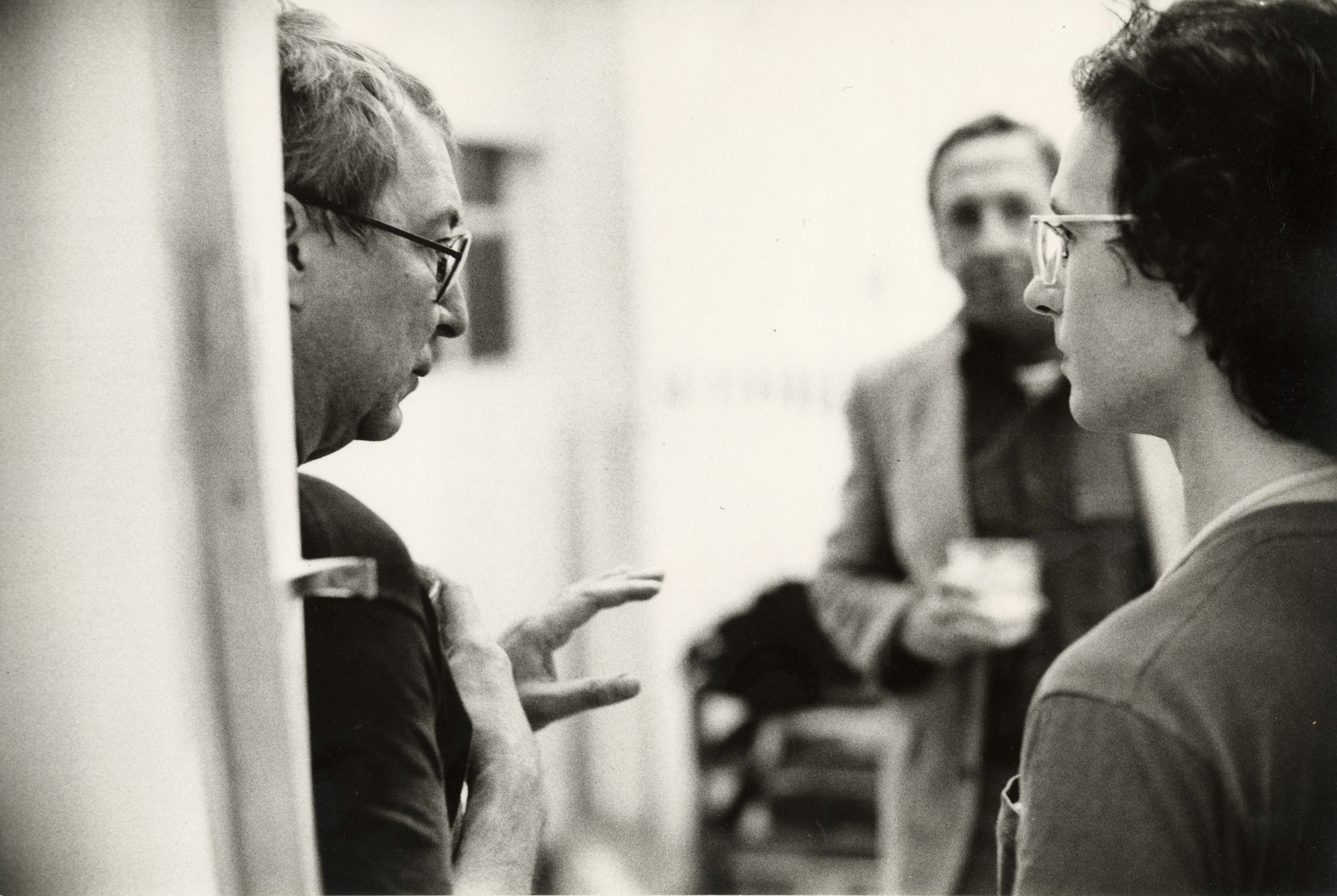 The Gemini Years
AZ: So, I'm going to Otis. I graduate. I'm working as a janitor. I like it because I did the work in two hours and then I would draw for six. But I finally needed a job, I can't do this anymore, I can't be a janitor anymore, I got an MFA— this is stupid. I gotta do something. Ken Tyler was a Tamarind master printer who started Gemini. He then got in touch with Sidney Felsen and Stanley Grinstein [founders of Gemini G.E.L.]. Several people from Cal State Long Beach went to Gemini to work. I went for a curating interview, basically to be a grunt — carry stuff around. Two weeks later a guy called me up and said, "you want to come and work for a couple weeks as a sponger [sponging litho stones]?" and I said, "sure." I ended up staying for 11 years.
They basically, at that time, just did silkscreen and lithography at Gemini. And multiples. Like Oldenburg, Profile Airflow, and Lichtenstein bronze pieces, Peace Through Chemistry. Jasper Johns' lead reliefs, Bread, The Critic Smiles. Numerals.
DT: Airflow: wasn't that a three-dimensional piece?
AZ: Polyurethane. Transparent. Beautiful. They worked on that for years, trying to perfect the molds.
DT: And so, working as an assistant, you start out doing sponging. What did you move up to next?
AZ: Printing. Took a while.
DT: What year is this when you started with Gemini?
AZ: 1975, because I left in 1986.
DT: So from sponging, did you just keep moving up to different levels of things?
AZ: Different jobs. You work with Charlie Ritt and then with Serge, then with Dan Freeman, and Jim Webb… I have to mention Serge Lozengot, because he's quite an influence. He was Giacometti's private printer, Dubuffet's private printer, knows Picasso, Chagall, Dali, Leger, printed Bonnard after Bonnard died.
DT: So you're learning as you go, getting in-house training, working with guys who are more experienced than you were.
AZ: You just watch. How's he doing that? The way Serge adds the ink. The way Charlie's relentless. He'd have to go to the chiropractor to get fixed after he printed this one particular Jasper Johns, because it's larger than 60 inches tall, and four feet wide.
DT: Gemini was founded in 1966, right when artists are really looking to innovate. Gemini was a destination for them to push the medium, and it was invitation only, right?
AZ: Still is. You can't just go there and print.
DT: You worked with …
AZ: Rauschenberg, Johns, Oldenburg, Lichtenstein, Ruscha, Serra, Nauman, Celmins, Stella, Motherwell, Ellsworth Kelly, Diebenkorn — very important to me — Rothenberg, Borofsky, a lot with Hockney.
ArtCenter College of Design
AZ: I taught at Otis, while I was working at Gemini. Jim Dahl from ArtCenter took my class; they didn't have printmaking at ArtCenter. And he told Laurence Dreiband that he should hire me.
[The first class was] 12 students. All really good artists. George Pocari, Victor Estrada. There were no illustration [students], yet. Laurence made it a requirement after that. You know where the first print shop was up there on the hill? Right under the Faculty Dining Room? You walk in to the right? That was the print shop. There was a group storage room right across that became the lithography area. As soon as something came available I would try to grab it, try to grab the space. I showed [the prints for the exhibition] to all three of my classes. And I say, "This is your competition. This is a good one. That one by Gregory Chapuisat, with the bomb thing?" I said, "You see that? That's great." And then I show them the book of his sculptures. "He does this, because he can do that [pointing at his student print]. He's willing to put it out. And if you don't, you're going to lose, man. Like you're in the wrong gig. You can't lie to the Gallery Director Guy with a million dollars in his pocket ready to pay you to make that stainless steel sculpture because you think it's cool. You've got to be here, and you've got to do it." You show up, you try, you show me you try, you get an 'A.' It's not about the art you make yet — you're at school. I don't expect genius. But I want it…don't bore me. I just tell them there's so much boring stuff out there — feed me.
Thoughts on Printmaking
DT: What has been the biggest change you've seen in printmaking in the time you've been making prints?
AZ: Well, one of the biggest changes, as related to my experience in a fine art publishing house, is Photoshop, Illustrator. If Rauschenberg had had that from the beginning? Whoa. Although I'm glad he didn't.
DT: What do you like most about working with students in the shop?
AZ: Well, to me, I'm collaborating with them. I just don't have the time to do a rigorous collaboration with everybody, but I try to get to know you. I learn from them. I'll tell them, "okay, I want you to learn how to do it my way, but don't get too carried away with my way." It's okay to make mistakes. Rauschenberg calls it "free drawing." You got some "free drawing." Make sure to look at everything, because maybe you want to keep it. He taught me that. And Jasper. It just happened, you didn't have to do it. It's there. You spilled. "Oh, that looks good. Just leave it."
DT: What are you proudest of?
[long pause] I am really proud of my Instagram. [laughter]