Regional Programming
AlumNetwork is who we are. Gather is what we do. And we've designed open-source, DIY get-togethers to help you activate the power of your fellow alumni.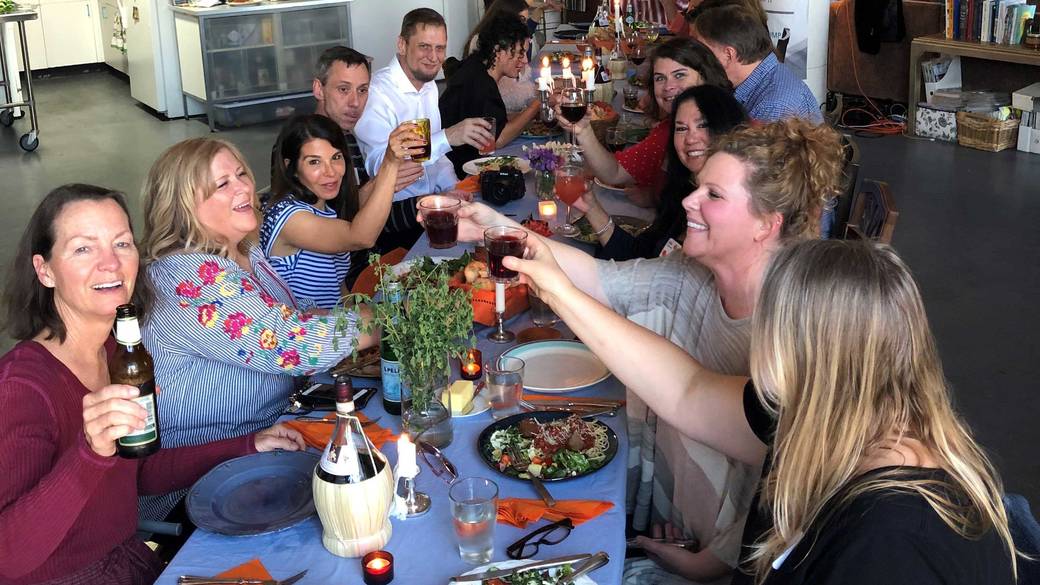 We realize that getting a highly creative and busy group of people together can be a challenge. But we've made an easy, three-step process to help you get together, connect and stir things up.
Design a theme/concept/idea for a gathering that you'd like to help organize.
Email the Alumni Office at alumni@artcenter.edu and we'll help you coordinate, spread the word and provide support.
Gather. See what happens.
The ethos of an open-source community is to collaborate, learn, problem solve and share. The more gatherings we create, the more we can refine the art of designing fun and interesting events for each other. You know the process: ideate, prototype, refine, repeat. Create something unique, enjoy some face-to-face social time, gather, connect and laugh. Anything is possible.
Alumni Chapters
Alumni chapters are located in 16 dynamic regions around the world where you'll find a strong alumni presence. Chapter chairs serve as ArtCenter ambassadors, promote College-sponsored activities and plan programming that brings local alumni together.
Chapter Chairs
Los Angeles: Vanessa Stump (BFA 00 Photography) founder of the alumni Supper Club
San Francisco: Cindy Lee (BFA 86 Advertising)
Orange County: Roderick Fenn (BFA 00 Graphic)
Portland: Lynn Latta (BFA 88 Advertising)
Seattle: Ian Sands (BS 95 Product)
Detroit: Christine Park Cheng (BS 06 Transportation), Curtis Evey (BS 07 Transportation), Ricardo Garcia (BS 99 Product), Jonathan Szczupak (BS 07 Transportation)
Austin: Greg Greeson (BS 77 Transportation)
New York: Jeff Silva (BFA 02 Graphic), Greg Wong (BFA 05 Graphic)
Miami Beach: Luc Limbourg (BFA 91 Communications)
Mexico City: Pablo Meyer (BS 82 Product)
Berlin: Michael Sans (BS 97 Product)
Barcelona: Victoria Berry (BFA 92 Graphic), Patricia Bravo (BFA 91 Communications)
Tokyo: Tomo Ogino (BFA 12 Graphic)
Beijing: Lan Yu (MS 15 Industrial)
Shanghai: Brian Wen (BS 05 Product)
Taipei: Andrew Liu (BFA 99 Illustration), Ai Su Bonnier (BS 07 Transportation)
Seoul: Moonju Kang (BFA 98 Film), Jahee Lee (MFA 92 Illustration, BFA 90 Fashion Illustration)
To contact a Chapter Chair or to learn more about getting involved please contact Keiko Doi at alumni@artcenter.edu.