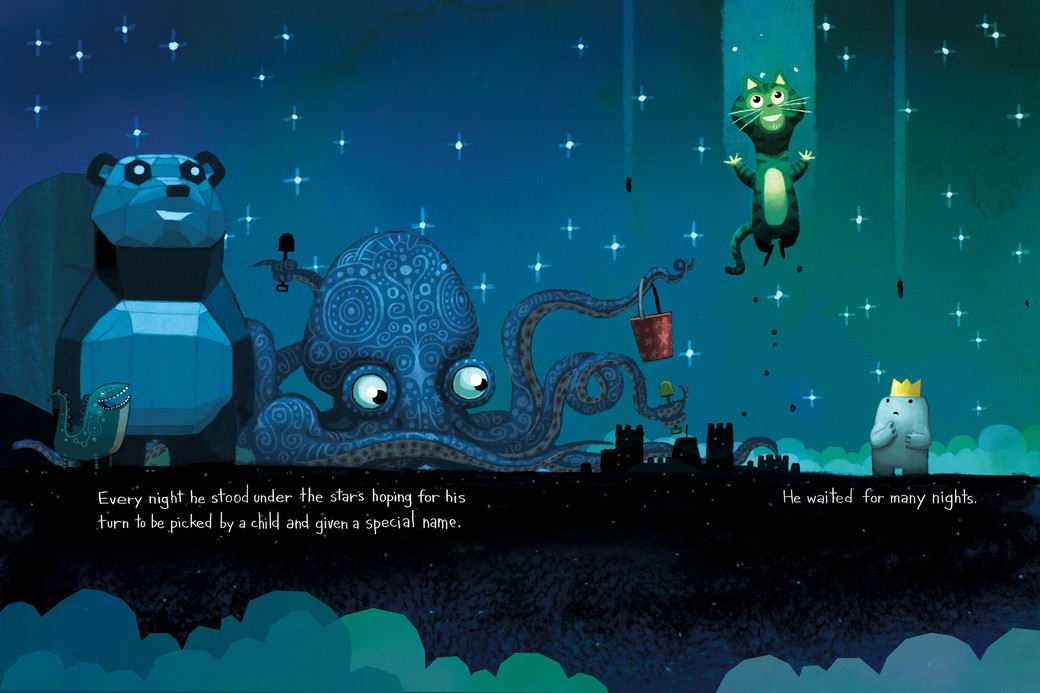 Beekle tells the story of an imaginary friend who, tired of waiting to be chosen by a real child, sets off on a magical journey to find his perfect match. When he finally finds his human, he's given his special name: Beekle.
The name has special meaning for Santat—it was his older son Alek's first word, for bicycle. "The book was my way of saying to my son, 'Welcome to the world. I've loved you before we even met,'" Santat told The Associated Press.
"My older son knows that the whole book is essentially a love letter to him," Santat told KPCC'S Take Two. "My intention for the book was that long after I'm gone, and my son grows up, maybe gets married and has his own kids, that he could show this to his kids and say, 'This is how much your grandfather loved me.'"
In its awarding of the Caldecott to Beekle, the ALA praised Santat's "fine details, kaleidoscopic saturated colors, and exquisite curved and angular lines" to "masterfully convey the emotional essence of this special childhood relationship." Caldecott committee chair Junko Yokota added, "Santat makes the unimaginable, imaginable."
What makes Beekle's recognition particularly gratifying for Santat is that it's a book he both wrote and illustrated—a creative goal he took very seriously. Santat has worked with a number of high-profile authors over the years, but has long desired to get more of his own stories out into the world.
"It's been a pretty definitive part of my life," Santat told Dot.
As an example, he recalled working on The Replacements, an animated Disney Channel show based on his one of his first books.
"There were moments working on that show where I thought, 'Even though the show says Created by Dan Santat, it doesn't feel like it,'" he said. "Every story note I submitted would get shot down by an executive. I was in this weird spot where I felt like I wasn't very good at writing stories anymore," he added.
But just like Beekle, who does the unimaginable by deciding to find his own child rather than wait to be discovered, Santat, with encouragement from his agent, overcame his creative insecurity and dove headfirst into his freelance work.
"I wanted to know how far I could go as a children's author and illustrator," he said. "I knew I had ideas. I knew they were valid. I knew they could probably be something special if I really just focused my attention on them."
At one point he turned down a lucrative job offer at Google working for the tech giant's Doodle team, because it wouldn't afford him the time to work on his personal projects.
"When I said no to Google I gave myself this condition, something that my instructor Rob Clayton (BFA 88 Illustration) advised his students to do at ArtCenter," Santat said. "I told myself I needed to work on my brand harder than I've ever worked for any company."
Another piece of advice Santat took to heart came from instructor Roland Young (BFA 61 Advertising). "He would ask us, 'Why are you trying to be flashy? If you're a style, then people will hire you for your style. What you really want to be is formless. You want to be known as a person that has great ideas.'"
Santat doesn't appear to be running out of ideas anytime soon. Next on his plate is a time-travelling children's book titled Are We There Yet?, inspired by a question he's heard ad nauseam from his other son Kyle during road trips.
When it comes to Santat's career, the answer to that question seems fairly obvious.