"The wearables out there right now are supposed to bring a level of self-awareness that leads to behavioral change, but they're not quite there yet," says Pakhchyan, who is also Media Design's 2014 Technologist-in-Residence (more on that later), adding that most activity trackers have a one-month wearability rate. "The user experience around these trackers is a bunch of charts and graphs that are completely uninteresting. For most people, they end up in a drawer for the rest of their life."
How can designers better integrate wearables into users' lives? One person who may have an answer is Graduate Media Design Practices alumna Jennifer Darmour (MFA 05). A wearables veteran who has worked in the field for 10 years, Darmour runs her own wearables company, Electricfoxy, and is also a user interaction designer for Artefact, a Seattle-based technology product design and development company, where her clients have included Microsoft, Samsung and Google.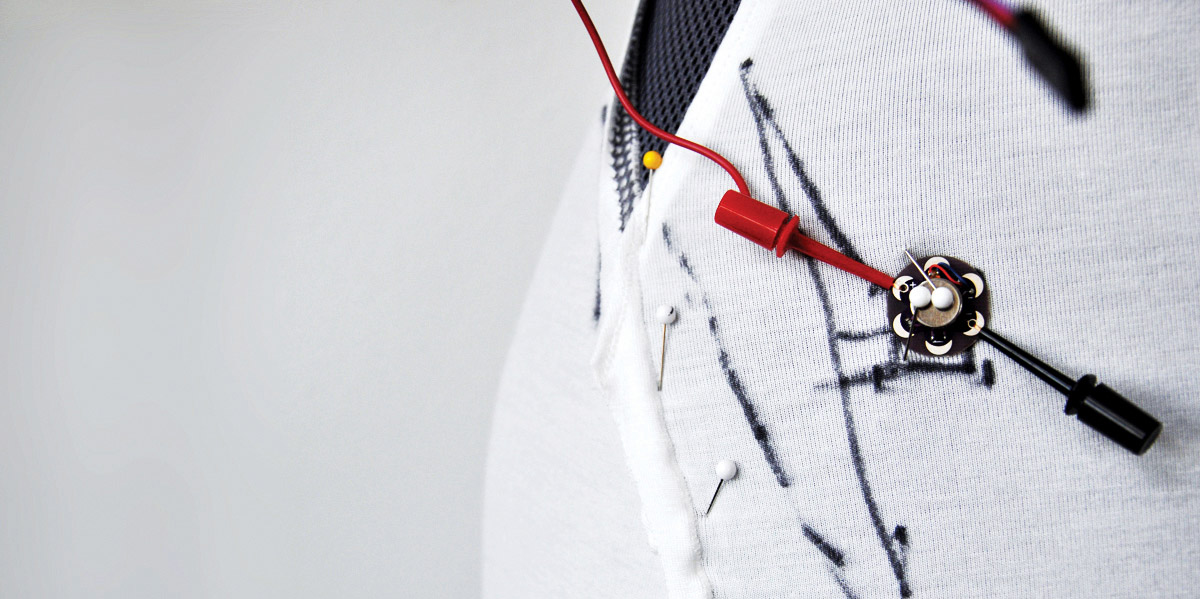 Darmour thinks wearables need to adjust to our needs, not the other way around. She believes strongly that many products today—ones that simply shrink down current technology and slap it on a wrist, or that force people to adapt to socially awkward user interfaces—are turning humans into cyborgs. Her solution? Design products that integrate technology into the fabric of our lives. Literally.
"I want to use the body both as a platform and as a new interaction paradigm," says Darmour, and points to her Move smart garment concept as an example. Designed for people in yoga, Pilates, dance or other activities that require specific or expressive movements, Move is outfitted with four stretch and bend sensors located in the front, back and sides. The sensors read the user's body position and muscle movement, and provide haptic feedback in the hips and shoulders to help correct the movements "in an ambient, precise and beautiful way."
Darmour compares the wearables industry today to where the smartphone industry was in 2003. That was when the Blackberry smartphone made its grand entrance and helped to introduce advanced features like mobile Internet browsing and "push" email to the masses. Blackberry, however, was mostly targeted to information workers and productivity addicts. "My question is How do we create the iPhone of wearables?," says Darmour, who points out that one of the major reasons Apple's phone succeeded was that it created a platform for third-party developers. "How do we get wearables to that point? And how do we do it with products that are expressive, beautiful and designed the way we want them?"