Two paths, one destination
When it comes to transportation design, you can't get much bigger than von Holzhausen. After graduating from ArtCenter, his career took him from being chief designer at Volkswagen in 1992 (he saw the New Beetle through to production), to design director at General Motors in 2000 (Autoweek called his Pontiac Solstice roadster a "much needed shot in the arm" for the Detroit automaker), to director of design at Mazda in 2005 (Top Gear recently listed his Kabura sports coupe as one of "Mazda's coolest ever concept cars").
In 2008, von Holzhausen was wooed to Tesla personally by Musk, the company's charismatic and visionary leader, who immediately tasked him with designing the all-electric Model S, a car which, since its release, has won countless awards and earned Consumer Reports' highest rating ever. Arguably the world's sexiest vehicle, the Model S is aerodynamic (complete with retracting door handles), ludicrously fast (0 to 60 mph in 2.8 seconds), and über high tech (a recent over-the-air software update enabled an "Autopilot" feature), and its timeless, just-the-essentials aesthetic is redefining what consumers expect from a luxury vehicle. But most importantly, it has set the tone for what all future Tesla vehicles will deliver in terms of both design and functionality—including the forthcoming Model 3.
Verdura followed a much different career trajectory. Immediately after graduating in 1991, he became senior designer for consultancy Group 4 Design in Avon, Connecticut, working with clients like Ingersoll-Rand, Kodak and Panasonic. In 1995, he became design manager at the then-Atlanta-based consultancy Inno Design. And in 1998, he returned to the Constitution State to become vice president of industrial design and development for consultancy firm Product Ventures, working with clients in the fields of surgical equipment, consumer products and packaging.
The years went by and though they were separated by 2,500 miles, Verdura and von Holzhausen remained close. So when von Holzhausen called his friend in 2012 and asked him if he'd like to become Tesla's director of product design, Verdura embraced the opportunity. "Franz is one of the greatest car designers of our generation," says Verdura, who breaks down their duties as follows: "On a day-to-day basis, he focuses on what he excels at—designing cars—and he lets me play with all the other stuff."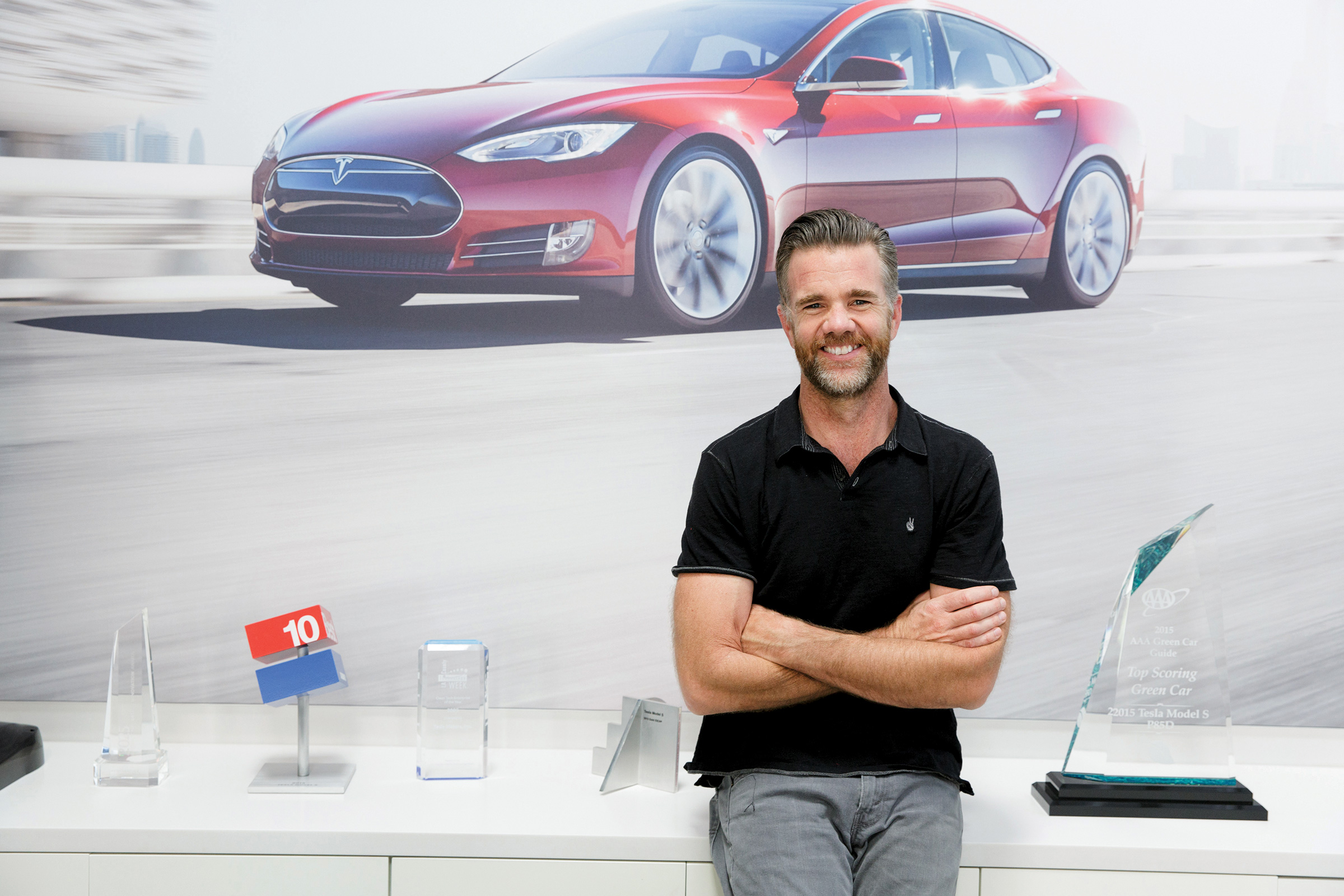 All the other stuff
Think Tesla is a car company? Think again. Sure, they make one of the most coveted vehicles on the planet, but that's not the company's goal. Tesla is first and foremost a technology-driven company, and its technological goal is to break the world's addiction to fossil fuels and promote the advent of worldwide sustainable mobility. Which is one reason why Tesla makes its patents open source. Verdura sums up Elon Musk's philosophy like this: "We're all on a sinking ship, and yes, while we have the best bucket, we're also going to teach others how to build that bucket."
What's the first bucket in Tesla's arsenal? Creating a new class of transportation – premium and desirable electric vehicles. And for Tesla, that means more than just designing beautiful automobiles. It means providing free and convenient energy to power those vehicles. "Imagine if Henry Ford, who revolutionized mass-production of automobiles at the turn of the century, had also endeavored to build gas stations to fuel his customers' cars for free," says Verdura of Tesla's proprietary Supercharger stations, the first project he worked on when coming back to California, which provide 170 miles of range in as little as 30 minutes of charging. "And by creating this network of Superchargers, we're removing the single biggest obstacle people have towards purchasing an electric vehicle: range anxiety. Our customers don't have to ask, 'Where will I charge the car? What if it takes too long? What if I run out of energy?'"
The company's disruptive ambitions don't end there. This summer, you should be able to purchase the next version of Tesla's Powerwall, a rechargeable battery pack which the company first released last year. "It's a beautiful sculpture-like battery that you hang in your garage, like a flat screen TV," says Verdura. He explains how the device stores energy from your home's solar panels and allows you to use that same energy later in the evening during peak (read: most expensive) times. "You can almost be completely off the grid with that battery and solar panels. It's a clear win-win."
Then there's a whole other pool in which Tesla's designers get to dip their toes—space exploration. Musk's private space exploration company, SpaceX, whose goal is no less ambitious than to put a human on the surface of Mars by 2025, is Tesla's next-door neighbor in Hawthorne. In the past, the company has turned to von Holzhausen's group to design objects ranging from spacesuits to the interiors of manned space capsules. "It's simply amazing to be in the same room as Elon and to hear the things that come out of his mouth," says Verdura, describing the unbelievable nature of his job. "I hear what he's saying and I think, That's impossible. We can't do that. And then we do it!"