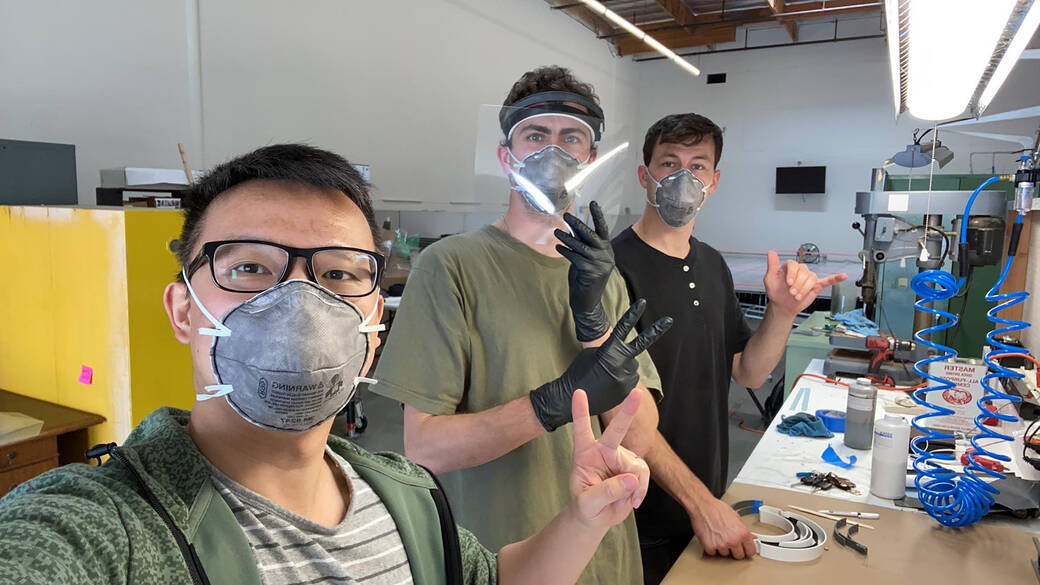 "Hon, James and Tricia's tireless efforts in the first few months of Shield Makers enabled us to maintain and evolve the design and methods of fabrication, and they laid the groundwork," says Lin. "They were the ones working on day-to-day tasks related to the project, while maintaining communication with other students, who helped in different ways."
As a student, Gildea took a 2018 course co-taught by Lin in the College's social innovation department Designmatters. Lin, who is co-teaching the Fall Product Design course Product Design 3, first met Sada at an early 2020 Caltech event, says Sada, and he later gave her and Li an impactful tour of RLANRC in February. In March, Lin reached out to Li, Gildea and Sada for Shield Makers, they formed a Facebook Messenger group chat to bounce ideas off one another, and everything steamrolled from there.
"We started inviting our friends—other students—to the chat, and it just kept growing and growing," says Sada, who took on a project manager role and began organizing volunteers. "At that time, I had started to lose my drive, and Shield Makers gave me motivation," she adds. "I learned about leadership skills, and [also] that I really love working with a lot of people."
Li, Gildea and Sada—who each already owned a 3D printer at home—began working collaboratively, along with Lin and other clincal staff at RLANRC, to prototype designs. "Hon and James were really the 'doers,'" Sada says. "They went hard at making the face shields." They often spent evenings working at the RLANRC's Rancho Emerging Tech Lab, dedicated to the project, and driving to and from an open warehouse at RLANRC to house 3D printers, says Lin. During prototyping, Gildea delivered shields to doctors at Huntington Hospital and Adventist Health Glendale to get feedback on the team's designs.
"I hope that we can learn from this pandemic and prioritize innovative designs that will help with crises in the future," says Gildea. "I'm really grateful for all the people who took the time to help and participate in our research and production. I feel really humbled by how hard health care personnel work. It's scary how dependent we are on supplies."