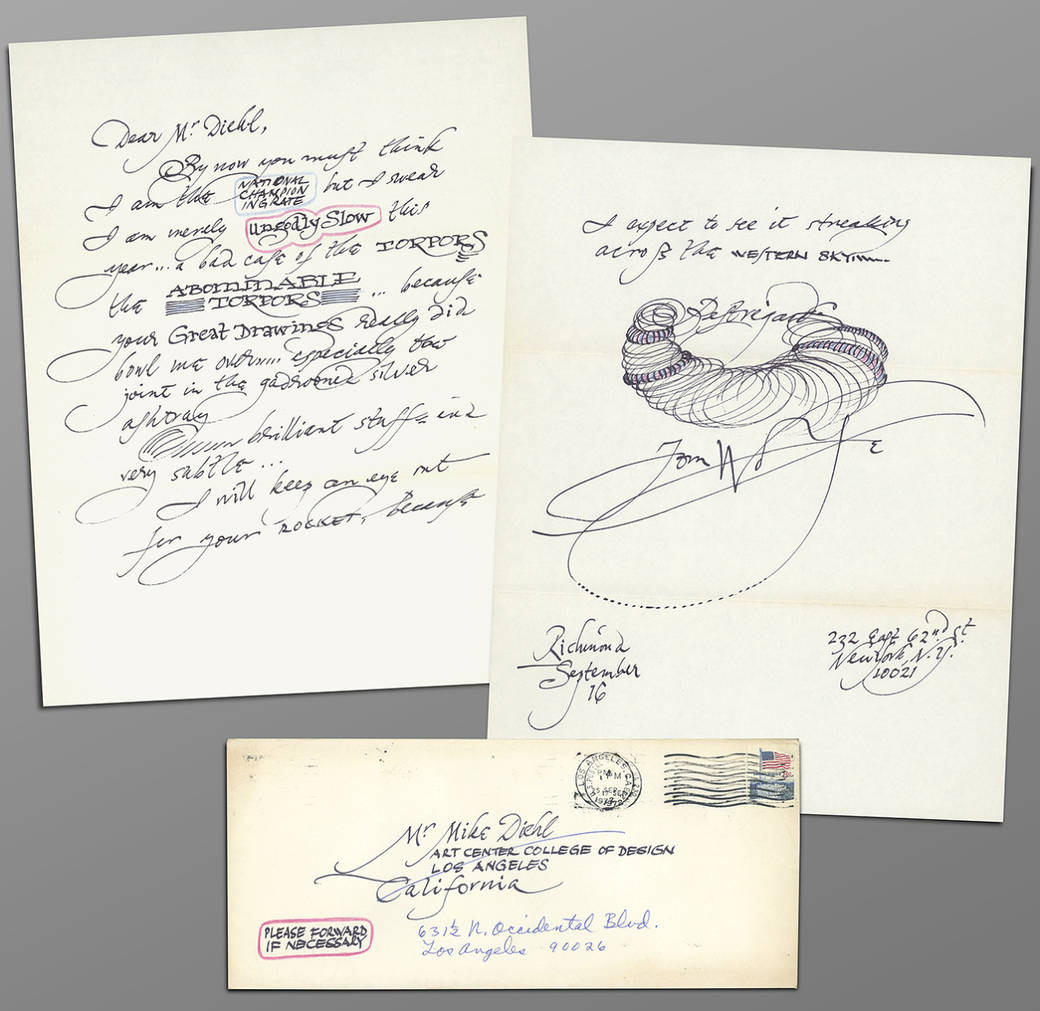 AC: A project at ArtCenter led to you cross paths with legendary writer Tom Wolfe, can you describe that experience?
MD: During my second year, I was assigned to read a book and design illustrations. I created realistic pencil renderings, including a joint sitting on a silver tray, for "Radical Chic," a Tom Wolfe article about a gathering at composer Leonard Bernstein's Park Avenue apartment where some of New York's liberal elite entertained members of the Black Panther party. I later saw Wolfe speak at USC — I'm guessing it was the spring of '72. I introduced myself and gave him the drawings. A few months later, I got an extraordinary letter from Mr. Wolfe, in which he also apologized for the delayed response.
AC: What's the design cliché you're most tempted to use?
MD: None, I would hope.
AC: What's the one tool you can't do without?
MD: A Mac. Duh.
AC: What do you do to detox from media and screens?
MD: Listen to music, read (newspapers, magazines, books), swim laps, play tennis and visit the lovely Brand Art & Music Library, just a few blocks from home.
AC: What book is on your bedside table?
MD: There are too many! There's a name for my affliction, tsundoku. Among those at arm's reach, each with a bookmark, are 21 Lessons for the 21st Century, Damn Good Advice (For People with Talent!), Our Towns, On Tyranny, Dark Matter and the Dinosaurs and Enlightenment Now.
AC: Describe a moment in your childhood where you first identified as an artist.
MD: My fourth-grade teacher assigned the class to watch the travel/culture show John Gunther's High Road to Adventure and write a page on each episode. Except me — I got to draw a mural. By the end of the school year, my murals encircled the classroom. Miss Edelman recognized and nurtured my interest in making images, and by year's end, I felt quite accomplished.