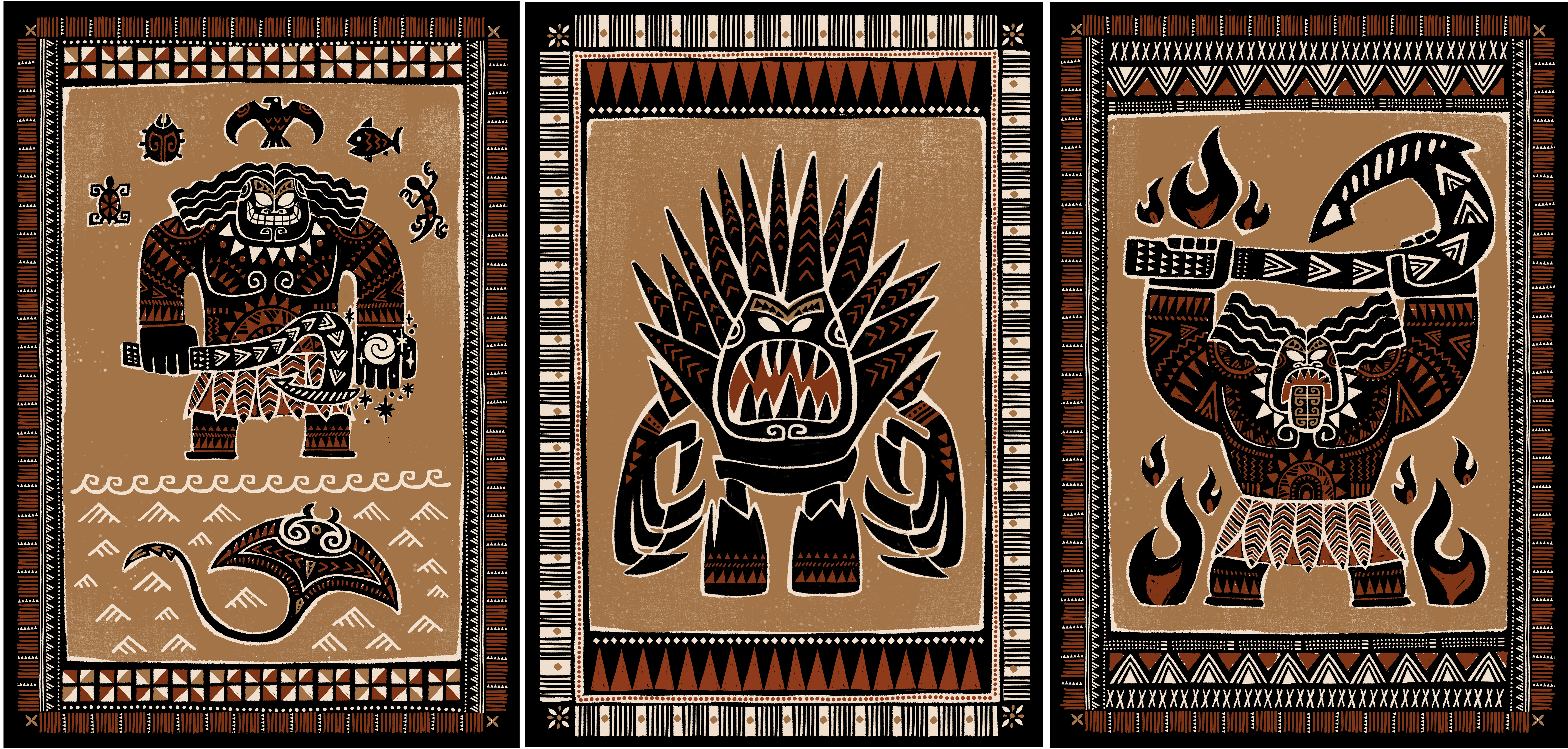 Boasting songs co-written by Hamilton's Lin-Manuel Miranda, Moana is a dream project for Sastrawinata-Lemay.
The film is about a fierce, funny Polynesian teen princess whose island village chief dad wants her to stay close to home, and who ends up sailing across the ocean to save her people, and meets a demigod named Maui along the way.
Sastrawinata-Lemay's contributions to the movie included helping to conceptualize and draw large black, brown and tan tapa cloths—based on traditional Polynesian cloths made out of the inner bark of mulberry trees—depicting monsters and Maui.
"Moana is a brown girl, which I love because I'm a brown girl," said Sastrawinata-Lemay. "She's very independent, very loving and very kind. She has a calling, but also wants to be the 'good child.' It's not about giving up one over the other, but how to do both, and she manages to do it. The tapas were a really neat assignment because you don't always get to see your own 2D work on screen, in a CG movie."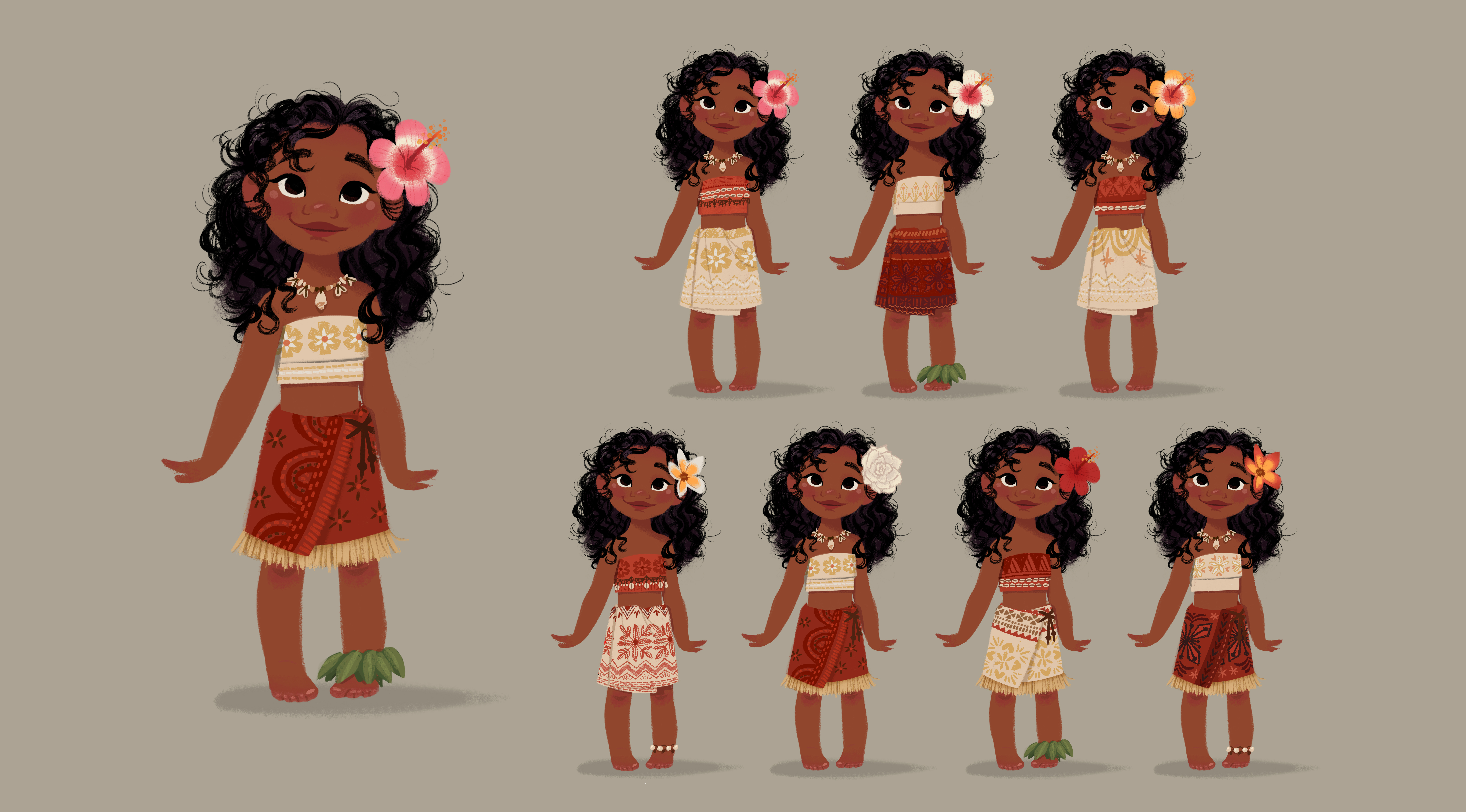 Sastrawinata-Lemay's own path into animation wasn't a straight line, but a swerving, zig-zag-y one. She originally wanted to be an accountant.
"A lot of Asian families don't consider art to be a profession. They want you to be in a more traditional one," she said. "I like math a lot, so I did an internship at American Express. I found out that I'm horrible at accounting! I talk to people too much and I draw too much instead of taking notes."
Drawing led her all to way to ArtCenter, where her Fall 2004 Dynamic Sketching class—and then later independent studies—with late instructor Norman Schureman inspired her to focus her portfolio on animation.
For her senior project, she took writer Kate DiCamillo's popular 2003 children's book The Tale of Despereaux, in part about a thrill-seeking mouse named Despereaux Tilling, and put her own Balinese take on drawings for a conceptual animated version of the book.
The abstract beauty of late Disney animator and concept artist Mary Blair's work also influenced her. Blair—"the goddess of animation," according to Sastrawinata-Lemay—worked on Disney classics including Alice in Wonderland and Cinderella.


"What a lot of us try to do in animation nowadays is put a new fresh eye and new look to stories that are inspired or based on fairy tales," said Sastrawinata-Lemay, whose bright eyes glow like "the light as it shines on the sea" (to quote from Moana's hit song "How Far I'll Go") when talking about her work.
"When you take an existing story that people are familiar with and you put a twist on the style, that's when you can show your personality," she added.
Graduating as her ArtCenter class' valedictorian, Sastrawinata-Lemay funneled her love of art, animation and design into later teaching Visual Communication 5 in the Product Design Department, from 2007 to 2011, while at DreamWorks.
Her upcoming Disney projects include a Frozen holiday special about buck-toothed snowman Olaf, and Wreck-It Ralph 2. She worked on character designs for both.
And even though she doesn't teach these days, she and her French-Canadian husband Norm Lemay, a Disney Animation storyboard artist, give back another way. Every Tuesday, they share drawing and painting animation techniques and tips on their joint Instagram account.
"I think animation is such a good way to reach people, even far away," she said. "It doesn't matter what type of family life you have. You can be a rich family, or poor. But when you watch the movie, you're watching the movie. You're just happy."