After going to an arts high school, Seth attended the Ontario College of Art and Design University to study illustration. "But I took a product design class and it blew my mind," he says. He switched majors to product design, got a job after college at graphic designer Bruce Mau's studio in Toronto, and then moved to Los Angeles to work as a designer at his brother and sister-in-law's creative studio, where his clients included the University of Southern California and the musician Moby.
As for graduate school, "ArtCenter was always on my radar," he says. He remembers being in the samples room of a printing company and picking up a "beautiful book with exposed binding and neon thread." It turned out to be an ArtCenter Viewbook. Later, Seth called the Admissions Department and was invited to visit the campus. "I was introduced to Sean Adams, and he took me to the Student Gallery," says Seth. "I thought, 'These projects are amazing!'"
After applying and getting accepted, he landed a good scholarship. On the first day of classes he met his eventual wife Ziyi Xu (MFA 2018 Graphic Design). He also remembers a feeling of freedom. "I wanted to see what kind of work I could do without a client telling me 'yes' or 'no.'"
Several instructors along the way helped him run with that feeling. Associate Professor Carolina Trigo (BFA 98) pushed him to take risks in Advanced Print Studio. "She takes you up into the sky, super far out beyond graphic design, and I love that space," Seth says of Trigo. "Greg Lindy taught me discipline," Seth says, recalling how that instructor's iteration-boosting Font Design course involved drawing the same characters over and over. But it was Seth's close connection to Professor Brad Bartlett that led him to work on the award-winning 2019-2020 Viewbook, a collaboration that brought him full circle from that day at the printer.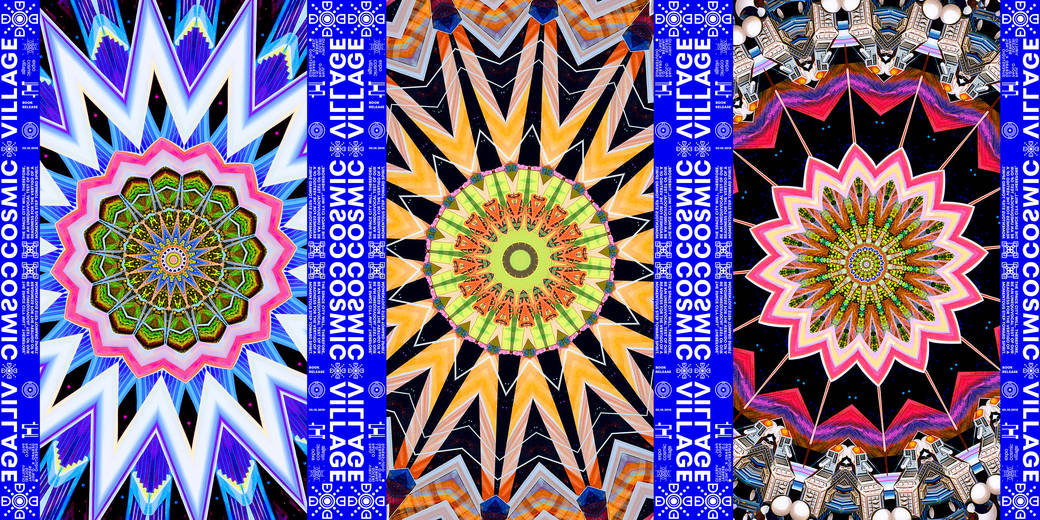 In Bartlett's Summer 2017 Advanced Transmedia Studio course, Seth created a book called Cosmic Village focused on Italian architect Paolo Soleri's critique of suburbia. Building his own kaleidoscope, he combined images of tract housing from Tim Burton's film Edward Scissorhands with NASA images of space stations. "I superimposed the idea of suburbia onto space, since humanity's survival is beyond Earth," Seth says.
After Seth worked as Bartlett's teaching assistant for three courses, Bartlett asked him to collaborate on the Viewbook, whose ambitious variable design cover concept called for the creation of a system that could generate more than 40,000 unique and iterative covers. "My main role was helping him to develop and design the algorithm generating the geometric forms on the cover," says Seth. "It was great to collaborate with Brad, who is so thoughtful and talented."
As for the future, Seth sees himself as continuing to explore dense and varying galaxies of design.
"I'm research-driven, and I love diving into that world and creating form through that lens," says Seth, adding that he also enjoys the iterative process. "I love graphic design history and different eras. I love wearing different hats."