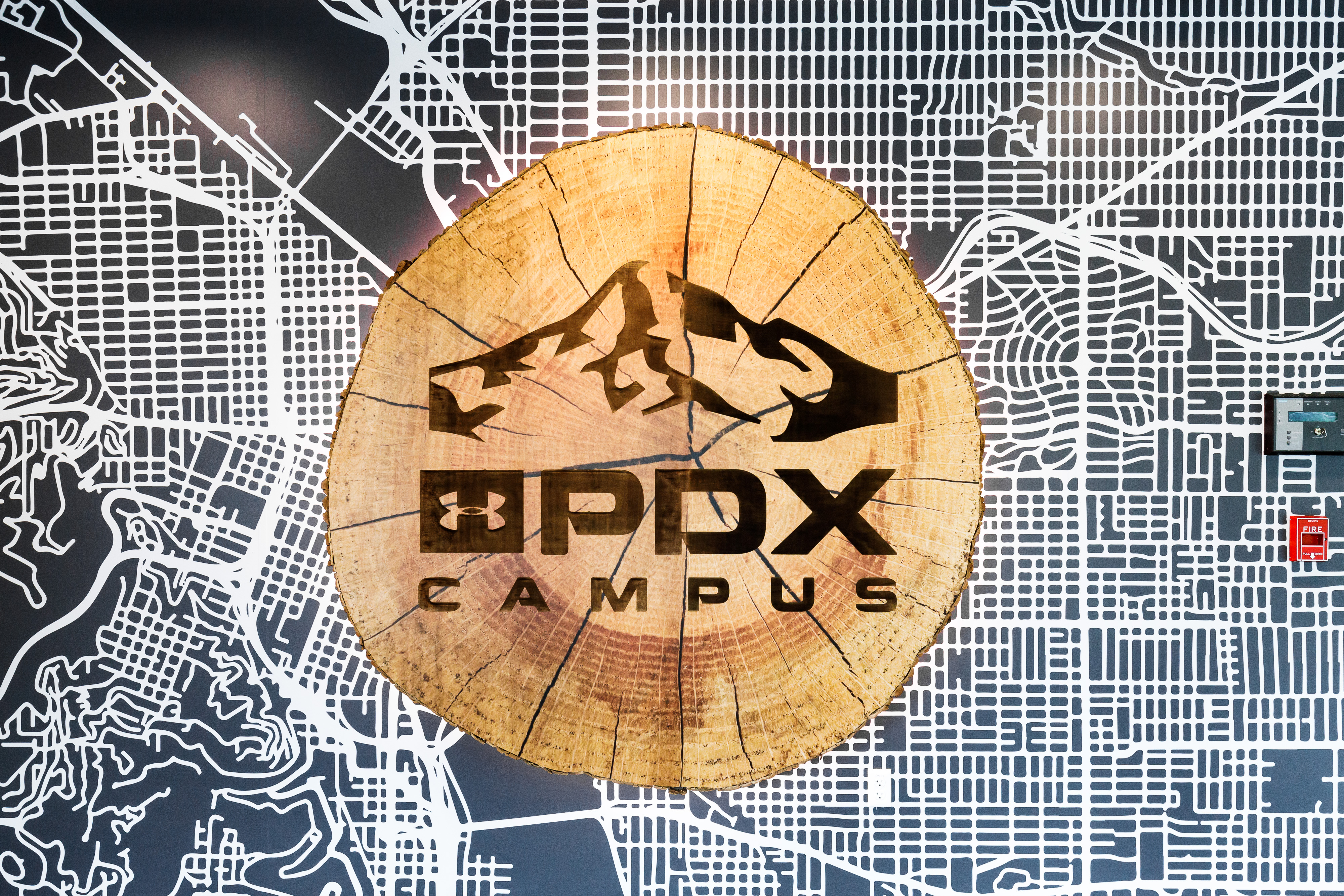 "I grew up loving cars, flying, Jet Skis, basically anything that burned gas and went fast," says Minneapolis-raised Fallon, when asked about his path to ArtCenter. "But I wasn't exposed to design in high school, so I ended up getting a degree in engineering at Brown University. But it wasn't my passion. It only took one interview with Ford to convince me to go back to school."
"As a kid, I was always taking things apart—electronics, BMX bikes, anything—and putting them back together," says Dombrow, who hails from San Diego. "But, like Kevin, I didn't know anything about design. I was planning on going into architecture, but a family friend who lived in Pasadena, right above the Rose Bowl, said I should check out this school up the hill."
Though they go back more than 15 years—they met in the early 2000s while working at Nike—the two alums never overlapped at ArtCenter. Yet they share remarkably similar experiences. They both fell in love with the College the moment they walked into the student gallery. They both credit their tough-as-nails instructors as teaching them to take pride in their work. "I remember Joe Farrer (BS 50 Product) telling us we were responsible for what we made," Fallon recalls. "He said we could turn in our acrylic boxes with air bubbles if we wanted, but that would reflect poorly on us and our attention to detail."
And they both say the learned just as much about design by competing with their fellow students. "I remember Feng Zhu (BS 99 Product) smiling at me before a critique and saying, 'I think I got you this week,'" Dombrow says of the concept artist whose work went on to appear in Transformers, Star Wars Episode III and the upcoming Alita: Battle Angel. "It was a friendly jab, and an example of the healthy competition that helped us all get better."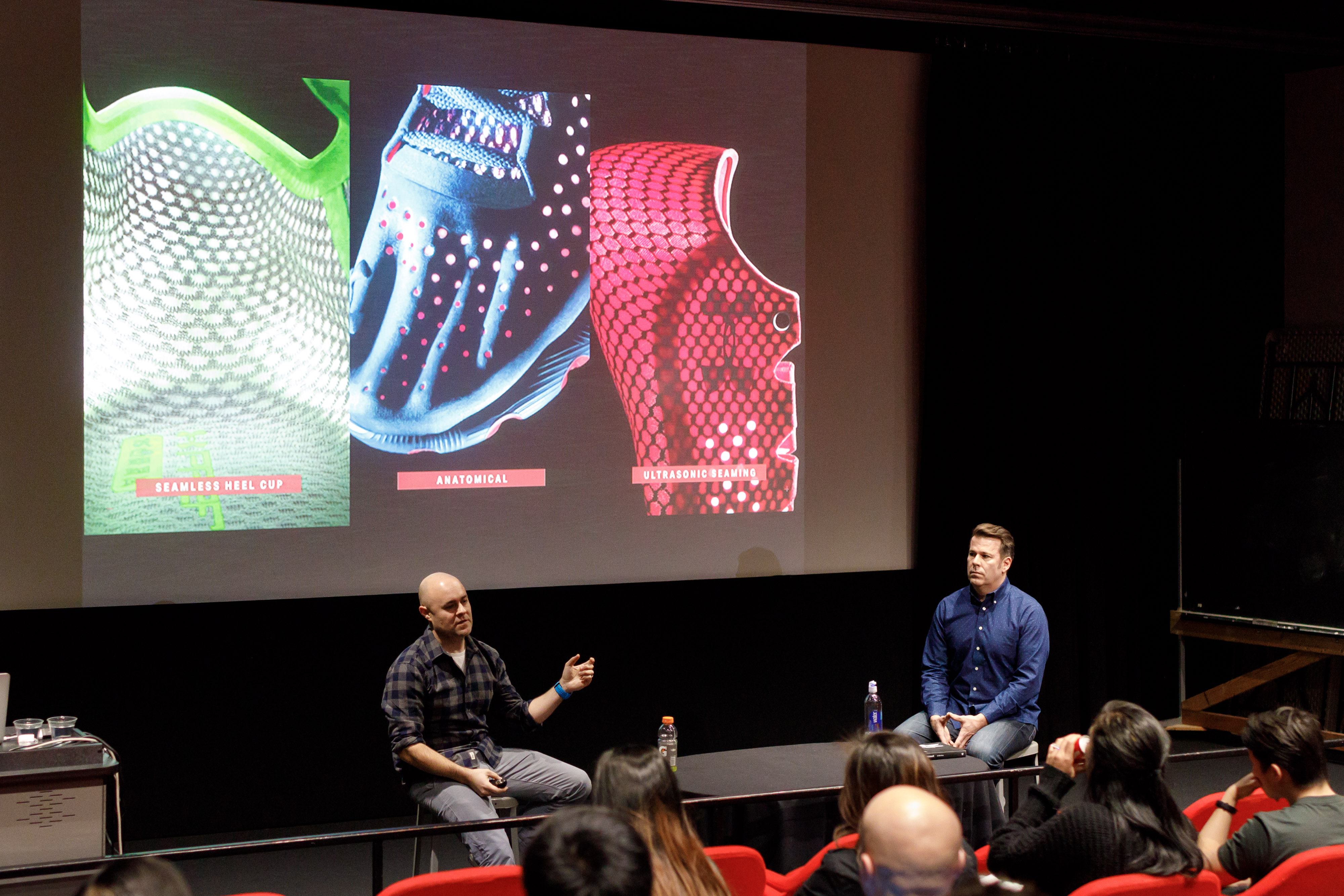 Last year, Dombrow and Fallon gave a Career Chat at Hillside Campus on the importance of trust and common purpose. And a few weeks prior to our meeting, they met with ArtCenter Product Design students in Portland doing a footwear industry deep dive via the College's Study Away PENSOLE Footwear Design Workshop. "I feel like it's our mission to help spread the word," says Dombrow. "Especially to kids that show an aptitude for design, because going to ArtCenter is life-changing."
When it launched in the mid-'90s, UA differentiated itself from its competition by laser focusing on improving athletic performance—the company's first product, designed by founder Kevin Plank, was a T-shirt made of synthetic fibers that stayed cool and dry under strenuous conditions. The shirt and strategy was a success and the company soon began attracting prominent celebrity endorsements. UA recently snagged wrestler-turned-actor Dwayne "The Rock" Johnson as an endorser—a deal that research firm Spotted cited as the strongest celebrity strategy of 2018.
"It all comes down to storytelling," says Fallon of the importance of having a clear narrative and purpose behind your products. "I grew up in an advertising household [Ed. note: his father was Pat Fallon, founder of Minneapolis-based Fallon Advertising] and dinnertime conversations were often about commercials. What are they going for here? What are they trying to sell?"
UA's presence in Portland itself tells a story. The Baltimore-based company had achieved success with its athletic apparel, but had ambitions to become truly competitive with its footwear. To achieve that goal, UA decided it could attract more talent by moving its footwear design division to Portland.