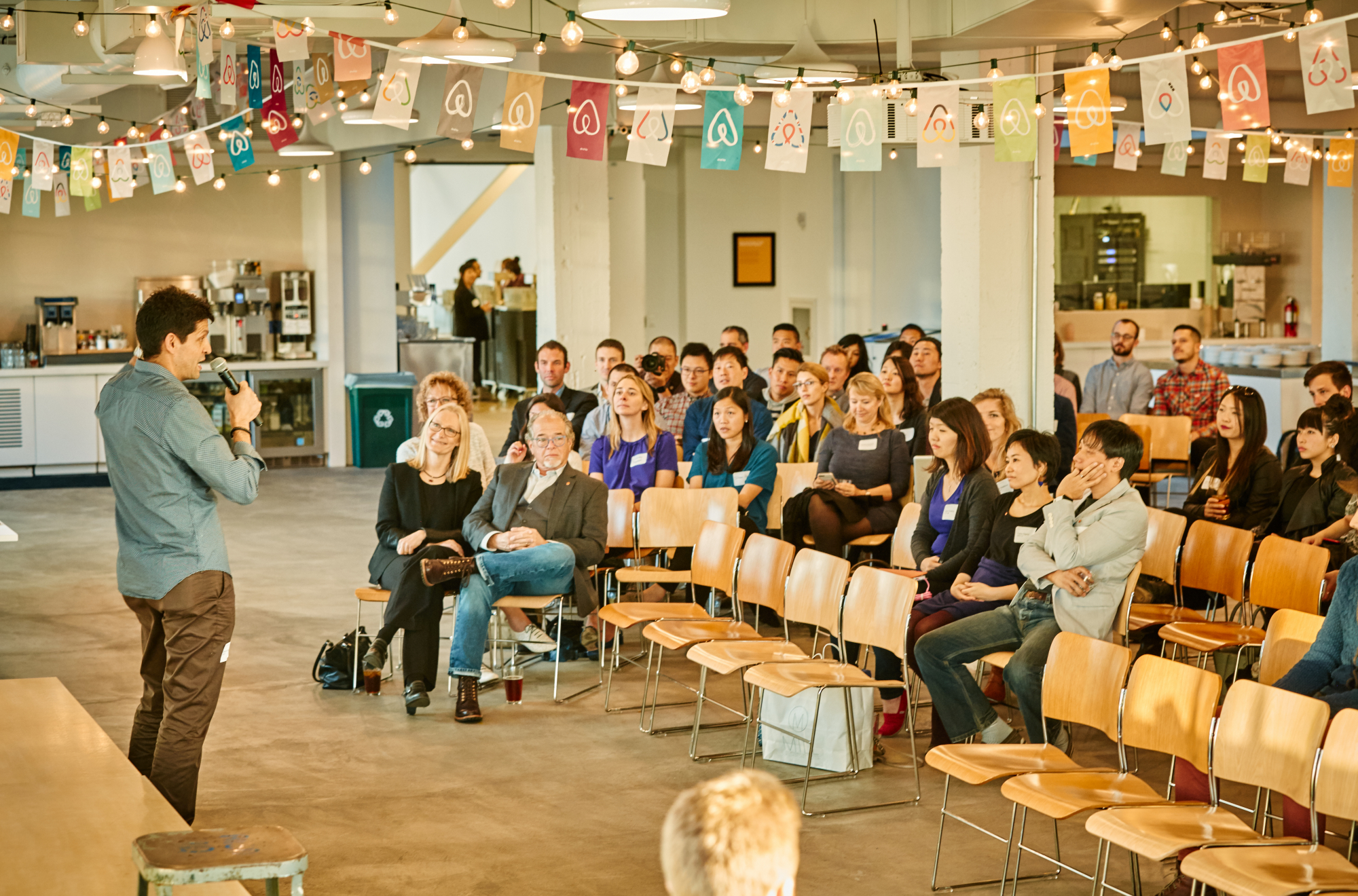 The Airbnb dining hall was buzzing with energy of the business design fusion that has come so far so fast. The knowledge makers who emerged from the partnership are leading a diverse range of businesses and think tanks, including MIT Media Lab, Google, Yahoo, 23&Me, SY Partners, BCG, BMW Designworks, Maker Studios, Karten Design, 3M, frog, Telenav, Lunar Design and HTC, the behind-the-scenes designer and manufacturer of many of the most popular OEM-branded mobile devices on the market.
Product Design alumna Katie Dill (BS 07), led tours of Airbnb's expansive space complete with rooms replicating some of the companies' most sought after destinations. As head of experience design, Dill says the INSEAD MBA exchange dramatically sharpened her strategic business and entrepreneurial skills.
"For me, the most impactful part of the experience was our process and learning how great it can be working with a business-minded person who looks at the world in a slightly different way, with a different methodology" she said. "I learned the business side of making things and realized how working on projects together definitely results in something better."
Paul Teyssier, former senior director of product at PayPal, confessed there was often more than one breaking point for participants of the program, which, he feels, offered empirical experience in navigating group dynamics on any project. "There was a healthy level of tension the entire time, knowing that we had different ways of approaching a problem. I'm sure we've all experienced that in the professional world. We call it the tri-force, like a three-legged stool, when we approach a project from the product side, engineering and design. That tension never goes away and it creates a better result."
"That tension is a great training ground for your future endeavors," added Seth Weissman, human centered designer at BCG Digital Ventures. "Designers are competitive. MBAs are just as competitive."
"What you learn is that it all starts with asking 'What's your intention?' and that comes from the ability to speak the same language," said Teyssier.
Simon Sollberger told reporters and friends about his new company Innovate Partners llc, a design centric venture capital firm, and Maureen Thurston who was instrumental as a faculty member when the INSEAD/ArtCenter fusion kicked off in 2005 (before the iPhone existed) traveled the furthest to join the reunion. Today, she's working with Deloitte in Sydney to transform their culture by incorporating creativity and design thinking.
Each year, a cohort of design students from ArtCenter's Pasadena campus spend a term abroad, taking MBA-level business courses at one of INSEAD's international campuses in France and Singapore. Student teams collaborate on product-based, entrepreneurial projects while diving into the fundamentals of business development. As part of this partnership, the MBA students spend an immersive week in California's design-driven culture, with studio visits to industry partners such as Idealab, Disney Consumer Products, General Motors, Karten Design and Belkin. This year, the tour extended to Silicon Valley and San Francisco with visits to Google, IDEO, fuseproject, frog and Autodesk.