After conducting research on what appeals to today's girls and diving into DC character encyclopedias, Rahardjanoto presented her ideas to DC. "They loved it and the rest is history," says Rahardjanoto, of the 12-inch action dolls that differ from fashion dolls in multiple and significant ways.
"They don't wear high heels and short skirts, they wear flats or boots along with their iconic outfits," says Rahardjanoto. "We've crafted their bodies to be toned and muscular. They stand on their own without a doll stand, something no fashion dolls have ever done. And at 12 inches high, they stand half an inch taller than most fashion dolls. So their proportion itself speaks power."
And what do these girls stand for? "They stand for power, they stand for justice, and they save the day," she says. What don't they stand for? "Going to the mall, shopping, and texting their boyfriend," she laughs. "It sounds funny, but in focus testing groups, we've seen six-year-olds pretending to play with their Barbies like that. With these dolls, we saw girls saying, 'Wonder Woman is going to save Barbie from the Dream House!' Which is so great. They're pretending to save their friends. That's the messaging. That's what it's all about."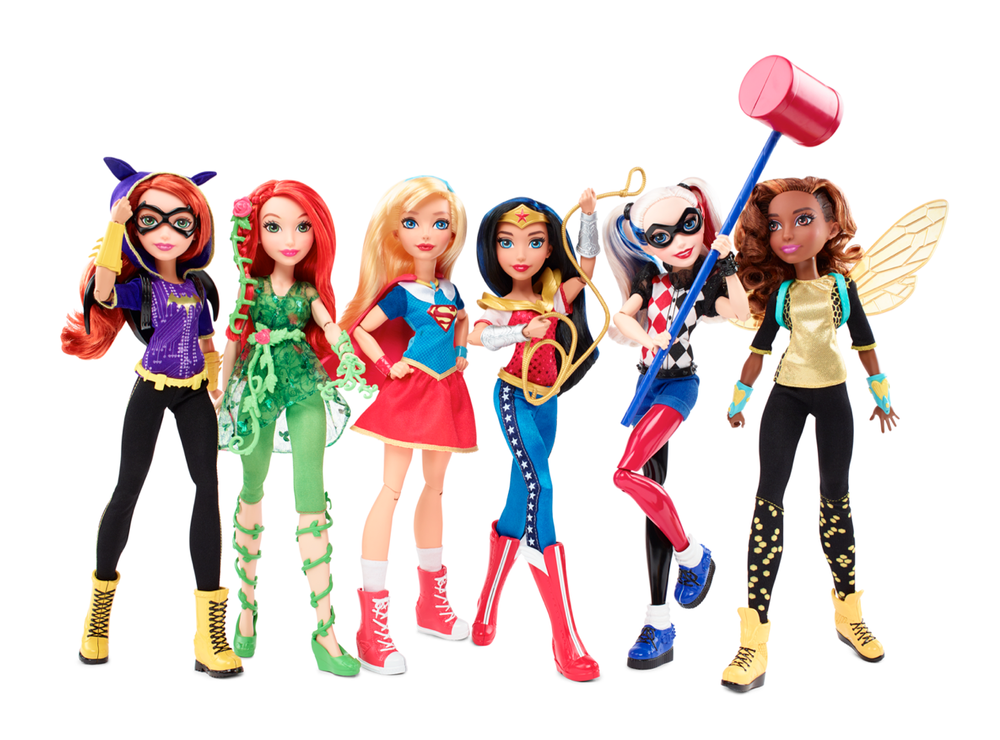 It's also about selling merchandise across many platforms, which means these 12-inch dolls are just the tip of the iceberg. Also available on Target shelves are six-inch action figures, roleplay costumes, Batgirl's utility belt, Wonder Woman's shield and more. Beyond the toys at Target, there's also apparel, a middle grade Wonder Woman novel by Lisa Yee (with a Supergirl novel, also by Yee, coming this summer), an iOS app (with an Android version on the way), a Finals Crisis graphic novel (also coming this summer), animated online episodes from Warner Bros. and even a one-hour special on the Boomerang channel this Saturday morning, also by Warner Bros.
In both the online episodes and the one-hour special, many of Rahardjanoto's early playful ideas come to life thanks to Warner Brothers Animation and teams of artists working on the project. Some of her favorite details include the loft space where the heroes live and decorate their individual spaces (Wonder Woman likes to display her framed awards; Batgirl goes for a high-tech cave aesthetic), lockers stacked high for the convenience of students with flying powers, and the silliness that ensues during a costume design class.
"This is very different from any other project I've worked on in terms of passion and talent," says Rahardjanoto of the groundbreaking work, which, if successful, could usher in a new era of toys for girls. "There was a different kind of energy. Everybody who worked on this project really believed in it. We all believed that this is the time when girls can feel like they're super powerful. We've all been so excited for this line to come out and to empower girls for generations to come."