The Future Starts With HER in the latest Dot
The Spring 2018 print issue of Dot magazine, now landing in subscriber's mailboxes, is a historic occasion for the College. It's the first issue of ArtCenter's biannual publication to be entirely dedicated to the accomplishments of its women alumni, students and faculty.

In an introduction titled "The Future Starts with HER," ArtCenter's newly appointed provost Karen Hofmann (she was the College's interim provost and chair of its Product Design Department at the time of printing) explains why the time is right to focus on the accomplishments of ArtCenter's women:
Perhaps it's because of my current position at the College, but lately I've been examining the notion of leadership, and particularly how an increasing number of women are assuming leadership roles in the art and design fields.

Here at ArtCenter we are seeing the evolution of many forms of leadership among our students, faculty and staff through shared governance, clubs and community events.

I've recently honed a guiding principal toward leadership that seems to be resonating with societal current events. It's a philosophy that I call "Leading with HER"— Humility, Empathy and Respect.

I don't think it's coincidence that humility, empathy and respect—qualities that organizations now see as essential when it comes to problem-solving and culture building—are traits that many women have naturally and that were not necessarily embraced by big business in the past.

Now, please don't mistake the acronym to mean that men aren't capable 
of these traits. These are qualities that designers—both men and women—
naturally have in a higher concentration than most. In fact, those long-
established tenets of design—human-centered and leading with empathy—are proven methodologies we've practiced at ArtCenter for decades.

So why make it about HER? Because we're at a unique moment in time. Thanks to the #MeToo and #TimesUp movements, women are speaking their truth in greater numbers than before. The fact that society is not only listening but actually taking steps to rectify the situation is perhaps indicative of how much power women have gained over the years.

Also, placing a spotlight on women in art and design has become a growing priority for ArtCenter. What began in 2010 with the formation of the Girls in I.D. student group—founded by alumna Laura Jonason, exterior automotive designer at FCA Fiat Chrysler, back when she was a student—continued in 2014 with the activation of the Industrial Design Women student group. The movement has now really hit its stride with College events like last July's Women in Industrial Design Forum—whose guests included alumnae Katie Dill, vice president of design at Lyft, and Marni Gerber, senior design director 
at Nike—and this past February's Women, Diversity and Technology panel, moderated by our own Interaction Design Assistant Professor JonDelina Buckley.

In that vein, this issue of Dot is all about women who are shaking things up 
in their respective fields. Whether they're upending assumptions about female car designers or exploring means to make artificial intelligence more inclusive, these alumnae and students are making their voices heard.

There's still a lot of work that needs to be done in terms of achieving equality, 
but the time to celebrate the women of ArtCenter has never been better.
As part of that celebration, the Spring 2018 issue of Dot features stories on:
Women in the field of transportation design, including interviews with Transportation Design alumnae Joann Jung (BS 2002) of Lucid Motors; Tisha Johnson (BS 99) of Volvo, and Michelle Christensen (BS 05), formerly of Acura Exterior at Honda R&D
Artificial Knowing, an AI consultancy co-founded by Media Design Practices alumnae Christine Meinders (MFA 17) and Selwa Sweidan (MFA 16) that aims to build radically inclusive AI platforms
Graphic Design alumna Michelle Dougherty (BFA 95), creative director, designer and live-action director at Imaginary Forces, the studio behind the title sequences for Stranger Things and Jessica Jones
Environmental Design alumna Ariel Johnson (BS 08), whose all-women firm Ariel Fox Design specializes in mutifamily residential projects and retail spaces
Illustration alumna Ana Serrano (BFA 08), whose vibrant cardboard sculptures speak to Latino identity, environment, history and representation
Interdisciplinary artist, designer, teacher and alumna Rebéca Mendez (BFA 84 Graphic Design, MFA 97 New Media Communications) who won the AIGA medal in 2017 for "challenging and transforming academia and design with her innovative interplay of identity and culture"
A 4x4 gallery featuring work by mixed media artist Pae White (MFA 19 Art); photographer and Photography and Imaging associate professor Ann Elliott Cutting (BFA 87 Photography); artist, designer and ArtCenter for Kids instructor Tasha Kusama (BFA 08 Illustration); and Emmy Award-winning director and creative director Vanessa Marzaroli (BFA 95 Graphic Design)
The cover of the issue features work by illustrator, fine artist and ArtCenter faculty Shannon Freshwater (BFA 08 Illustration), whose notable clients include Scientific American, The Washington Post and Little, Brown and Company. Using collage and assemblage to reflect emotion and examine ideas of the self, the illustration was created in 2009 for The New York Times Book Review of Jeannette Walls' Half Broke Horses, a novelistic re-creation of the life of the author's Wild West grandmother. Freshwater has exhibited her work across the U.S., and several of her book covers are included in the AIGA's permanent collection.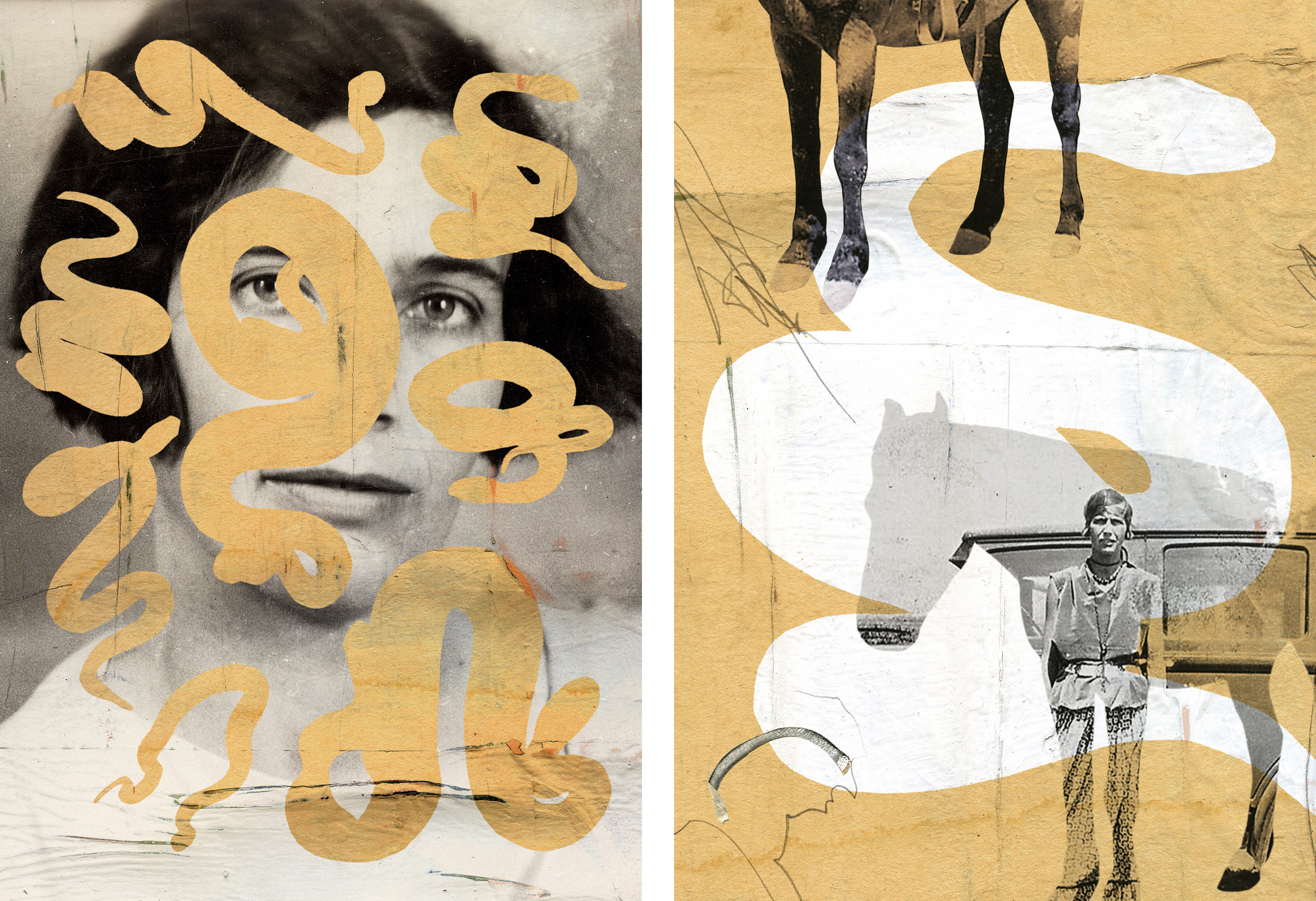 ArtCenter's flagship publication Dot magazine explores and celebrates the creative contributions of the College's alumni, faculty, students and their far-reaching influence within professional disciplines and on society as a whole. Stories are published online throughout the year, and a print edition is published in the Spring and Fall.