Delgatty, who exudes a Southern California cool (and wears snazzy checkered Vans), recalls his own experience. In the late '90s, Delgatty worked at footwear brand DVS as the L.A. company's design director. In the three and a half years he was there, he saw the business grow from zero to $40 million in yearly revenue, he says. Most of the shoes were made in South Korea, and he flew back and forth.
Then, after working as the design director of Vans, Delgatty in 2008 founded the footwear company Urshuz, which allowed customers to customize their shoes by interchanging recyclable soles and uppers using his patented technology. In 2011, he co-founded the open innovation design firm ideapiphany (IDP).
While teaching Mobility Design at ArtCenter in 2012, Delgatty noted that car companies sponsoring projects for the course mentioned the trend of millennials turning to alternate forms of transportation instead of buying cars. The companies wanted students to focus on designing a portable vehicle able to be brought onto trains or buses for that "last mile" to and from stops and homes.
"I thought, 'There's something happening here.' So I went to my garage in Pasadena and started tinkering, and designed a rough version—a real Frankenstein type thing—of our current URB-E," says Delgatty.

Cofounded by former Porsche, Fisker and Saleen lead engineer Sven Etzelsberger, URB-E went into production in 2015. Pasadena tech entrepreneur Brad King provided funding on the basis that manufacturing would be local.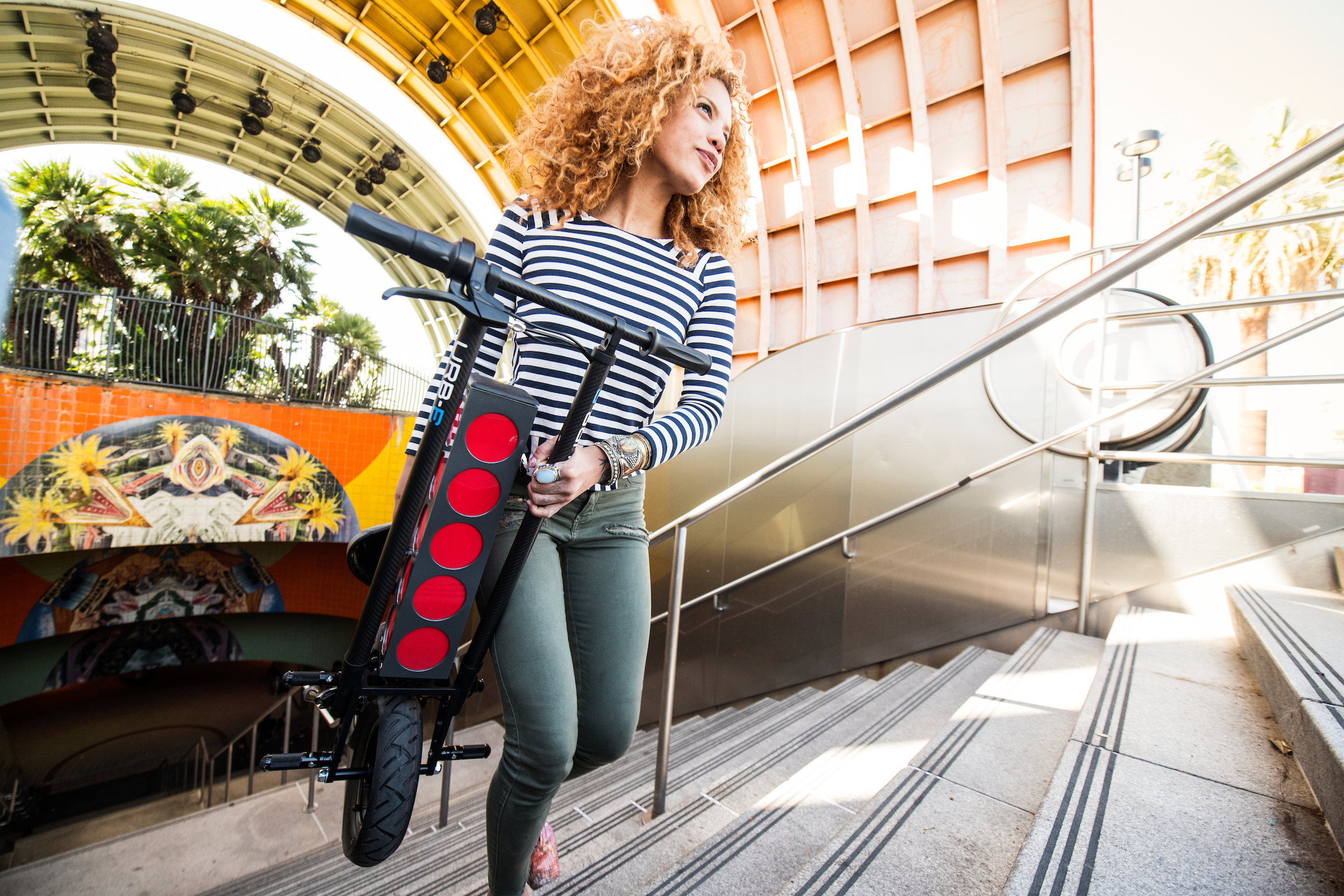 "When we originally developed the product, we assumed we'd be making it overseas, so we did all our development abroad," says Delgatty. "Brad said, 'I want to build it here because I think we should be in control of the process of getting it made.' In L.A. there's an unbelievable number of metal fabrication facilities."

URB-Es weigh only 30 pounds, and zip along at a top speed of 14 miles per hour. The scooters' aircraft-grade aluminum frame parts are machined locally in Rancho Cucamonga and assembled in the company's production facility in Pasadena. Their fully removable battery is made in China with "the best" lithium ion cells, says Delgatty.

The company uses a direct-to-consumer model, and ships to more than 40 countries. When a part is made incorrectly, Delgatty's team can rework it and get it back in a few days. "If we got these parts from overseas and assembled here, we'd be delayed weeks," says Delgatty.

The idea, too, that parts from abroad are less expensive—saving money—doesn't take into account the total cost, says Holly, between customs, shipping delays, potential intellectual property theft, and other hidden costs if working with faraway partners.

"From a consumer standpoint, people today want on-demand, same-day delivery," says Holly. "Forget same day delivery. How about local same-day custom manufacturing? One day, that's in the future."

Register for the BOLD Symposium, a daylong event on Saturday, May 12, 2018 designed to celebrate and inspire a growing community of entrepreneurs from ArtCenter and beyond, at artcenter.edu/bold.