Diana Thater's Sympathetic Imagination
She's snorkeled with wild dolphins, regularly watches the Nat Geo channel and lives with four rescue cats. So it seems only natural that Graduate Art Chair Diana Thater (MFA 90) would use her empathy for animals as the foundation for a remarkable series of video and film installations dissecting the knotty dynamic between humankind and wildlife.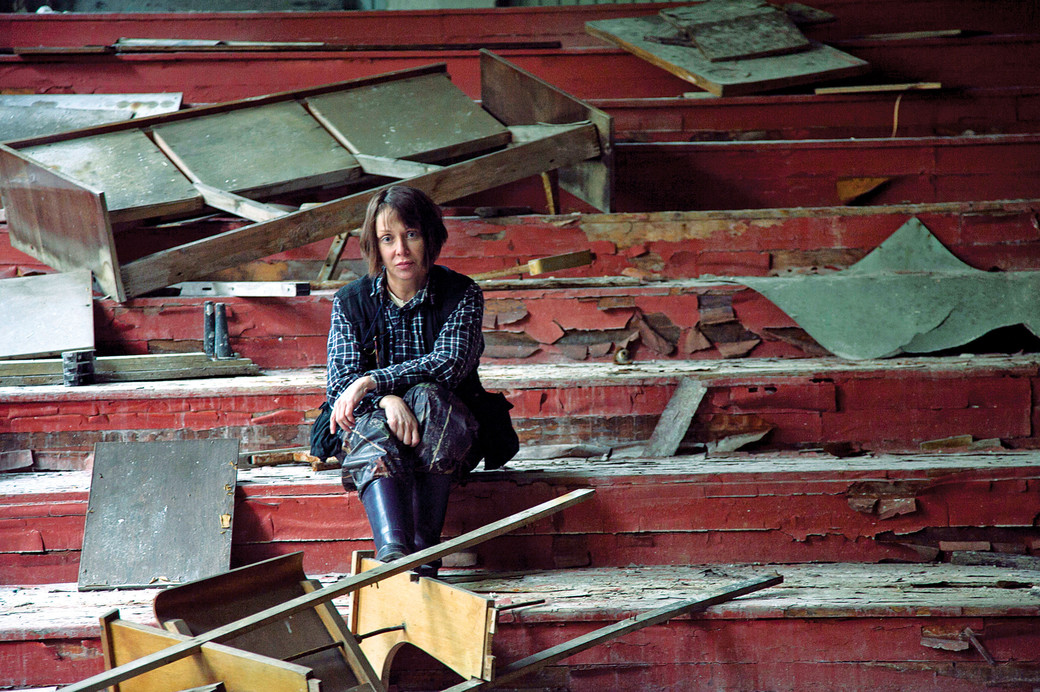 Sipping an espresso in the cozy Highland Park studio and home she shares with artist/musician T. Kelley Mason, Thater, dressed in a hoodie, black pants and sandals, says, "When I go on shoots, I find my relationship to the animals is very different from that of the crew. They're not alien to me."
As stray Spiffy insinuates himself alongside her on the sofa, Thater elaborates. "I've had very close contact with gorillas, wild dolphins, chimpanzees. I've had monkeys climbing all over me, I've petted a tiger. You have to be really open in order to work with animals in that way," she laughs. "I hope I am."
For more than two decades, Thater has remained profoundly open to unexpected discoveries, trekking to remote locations to capture footage for her nature-themed media art pieces. She says, "I'm always looking for interesting subjects because I feel, in a way, it's my job to document the state of the natural world in art before it all disappears. That's really a mission for me."
Thater's ongoing investigations have earned rave reviews in New York, London and Europe but rarely in Los Angeles. "I've gotten nothing but trouble from the local critics and hardly ever show in L.A.," she says.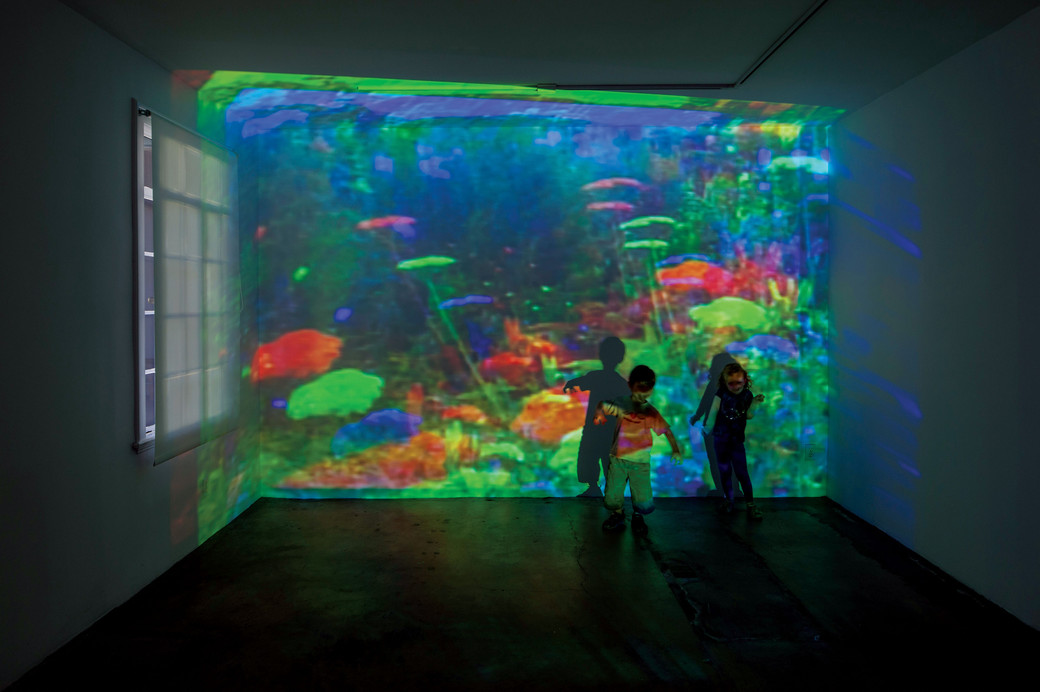 That changes this fall when the Los Angeles County Museum of Art presents Diana Thater: The Sympathetic Imagination. Opening November 22 and running through February 21, 2016, the 20,000-square-foot retrospective takes up an entire floor of LACMA's Art of the Americas building and the top west side of the Broad Contemporary Art Museum. It represents the largest monographic exhibition dedicated to a female artist in the museum's history. Works range from 1992's Oo Fifi, Five Days in Claude Monet's Garden, which separates video images into red, blue and green components, to her 2015 Life is a Time-Based Medium, a three-channel video installation inspired by the 18th-century Galtaji Temple in India currently occupied by wild monkeys.
LACMA Director Michael Govan has championed Thater's work since 2001, when he presented her bee-themed installation knots + surfaces at Dia: Chelsea in New York. After LACMA acquired several Thater pieces, the museum's Christine Y. Kim, associate curator of contemporary art, began organizing The Sympathetic Imagination. Kim, who also curated light and space pioneer James Turrell's 2013–2014 LACMA retrospective, believes both artists design environments that transform the way viewers perceive the world.
"With James Turrell, when you go into the Perceptual Cell—the 'God cell'—you feel the hair stand up on your skin, your pupils dilate, you go into an alpha state, your eyes adjust and you start seeing something in what had appeared to be a completely black room," says Kim. "In a totally different way, Diana's arranged these shifts and inversions to occur in real time, with scale, with palette, with movement, with animal behavior. Those strategies turn notions of beauty on their head. It's not like a Sunday painter's landscape beauty or the beauty of nature or the beauty of abstraction. It's about all of those things. Diana's work is very invested in the viewer seeing how he or she sees."