Sevilla fills her own art with vibrant streaks of color, and inspiration from her mother's family in Puerto Rico and her father's journey immigrating to the U.S. from Honduras. Born in New York City, where her mom was raised and where Sevilla lived until she was about 8, Sevilla grew up drawing the family's dog Spanky.
Later, as a high school student in South Florida, Sevilla painted and took photos while also working at a community arts center, forging her path to ArtCenter. Her pieces range from large acrylic, gouache, oil and pastel abstract self-portraits to patterned three-layer silkscreen prints. Her love of color stems from painter Helen Frankenthaler and NYC's Color Field painters in the '40s and '50s.
"ArtCenter lets you build your schedule and guide your own career, and that was appealing to me," says Sevilla. "It's nice to see how much everyone cares about each other, and is open to other people's feelings and work. Technically you're in class with your competition, but there's no sense of anybody trying to get ahead."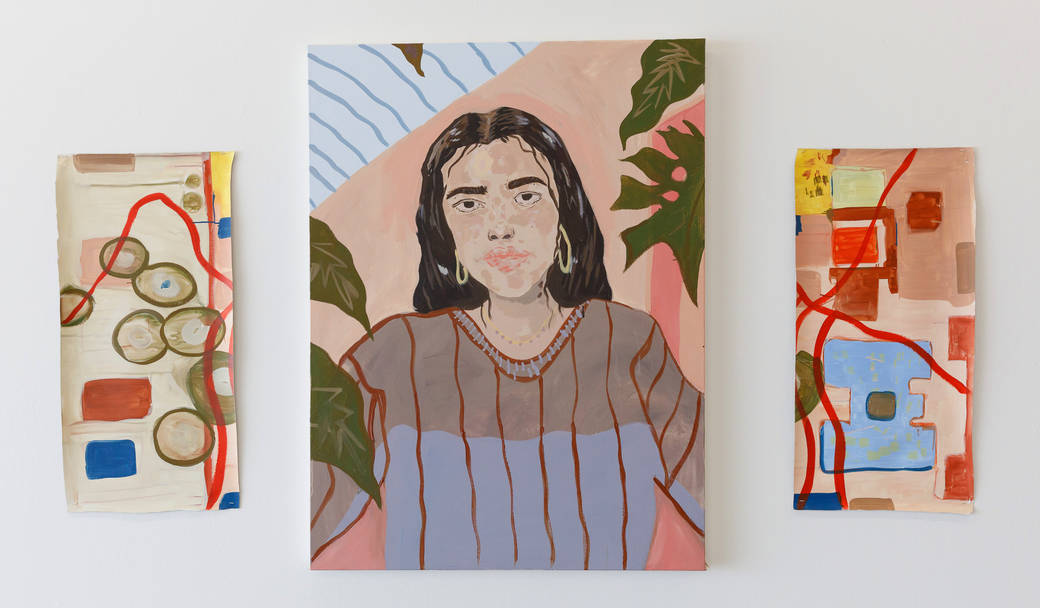 The Spring 2018 course Rethinking Art taught by Assistant Professor Alex Kroll, and Summer 2018 course 2D Intensive 1 taught by faculty members Kenyatta Hinkle and Joshua Holzmann also helped Sevilla grow. "It was ok if you tried and failed," says Sevilla, who is currently taking Fine Art Assistant Professor Olga Koumoundouros' socially minded course Social Practice 1 at the Main.
In the aftermath of Hurricane Maria, which impacted her grandparents, aunts, uncles and cousins in Puerto Rico, Sevilla injected her work with more personal weight. For a Summer 2018 series, Sevilla ordered fabric dyed or woven in Honduras—not as lush, green and boldly colorful as Puerto Rico, she says—and interviewed her dad about the interiors of the homes he lived in. She also created work with aerial views of places her mom lived in Puerto Rico and NYC.
"I'm not only creating a narrative by painting, I'm also including things that are representative from where I come from and my parents come from," she says. "To have that contrast—between my mom and my dad—is something that blends into my work. I've become very aware of my position as an artist."