The Future of the Transportation Design Department: A Bold New Vision
With prolific alumnus and 1964 Shelby Cobra Daytona Coupe car designer Peter Brock watching from the audience, the second panel, "The Future of the Transportation Design Department: A Bold New Vision," introduced a vision of the future for the Transportation Design and graduate Transportation Systems and Design departments. Scheduled for completion in Spring 2021, the Peter and Merle Mullin Transportation Design Center, a bold redesign of the 950 building's Wind Tunnel on the South Campus, will be the departments' new home.
Transportation Design Executive Director Jay Sanders introduced the panel noting that the Alumni Reunion marked Transportation Design's 70th anniversary. He added that a departmental assessment was in the works, and the College plans to gather additional feedback from alumni, industry leaders and companies. "We want to make sure we're as ready as possible for the future," said Sanders.
Rollin Homer, ArtCenter's associate vice president of Facilities and Campus Planning, presented a slideshow about ArtCenter's 15-year master plan, which will include Transportation Design's move from the Hillside Campus as well as new structures and areas—including student housing, a large green quad and a cycleway—on the South Campus.
Darin Johnstone, whose architecture firm Darin Johnstone Architects (DJA) is overseeing the three-story Mullin Transportation Design Center, showed plans for the space. He said two themes emerged for the project: the need for students to work on full-scale models, and the ability to use technology and AR. The center will include an updated and expanded Hyundai and Kia Innovation Lab, an Art and Process Lab and a Vehicle Architecture Lab, plus classrooms, model shops, studios, swooping ramps, a viewing deck and a ground floor accessible by vehicles as large as a London double-decker bus. "We're really excited about this building," said Transportation Design Chair Stewart Reed (BS 69 Transportation).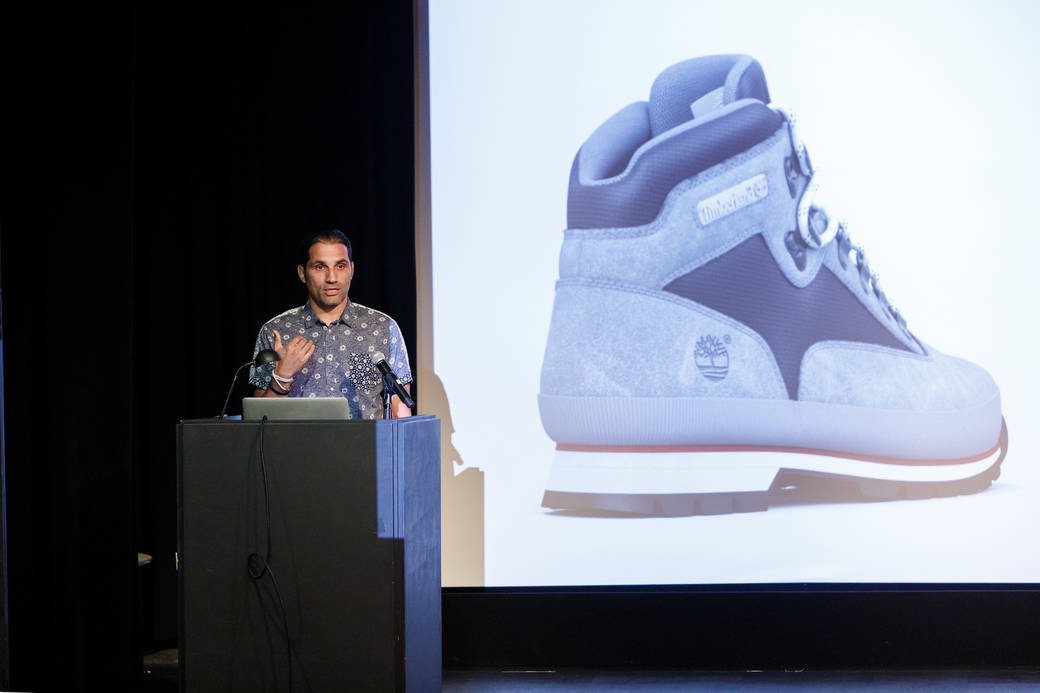 Digital Technologies and the Future of Making
For the third panel "Digital Technologies and the Future of Making," three alumni—Safir Bellali (BS 01 Transportation), Todd Masilko (BS 96 Product) and Jenny Rodenhouse (MFA 15 Media Design Practices)—plus several students presented how the latest advances in technology will reshape design. Professor Babette Strouse, who moderated the panel, kicked things off with a discussion of surgeons using 3D-printed artificial hearts in their procedures.
Bellali—senior director of advanced digital creation at VF Corporation, the parent company of Vans, Timberland and The North Face—posed the question, "What is our place as creators and artists" in an age when robots are doing work for us? VF, he said, has incorporated creation tool Gravity Sketch to build digital shapes and forms—an outfit or a shoe—in VR to replace physical samples. This will allow designers and customers to quickly customize patterns on products, such as sneakers. "We have an opportunity through digital platforms to democratize designs," he said.
Masilko, an associate professor in the Interaction Design Department, examined the Summer 2018 studio course AI and Agents he co-taught with Rodenhouse. "Our goal was to give students a chance to play with tools that program machine learning and artificial intelligence," he said. Those tools included Unity, a leading game engine to create video games, and IBM Watson, an AI and machine learning program. Following Masilko, a few Interaction Design students presented work from the course, including Angelina Yeon Woo Shin, whose final project used IBM Watson to analyze the tone of conversations.
Rodenhouse, an assistant professor in Interaction Design and director of ArtCenter's new Immersion Lab, ended the panel with a discussion of the lab, a space that increases access to XR (AR, MR and VR) technologies, methodologies and tools. After Rodenhouse's presentation, Interaction Design students Anna Kang, Bryan Oh and Leo Jiacheng Yang presented Orard Board, a mobile battle-centric video game they created in the Immersion Lab. "We are exploring technologies in a medium that's always in flux," Rodenhouse said.