David Velasco Presents Ralph Lemon
Three-time Bessie award winner, Ralph Lemon, is a choreographer, writer, visual artist, curator, and the Artistic Director of Cross Performance, a company dedicated to "the creation of cross-cultural and cross-disciplinary performance and presentation." Recent works include Scaffold Room (2015), Four Walls (2012), and How Can You Stay in The House All Day And Not Go Anywhere? (2008). The latter, which incorporated live performance, film and visual art, was co-commissioned by Brooklyn Academy of Music, New York; On the Boards, Seattle, WA; Walker Art Center, Minneapolis, MN; and Krannert Center for the Performing Arts/University of Illinois at Urbana-Champaign, where it commenced its U.S. tour.
Institutions including The Studio Museum in Harlem, New York; Yerba Buena Center for the Arts, San Francisco; The Kitchen, New York; and Walker Art Center, Minneapolis have devoted solo exhibitions to Lemon's visual artwork, and his efforts as a curator include the Fall 2012 performance series "Some sweet day" for the Museum of Modern Art, New York, as well as the acclaimed 2010 series "I Get Lost" for Danspace Project, New York. As the 2014 Annenberg Fellow at the Museum of Modern Art, New York, he organized a series of "performance essays," titled, "Value Talks."
Lemon, who has taught and lectured extensively, is currently Professor of Practice of Theatre Arts and Performance Studies at Brown University, and a Visual Arts Mentor at Columbia University School of the Arts. He received a 2015 National Medal of Arts from President Barack Obama. The first monograph of his work, Ralph Lemon: Modern Dance Series, was published in 2016 by The Museum of Modern Art, New York.
Image: Ralph Lemon. Credit: Tara Fallaux.
---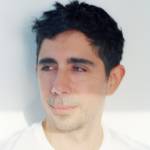 David Velasco is the editor-in-chief of Artforum. In 2016, he launched, "Modern Dance," a series of titles published by the Museum of Modern Art, New York, examining the work of choreographers who are transforming twentieth-century movement-based idioms, the first volume of which was devoted to the work of Ralph Lemon. Velasco recently penned the introduction to The Weight of the Earth (Semiotext(e), 2018), a volume of David Wojnarowicz's previously unpublished audio diaries, and is currently at work on a novel about fathers.
Image: David Velasco. Credit: Marcelo Gomes.
---
The Graduate Art Seminar is a forum for graduate students and members of the ArtCenter community to enter into dialog with internationally recognized artists, critics, and art historians. The Seminar is a core component of ArtCenter's Graduate Art program. The Seminar is also free and open to the public.

Please note: This seminar will begin at 8 p.m., instead of the usual time of 7:30 p.m.
ArtCenter's Graduate Art program is based on intensive studio practice and rigorous academic coursework. The program is distinguished by its low faculty-to-student ratio that provides students with the attention and feedback they need to refine and achieve their artistic goals. Faculty and students are artists working in all genres—film, video, photography, painting, sculpture, performance and installation. A significant number of alumni have achieved national and international acclaim and often return to share their insights and expertise as visiting faculty and guest lecturers.