"It was a game changer," says Constantine, who has used Studio in a Box to teach several courses, including Design 1 and Bookbinding Lab. "It's made visually communicating with my students super easy," she says. "I've used it to record demo videos for my students to watch asynchronously, as well as during class to demo live. My students can watch my demos and lectures at any point they want during the week, and the videos are short and manageable. The recordings I've made are better than what I had been making with my DSLR camera or iPhone."
Constantine was the very first instructor to try out Studio in a Box. Last summer, Assistant Media Production Coordinator Lyndsay Bloom filmed Constantine recording a series of bookbinding demos at the 1111 building that Bloom included in a series of "how to" videos for the kit. Now more than 65 faculty members have used the equipment.
"It was overwhelming at first to think about playing to multiple cameras and making sure that everything I was doing was on screen," says Constantine, who set up a Studio in a Box in her Los Angeles work studio, which she shares with other ArtCenter alumni. "Once I set up the cameras, I got more comfortable using them, and now it's seamless," she says.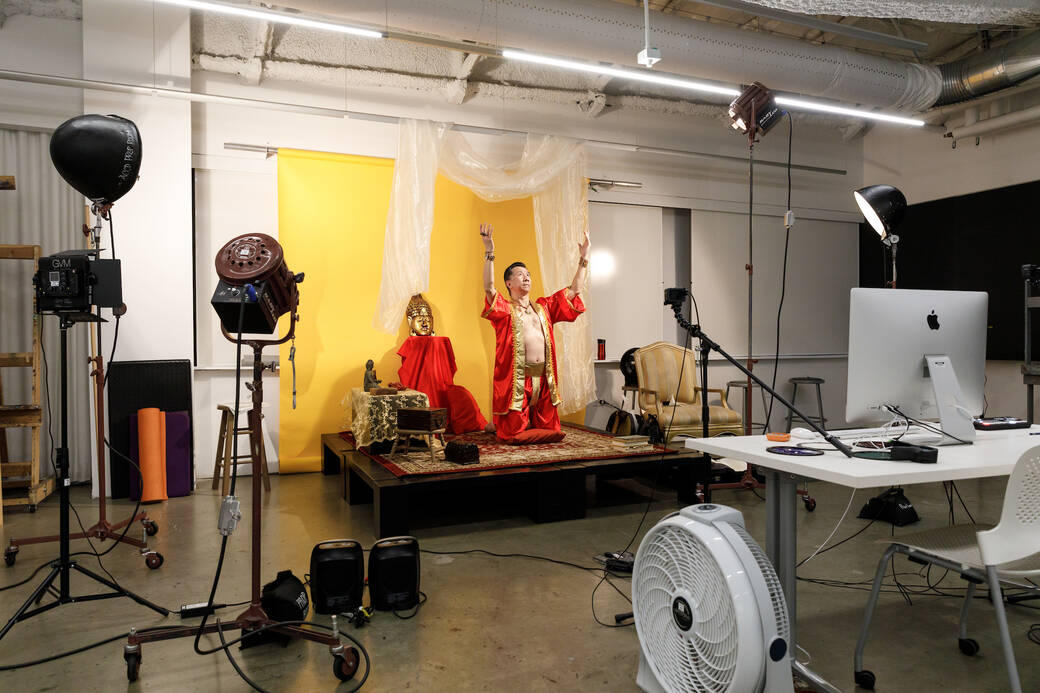 For the Spring 2021 term, Constantine converted an extra bedroom of her Altadena residence into a home office, and used Studio in a Box there for live demos. "COVID numbers were really high, and the variants worried me about teaching maskless while at the studio," she says.
Since its launch, Studio in a Box has had a positive impact on both faculty members and students, says Bloom. Faculty members have the ability to share multiple viewpoints by expanding their one webcam to three or four cameras, and switch between views. Students can see wide and close-up angles, and over-the-shoulder and top-down views, in addition to the faculty member's front-facing camera. "Studio in a Box gives each student a front row seat to any presentation, lecture or demonstration," says Bloom.
For Constantine, the kit enables her to effectively do what she loves, and during a pandemic.
"It's been a relief to not spend my own money on camera equipment," she says. "The stress of figuring out AV technology is lifted, and I'm able to just work on teaching."