Sponsored Projects Newsletter – March 2023
How It Started. How It's Going.
Recognize anyone? In this 2004 image (captured on film, of course) Karen Hofmann, future president of ArtCenter College of Design, sits at the center of a project sponsored by Johnson Controls.
During this studio, students across disciplines examined the future of how passengers would interface with vehicles, in safe, comfortable and entertaining ways. At the time, "interactive experience" was still a novel term.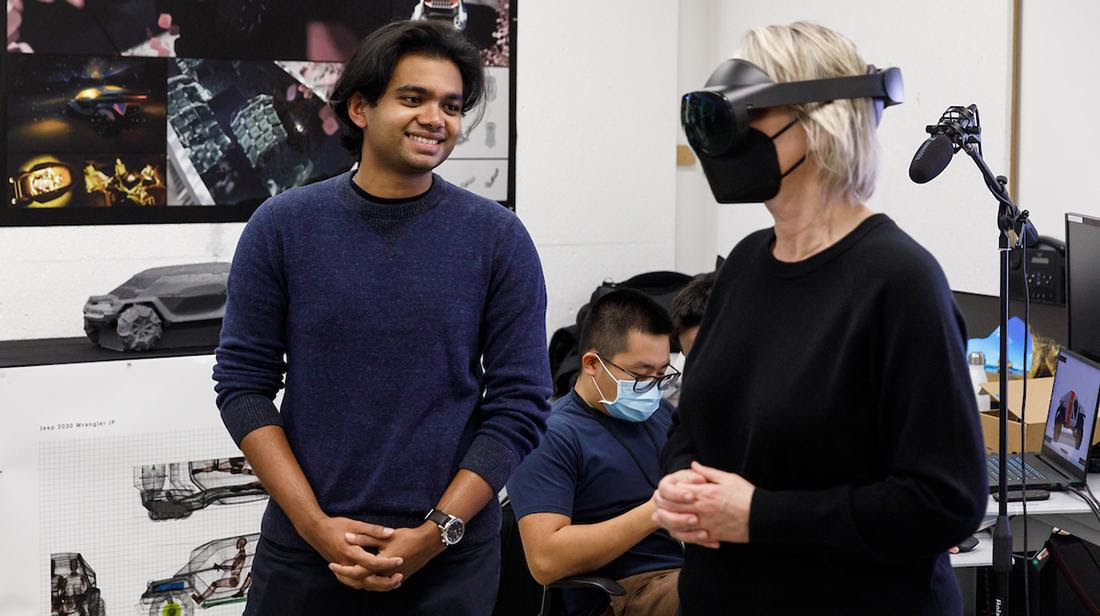 Above, Karen is immersed in a much more recent endeavor, ArtCenter's Gravity Sketch + Stellantis Sponsored Studio. In this 14-week project, Gravity Sketch, a 3D design platform, and automotive manufacturer Stellantis teamed up with our students to create the next generation Jeep Wrangler for 2030, with the emphasis on electrification and autonomous driving.
In an ArtCenter first, the project was documented in real-time across social media, as students were encouraged to post regular updates of their design process using #GravitySketchJeep. This offered the community real-time access to the innovation and techniques used by the students to arrive at their final designs.
Throughout the study, Gravity Sketch was eager for students to test its VR platform to enhance the automotive design process, while Stellantis empowered students to push Jeep forward, using the VR tool to collaborate with the brand's professional designers.
"VR has become the latest tool in an automotive designer's toolkit," says Becca Miller, Education Program Manager, Gravity Sketch. "The opportunity for students and Stellantis designers to be together in VR, reviewing concepts, allows for unparalleled critique and learning."
Mark Moushegian, Design Manager, Stellantis, agrees that the collective aspect of VR allows for opportunities of advancement across the design world. "It's the next level of moving design forward into an exciting new frontier," he says.
Partnerships between companies in different industries, like Gravity Sketch and Stellantis, are becoming more commonplace, in and outside the classroom. Advancements in collaborative tech, coupled with the pandemic, have pushed this trend forward, allowing creatives around the globe to work on the same project, at the same time. At ArtCenter, our students are pioneering this new "interactive experience."
As Karen shared, "the resulting designs were stunning, but it's the design process that is the true game-changing result of this incredible collaboration. This studio offered a very clear window into the future of automotive design and, let me tell you, it looked very bright, even through that VR headset!"