Since that 2021 portrait, Chang has created and shared on his social media many more illustrations of Asian people who have been attacked and/or killed nationwide, to raise awareness. His portraits have ranged from images of victims unharmed and smiling—with those killed outlined in white—to illustrations of people with bruises and lacerations.
According to data published by the Center for the Study of Hate and Extremism, hate crimes against Asian American and Pacific Islander (AAPI) communities in the United States rose by 339% in 2021 compared to an already record-breaking 2020, spurred by racism during the COVID-19 pandemic.
In March 2021, soon after the Atlanta-area spa shootings in which six women of Asian descent were killed, Chang posted an animated tribute to Xiao Zhen Xie, a 75-year-old Chinese grandmother in San Francisco who fought against her white attacker with a wooden board. The GIF, featuring Xie determined and swinging the board, with the words "F*ck Around And Find Out," went viral. "The story of this grandma who was not taking this shit was something I wanted to celebrate, and it resonated with a lot of people," Chang says.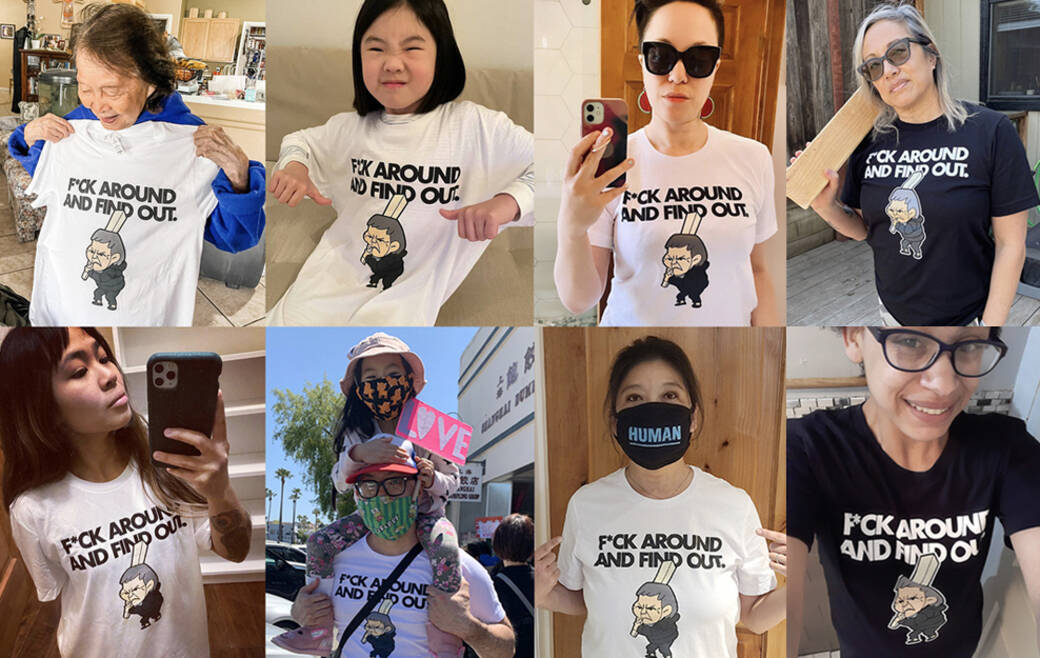 Motivated, he looked for partners to create merchandise with the image to give to donors for a GoFundMe for Xie, which she later gave to a Stop Asian Hate community fund. Together with Asian-owned Oakland print shop Town Print, who donated 1,000 shirts, and biracial half Japanese executive Emily Lonetto, who donated 2,000 stickers, Chang raised an incredible $38,000 in seven days matched by venture capitalist Eric Kim.

When Chang read about the January 2022 murder of 40-year-old Michelle Go, a Chinese American senior manager in finance pushed by a homeless man into the path of an oncoming subway train in New York City, he drew a portrait of her and posted it.
Having seen the post on Instagram, Ben Wei, founder of the non-profit Asians Fighting Injustice, contacted Chang about using the portrait for a vigil in Times Square. In just 24 hours, Chang designed two digital billboards, featuring his portrait of Go and his other portraits of Asian victims of injustices. "A friend at the vigil texted me, 'Oh my God, Jonathan, they're huge and everyone here is bawling,'" he says.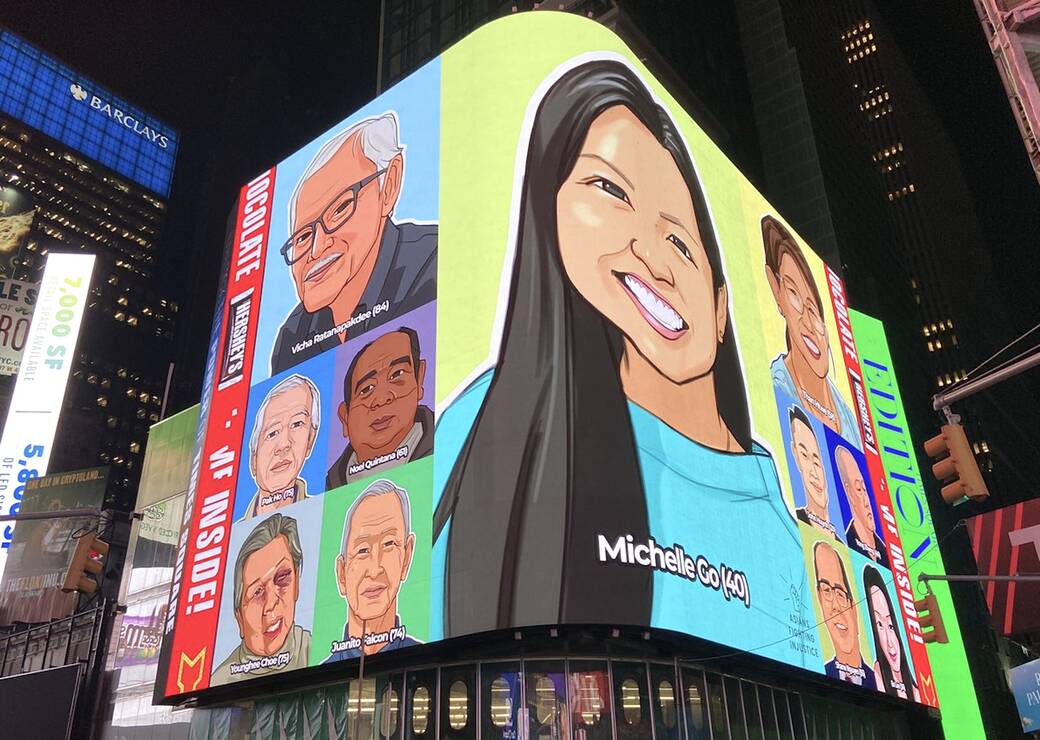 An only child, Chang was born in Taiwan, and his father died in a motorcycle accident when he was a baby. He and his mother moved to Southern California when he was 3 years old. He learned English watching television shows such as Teenage Mutant Ninja Turtles. He spent time drawing while his mom worked, and also found that drawing was another way to communicate at school. His stepdad taught him how to fight back after he was bullied for being Asian.

Chang met his fiancé Lee—now a graphic designer at Nickelodeon—in an art class in high school. ArtCenter was his only choice for college. "I was always told that ArtCenter was one of the best art and design colleges, and I was so happy to get in," he says. After graduating, Chang gravitated towards toy packaging art and design, and his projects have included the rebrand for Monster Jam and Star Wars toy lines.