Behind him are shelves displaying models of door levers and handles for a brass collection he co-designed for door hardware and lighting studio client SA Baxter. A curved wooden desk he co-designed with coworker and alumna Ruoxi Wang (MS 17 Environmental) sits across from a boomerang-style sofa they also co-designed.
Reflecting the flexible nature of working in NYC, in a few months Fischer will leave his senior product designer position at Workshop/APD to join hospitality design NYC startup Goodrich as lead product designer. At Goodrich, on the penthouse floor of a building eight blocks from Workshop/APD, he will work on lighting and furniture for a Northern California hotel, a sports arena in NYC and a national restaurant chain, among other projects. The office, he says, has a view of lower Manhattan's 104-story One World Trade Center on one side and 102-story Empire State Building on the other side.
Drawn to design early on, Fischer grew up in Cincinnati, the son of a substitute school teacher mom and a lawyer dad who taught him how to repair things around the house. He took apart laptops and guitars, tinkered with cars and painted. He graduated from Carnegie Mellon University with an undergraduate degree in industrial design and did a study abroad in Denmark in furniture design before moving to SoCal to study at ArtCenter.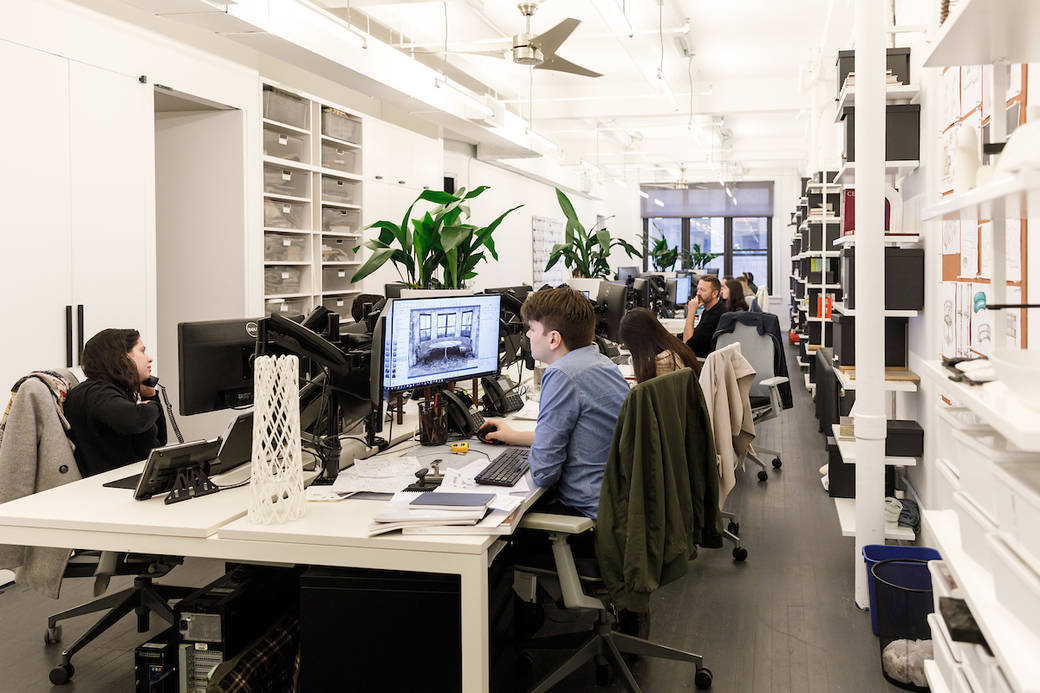 "I wanted to focus on design that would make people smile and improve their lives in tiny ways," says Fischer, inspired by a Summer term furniture design internship at a Pasadena-based studio founded by alum and Environmental Design Assistant Professor Cory Grosser (BS 01 Environmental). He also met his fiancé Chuan Wang (BS 2014 Environmental)—an interior architect at the Manhattan architecture firm ODA—while at the College. Fischer moved to NYC in 2014 after graduating, and designed furniture and lighting at studios Yabu Pushelberg and AvroKO before Workshop/APD.
On this particular bright early fall day, Fischer takes a lunch break at Workshop/APD to walk two blocks to eat at L'Adresse American Bistro, with a floor-to-ceiling window overlooking leafy Bryant Park. Fischer then strolls through the park, past jugglers and a carousel spinning slowly to French cabaret music. "Occasionally I sit on a chair here and do Chinese lessons on my phone," says Fischer, who's learning Mandarin to communicate with Wang's parents.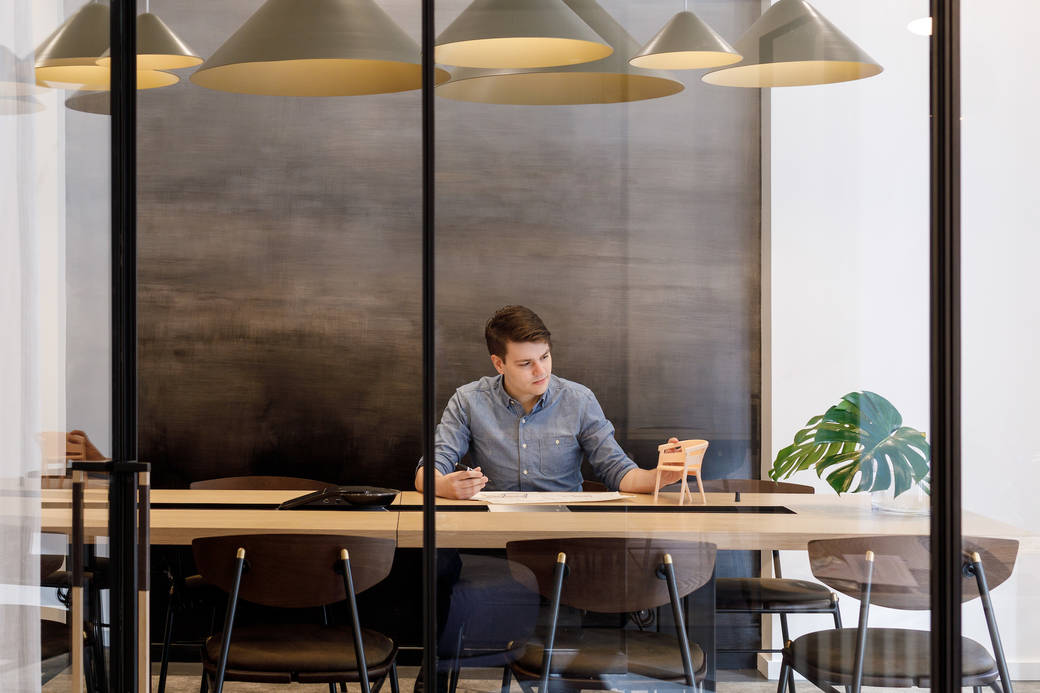 After, Fischer walks nine blocks to the NYC showroom of global furniture company Bernhardt Design on the third floor of a stunning 1915 Art Deco building. Bernhardt has partnered with ArtCenter in the past on interdisciplinary studios with students. "When it comes to design, everything is on this island, in Manhattan," Fischer says. "I can Google any chair in the world, and it's in a showroom five minutes away."
At Bernhardt, Fischer sits at a desk called Hug featuring grey wrap-around upholstery and hidden compartments for computer cables. Fischer designed the desk—manufactured and distributed in the U.S. by Bernhardt—while at ArtCenter. It went on to win an Interior Design magazine 2016 Best of Year award.