September 28, 2016
ArtCenter College of Design Student Wins Ideas that Matter Award for Design that Helps Young Burn Patients in Latin America
Alvin Oei's The Healing Tree recognized with top honor in competition highlighting the role design can play to help solve complex social issues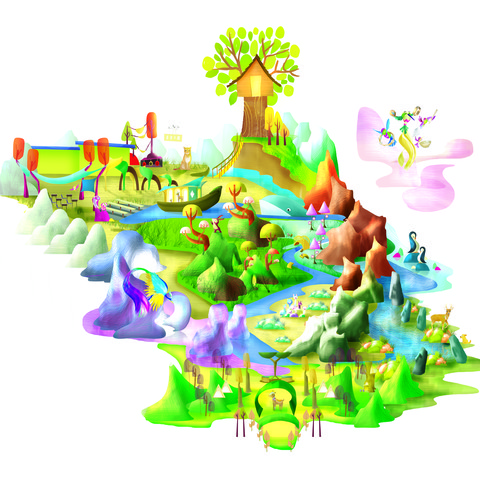 ArtCenter College of Design Environmental Design major Alvin Oei won the top prize in the prestigious Sappi North America's Ideas that Matter social impact global competition for his innovative concepts to guide children who suffer from severe burns and their families through an improved treatment and healing experience. Over the next few months, Oei will develop the winning project, preparing it for implementation in clinics throughout Santiago, Chile.
Oei's winning concept, The Healing Tree, received the highest monetary award of nearly $50,000 and was the only project to be submitted by an undergraduate student. Most other entries were submitted by professional design firms.
The Healing Tree is a comprehensive system that features a storybook with a unique patient passport and corresponding environmental graphics, to provide a more immersive journey for children and families recovering from the trauma of being burned. The project was created during Oei's participation in ArtCenter's Designmatters Safe Niños studio with COANIQUEM BCF, The Burned Children Foundation.
"Alvin's accomplishment and this extraordinary Designmatters studio are the direct result of a great faculty teaching great students while collaborating with a great partner; COANIQUEM," said David Mocarski, chair of Environmental Design, department sponsor of the Safe Niños studio.
"This award reinforces my intention to continue pushing my interest in storytelling through the lens of environmental design," said Oei, a native Angeleno living in Upland.
During the collaborative process, Oei worked closely with Product Design major Lori Nishikawa on the research and realization of the world at the center of The Healing Tree narrative. Oei will continue working with Illustration major Belle Lee to create The Healing Tree children's book set to be published next year as the system is implemented in burn treatment clinics.
COANIQUEM BCF is a U.S.-based charitable foundation with the purpose of aiding the children of the world who suffer from burns. Children throughout Latin America who have suffered severe burns receive comprehensive rehabilitation treatment free of charge at COANIQUEM in Santiago, Chile, where ArtCenter students visited to research the needs of families and develop ideas to create a better experience.
Sappi North America, a leading producer and supplier of diversified paper and packaging products, honored eight grant recipients of its 17th annual Ideas that Matter program, where financial support is given to designers who create and implement print projects for social impact.
"Putting together the narrative of this complex proposal and strategy would not have happened without the hard work and dedication of several ArtCenter staff including Jennifer May, Susannah Ramshaw and Darryl Mori collaborating closely with Environmental Design faculty members Penny Herscovitch, Dan Gottlieb and Stella Hernandez-Salazar who mentored Alvin through the many layers of the design process," said Mariana Amatullo, Ph.D., vice president, ArtCenter and chair, Designmatters Department.
"Finally, this is also a truly multidisciplinary project that shows the strength of our pedagogy at ArtCenter at the transdisciplinary level," she continued. "The vision for this project is rooted in good storytelling across platforms and encompasses skillsets in environmental design, illustration, interaction design and product design."
The Safe Niños studio that took place in spring of 2016 and the subsequent Safe Niños Development Seminar in summer the same year, were hosted by Designmatters and Environmental Design. Students from the following departments participated in the studio Environmental Design, Graduate Industrial Design, Illustration, Interaction Design and Product Design.
While announcing the winning ideas, Sappi officials emphasized that this year's eight winning projects highlight how designers can use the power of paper and print for social impact. The winning projects were chosen for the effective way they address pressing social issues including rural healthcare and pharmaceutical misuse, literacy, childhood development and the importance of play, education and leadership in war-challenged international communities, girls and youth development and traumatic health issues for children and their families.
Since 1999, as an integral part of Sappi's corporate social responsibility platform, the Ideas that Matter grant program has funded over 500 nonprofit projects and has contributed more than $13 million to a wide range of causes that use design as a positive force in society. The program is open to North American designers who have partnered with a nonprofit organization and developed a communication campaign that is ready for implementation.
"We truly believe in the role design can play in helping to solve complex social issues. And, by supporting the work of designers who are developing print communications for causes, we know that Ideas that Matter is an important participant in the design for social good movement," said Patti Groh, marketing communications director, Sappi North America. "This year's grant recipients truly see the potential global impact of their work and we could not be more excited to see these projects come to fruition."
IMAGES:
Click here for more information and images from the Designmatters Safe Niños studio.
ABOUT ARTCENTER:
Founded in 1930 and located in Pasadena, California, ArtCenter College of Design is a global leader in art and design education. ArtCenter offers 11 undergraduate and seven graduate degrees in a wide variety of industrial design disciplines as well as visual and applied arts. In addition to its top-ranked academic programs, the College also serves members of the Greater Los Angeles region through a highly regarded series of year-round educational programs for all ages and levels of experience. Renowned for both its ties to industry and its social impact initiatives, ArtCenter is the first design school to receive the United Nations' Non-Governmental Organization (NGO) status in recognition of its commitment to social impact design through Designmatters. Throughout the College's long and storied history, ArtCenter alumni have had a profound impact on popular culture, the way we live and important issues in our society.
CONTACT:
Teri Bond
Media Relations Director
ArtCenter College of Design
teri.bond@artcenter.edu
626 396.2385 office
310 738.2077 mobile