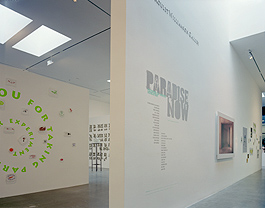 Paradise Now:
Picturing the Genetic Revolution

July 26 - September 28, 2003
Opening reception, Friday, July 25, 6 to 9 pm

Organized by Exit Art in New York City and co-curated by Marvin Heiferman and Carole Kismaric, "PARADISE NOW: Picturing the Genetic Revolution" places focus on the political, social and cultural ramifications of the often monocular vision of science. Art more often than not expresses the unique viewpoint of an unconverted, unaligned, and, generally, iconoclastic segment of our society. The work in this exhibition is no exception. Each artist scrutinizes and questions the profound shifts in our basic understanding and acceptance of nature's (formerly) incontrovertible truths that genetic engineering brings to the table.

Society is at a threshold, witnesses to the moment when genetic research is rewriting the definition of life. Biotechnology is altering the food we eat, and the information revealed by the decoding of the human genome will give science, medicine, and business unprecedented power. Increasingly, the news media and popular culture are alerting the public to the heated dialogue that is underway about what out brave new world might become. Daily, the unusual procedures and outrageous prediction that were once the subject of science fiction are announced as realities. Each new announcement triggers hope and controversy and guarantees further debate among humanitarians, profit seekers, legal experts, ethicists, politicians, nations, and the public.

Paradise Now features the work of 39 artists, including Aziz + Cucher, Christine Borland, Hans Danuser, Rebecca Howland, Edouardo Kac, ®™ARK, Christy Rupp, Carrie Mae Weems, and Janet Zweig.